How to Redo a Lamp Base – Thrift Store Lamp Makeover
This post will show you how to redo a lamp base – turn a thrift store lamp into a beautiful piece!
---
My favorite place to go for homewares right now is my local thrift shops. I try to pop in there each time I'm donating something, which seems to be a lot these days since we just moved into our new house.
On a recent trip, I scored these two big table lamps.
Hint: Always keep a spare lightbulb in your car for those impromptu visits to a thrift store or flea market! That way you can make sure lamps are working before you buy them.
These two lamps were glossy and kind of dated looking but they worked.
Also, they didn't come with lampshades and the one lamp was missing the harp. But all these things didn't bother me. Because I LOVED the overall size and shape. And I knew I could turn these dated lamps into something cool. Plus – I paid less than $7 for BOTH lamps. Seriously – I couldn't pass this up!
I love the look of a matte, textured lamp. A lamp that looks somewhat vintage and handmade. Like an aged vase with a lampshade on top. But you will pay a fortune for these things! Here are a few examples.

If I was Taylor Swift, I would buy them all up. They are so beautiful to me. Almost sculptural. And they add so much interest to your spaces.
I wanted to recreate this "aged" look with these two lamps and I'm in LOVE with how they turned out. It was not hard at all and I'm going to tell you exactly how I did it. If you love these textured aged lamps too, read on.
How to Redo a Lamp Base
Follow these steps to makeover your lamps. Safety first! You should spray paint in a well-ventilated area, preferably outdoors or in an open garage. I always spray paint on a cardboard box to contain the mess and keep my grass green.
Step 1: Prepare your Lamps for Painting
Remove the lampshade and harp if there is one. Take some painter's tape and tape off the areas that you don't want to be painted. I taped of the socket, switch, harp holder, and base, as well as the plug and cord.
Sand down your lamp base lightly to give the spray paint some areas to adhere to. Finally, take a clean, dry rag and wipe it down so it's clean and dry.
Step 2: Spray Paint your Primer First
Whatever color you want your lamp base to be, spray that color on first. (Use a primer).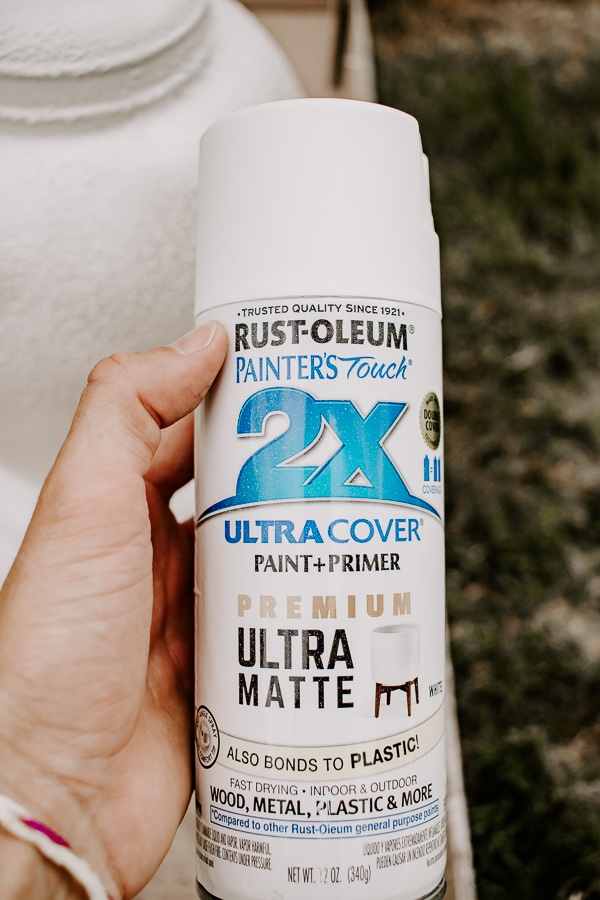 I wanted one lamp to be a matte-textured white and the other to be a matte textured brown/black. I spray painted one in Rustoleum Paint and Primer x2 Ultra Matte White and the other in Black.
You might think you can just spray paint the lamps in the Stone effect, but trust me – it won't cover up what's underneath and it will look weird. After your paint primer dries, it's time for the textured paint. Woot!
Step 3: Spray Paint the Stone Effect on Top of Primer
This is where the magic happens!
I used the Stone Spray Paint in Bleached Stone for my white lamp. Spray light coats all the way around. It's so much fun to see these lamps transforming in front of you! I used the Mineral Brown Stone paint on the black lamp.
For both lamps, I used a couple of coats of the stone spray paint each. I didn't care too much for perfection – after all – this was supposed to look worn and aged.
However, be careful not to spray too much stone texture in one area. It should look somewhat even all the way around.
And don't be afraid to spray more primer paint if need be. Some of my sections looked a little weak in color so I gave them a boost with some extra primer.
Let your lamp dry overnight.
Step 4: Remove Painter's Tape and Attach Lampshades
If you purchased a lamp with missing parts, as mine did, you might be wondering where the heck you get spare lamp parts?
I needed a harp and a finial for the top.
Luckily, Home Depot and Lowe's sell a ton of lamps parts fairly cheap, for under $5. And they always seem to be in stock. They also sell lampshades at decent prices, but you can try HomeGoods and Target as well.
I am so happy with how they look!
All in, these lamps cost me less than $20 each for everything, including the shades.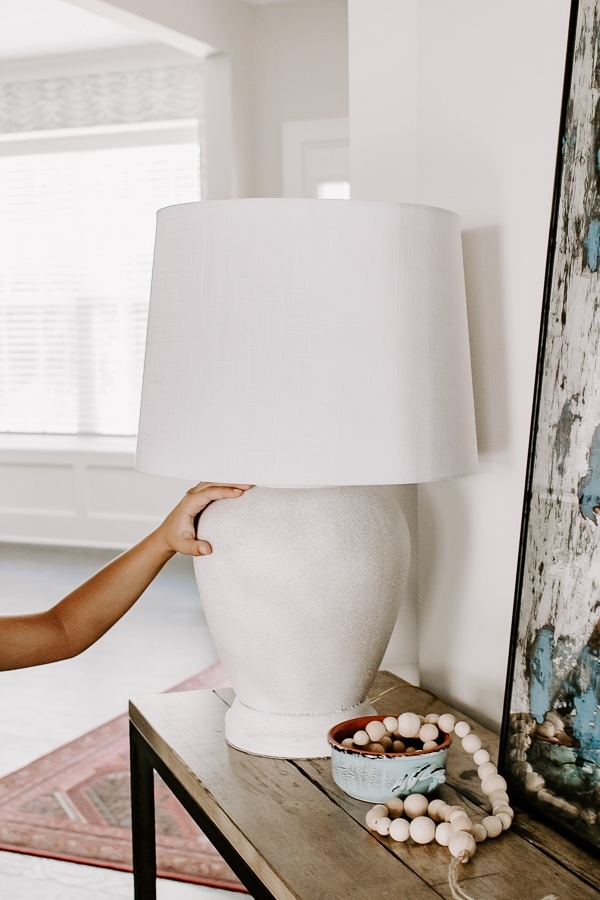 To get a nice large lamp for this price is crazy! This is your little nudge to check out the thrift stores and flea markets near you. You can complete this project in a weekend and have an almost brand new, beautiful lamp for your rooms!
Xo Karen