I'm giving away all my best thrifting tips, including where to shop, what to buy, and more. Come thrift with me!
---
These days, I don't usually let a week go by without stopping in my favorite thrift stores.  It sounds crazy, but they are not far from my house and the inventory changes so often – I have FOMO.  Fear of Missing Out.
I thought it would be fun to take you guys along with me to the thrift store while I browse and share my favorite tips.  Plus – you can see some of the items I've bought – and how I used it in my house.  
Let's go!!
Why Thrift Shop?
Besides the thrill of the hunt, there are a few other reasons why I think you should consider thrift shopping.
ONE// It supports your community. Salvation Army and ReStore (Habitat for Humanity) use their proceeds and donations to support their causes. Salvation Army uses some of their donations for rehab centers and shelters, and they also use the store as warming centers during winter storms. ReStore helps build homes for families in need; so they can get back on their feet and start building a better future.
TWO// It's better for the environment. I'm not a scientist so I won't go into details, however buying used furniture, clothing and other goods reduces pollution, landfill waste, and saves resources. This is a good article on the subject that explains a lot.
THREE//  It helps you save money.  Not everything in my house is thrifted, but a lot of it is.  Thrifting helps me save money to buy the pricier, store-brand things I want.  And saving money is always good in my book.  
FOUR// It gives your home character.  You can't buy some of the patina and charm that you can get from thrifted items.  There's more of a story behind these items, and filling your home with pieces like this gives it character and charm.  They almost mean more to me because I discovered them and my kids will get these items handed down to them when they're ready.  
My Best Thrifting Tips
I'm excited to share these tips with you – I hope they give you some inspiration and help with your thrifting.
Have a Plan (Somewhat)
While I tend to stop in thrift stores on a whim, I always kind of know the items I'm looking for in the back of my head.
I usually keep a small list of spaces I'm trying to fill and their sizes. Same goes for decor items I need.
Sometimes an item that was never on my radar jumps out at me and I just have to have it — that's just the nature of thrifting. You never know what you're going to find!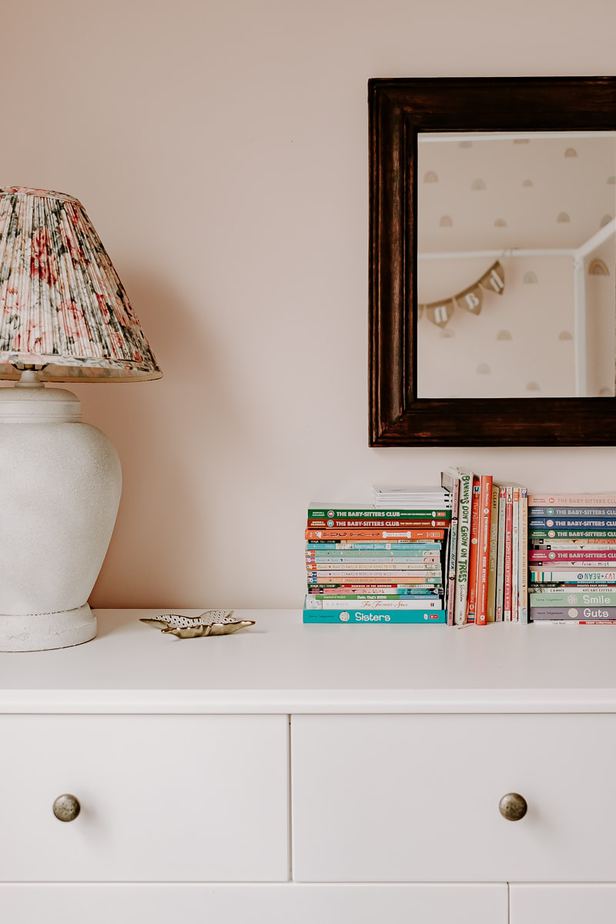 Having a plan helps to keep you from picking up items you have no use or space for. Even if it's cheap, I find it's not worth it if I can't give it a good home.
There are also a few things I ALWAYS seem to look for, and I'll get to those in a minute.
Come Prepared
This tip kind of ties in with the first one. What do I mean by "come prepared?"
I always keep a tape measure and a spare light bulb in my car.
It's much easier to test lamps this way (other than unscrewing and screwing in light bulbs all over the place). The tape measure will help you ensure the items will fit – not only in your car but in your spaces at home.
You never know when you will find that perfect piece – better to be safe than sorry.
Don't Be Afraid of Ugly Things
When thrifting, I look at the "bones" of the item and overlook the color and other details. Don't be afraid to buy something ugly.
Most things can be cleaned. Most things can be fixed. Most things can be painted or re-stained. You can add new hardware to it. Check out this ugly bar stool that I turned into a rustic side table.
You want to ask yourself the following:
Is it in good shape? (Not broken, scratched, or dented badly or wobbly?)
Does it operate properly? (Light turns on, Drawers open and close, etc.)
Can it be repurposed in some way?
Is glass broken or stained?
Is the mirror warped or cracked?
Do you LOVE LOVE LOVE it? 🙂
And finally – is it worth it?
I trust good old Google to search for similar pieces online. What are they selling for? Does this item seem like a good deal (even with the work you need to put in)?
At my thrift stores, I usually find that the prices are well worth it even with the work that needs to be put into it. Sometimes these things are easy fixes.
That broken lamp can be fixed with a new light kit. Those wobbly tables can be evened out. Broken glass in a frame can be replaced.
Think about Repurposing things
Sometimes you find something you're drawn to, but you have no idea what to do with it.
You can repurpose it!
Here are a few examples.
I found this wood caddy and I loved the shape and overall style of it (but not so much the glossy wood). So I sanded it down, restained it, and drilled a hole in the back.
Now I have a charging caddy!
This keeps phones, kindles, and other electronics stored and charged without ugly cords hanging out everywhere.
Another example is with vases. If you find a decent-sized vase – they can be made into lamps with a simple lamp kit. I'm planning a DIY with this soon!
Furniture can also be repurposed. That gorgeous farmhouse table? Cut the legs down and now you have a coffee table. It doesn't hurt to think outside the box.
Things I Always Look For when Thrifting
Yes, I always have my "list" of things I need. However, unless I'm running short on time, I usually take a look at the following items to see if I can score anything good.
Frames
I've picked up so many good frames!! I make sure I like the overall size and shape and completely IGNORE the picture in them.
Every frame can be ripped apart (carefully) in the back and reused.
Make sure they are not too wonky – although I've pieces wobbly frames back together with a bit of wood glue or construction adhesive.
Frames can be painted and also antiqued. Don't overlook the frame section guys!!
Fill them with some (affiliate link) vintage art from my shop!
Lamps
I always make a point to stop by the lamp section. You can find some big old lamps for next to nothing.
Make sure they work (spare lightbulb!) and ignore the color and shade. These can be changed.
Check out my post here on lamp makeovers and see the before and after of my thrift finds.
Pottery/Vases/Bowls
Sometimes, just sometimes, you can find a glorious vase aged to perfection with texture AND in the right color.
BUT – most of the time – you will find something that looks like it was found in the back of a pantry in the 80s. And that's ok!
These vases can be made to look old, it's easy to give them character.
Make sure they are not chipped or broken (unless you like that look).
I tend to skip the really small items – too many small items together can look a bit cluttered. I like a variety of heights and sizes to keep it interesting.
I've also been able to find cool bowls. I use these as little accents on tables. They are great on a nightstand to hold earrings, lip balm, or small hand cream.
They also help fill out open shelving in a kitchen or decor for your glass front hutches.
And you use can also use these little bowls in drawers to organize!
Chairs
I'm obsessed with chairs. I don't mean upholstered chairs but those can work too (they take a bit more time and money though).
I'm talking about wood chairs. Those beautiful, farmhouse chairs, interesting in shape, warm in color, and maybe a bit chipped with wear. This is character guys!!
I love filling an empty corner in a room with a cool chair. It's an easy and inexpensive way to add some interest to your home.
I've seen some chairs in REALLY bad shape and tend to skip those. But if it's a little off – can it be tightened up and repaired? Can it be sanded and restained if you hate the color?
This also goes for stools – little wood stools are perfect in bathrooms, next to a tub, or even as a little side table.
Hardware (Knobs, Pulls, and Hooks)
I love revamping furniture with new hardware. I guess it's my way of putting my spin on it!
I've been able to find really nice, heavy knobs for 50 cents each. A huge bargain for good hardware. The same goes for hooks, I can usually find a place for these items somewhere in the house.
Mirrors – I found a beautiful rustic mirror for my daughter's room from a thrift store. It's a good contrast from her all-white dresser (and yes I found the knobs at a thrift store too).
Mirrors can be pricey, but you can find them cheap at thrift stores, and with a little TLC, you can have a nice piece for your rooms or even a powder room.
Books
I'm becoming a bit of a book hoarder and I'm ok with it.
Books are a great way to decorate throughout your home. They can fill bookshelves, obviously, but also add height to items on a console table and be used as coffee table decor.
I don't just grab any old book though. I look for HARDCOVER BOOKS. Please ignore the covers!
I always take my book covers off and look at the actual book underneath. It's very rare that I save book covers.
Ask yourself …
Is it a pretty color? Would it fit in with my style? Is it a subject I like? Yes, I only fill my home with books I actually want to pick up and read. 🙂
I'm a sucker for hardcover home books, but also books on history, gardening, cooking photography, and autobiographies.
Some thrift stores also have a 'Rare and Collectible' section. This is where you can find those old beautiful books that Joanna Gaines tends to decorate with.
These books also make great decor and help to fill up those shelves with something interesting.
(Check out the best coffee table books for your decor right here!)
Baskets/Trays
I can always find a way to use a basket, whether out in the open as decor or tucked away in a closet as an organizer. I've been able to score some really cute baskets at thrift stores!
I skip the ones that look really beat up, but if it's just a bit worn I'm ok with it. Again – it's character.
On a recent trip, I got this Kooboo rattan basket in a large size for $5! I'm using it in my laundry room to hold all the random laundry that seems to make its way in there.
These baskets can run almost $50 brand new, so I was really happy with this purchase.
Along with baskets, sometimes you can find cute trays. Trays are a great way to corral items or make a little statement on a coffee table or ottoman.
Every room could use a tray!
Sometimes I'm shocked by what I find – thinking – "how could someone get rid of this?!"
But then I remember all the things I have donated over the years – from furniture to decor.
I guess beauty really is in the eye of the beholder.
My Favorite Thrift Stores
Here is a list of some of my favorite thrift stores:
Habitat for Humanity ReStore
Goodwill
Salvation Army
Facebook Marketplace
Nextdoor – neighborhood app that also posts sales
Chairish – pricey, but you can shop by price range and it can be fun to peruse this site.
Etsy – Check out Vintage Home Goods and see some of my favorite finds below.
Local Flea Markets (a quick google search will bring up options close to you)

I encourage you to search around for the local thrift stores and flea markets near you. And don't forget to donate – your donations might be another one's favorite find!
As spring and summer roll around, keep an eye out for local garage sales too. You just never know what someone else might be getting rid of.
I hope these thrifting tips helped you and gave you some motivation to try thrifting if you haven't already.
I'm warning you that you just might get addicted to it!
Xo Karen
Karen Sloan is the founder, editor and syndicated content writer of www.decorhint.com. She offers hints of inspiration for everyday living, including home ideas, DIY projects and lifestyle content. Her work has appeared on Google News, MSN, Pioneer Woman, Apartment Therapy, and Bustle, among others.