Learn how to take a bar stool and turn it into a DIY side table! This bar stool hack is a cheap and easy way to create your own side table for your home.
I went thrifting last week for a cute little side table for our living room. We just got these two round swivel chairs from West Elm. I just needed something sweet and simple for the center to complete the space.
Looking online, all the side tables were either too large, too small, too expensive, or not the right vibe I was going for. So I stopped at my local thrift stores to see what I could find. And unfortunately, I didn't find any side tables that would work.
I did however find a bar stool. This bar stool was in a good condition, super sturdy, and priced right. But it was too tall. And the wood color was not right. It looked very dated (not in a good way). It had this 80ish, dorm-room vibe to it.
But I knew I could change all that and let me tell you – this turned out better than I expected. I'm excited to show you guys exactly how I turned this ugly bar stool into a rustic side table (very Amber Interiors-esque.)
Things You'll Need for this Project
---
DIY Side Table Tutorial
How to Create a DIY Side Table from an Old Bar Stool.
Total time: 1 day
And there you have it! You just made a rustic little side table from a cheap bar stool. So next time you are out thrifting, give that dated bar stool a second chance. You never know what you could turn it into!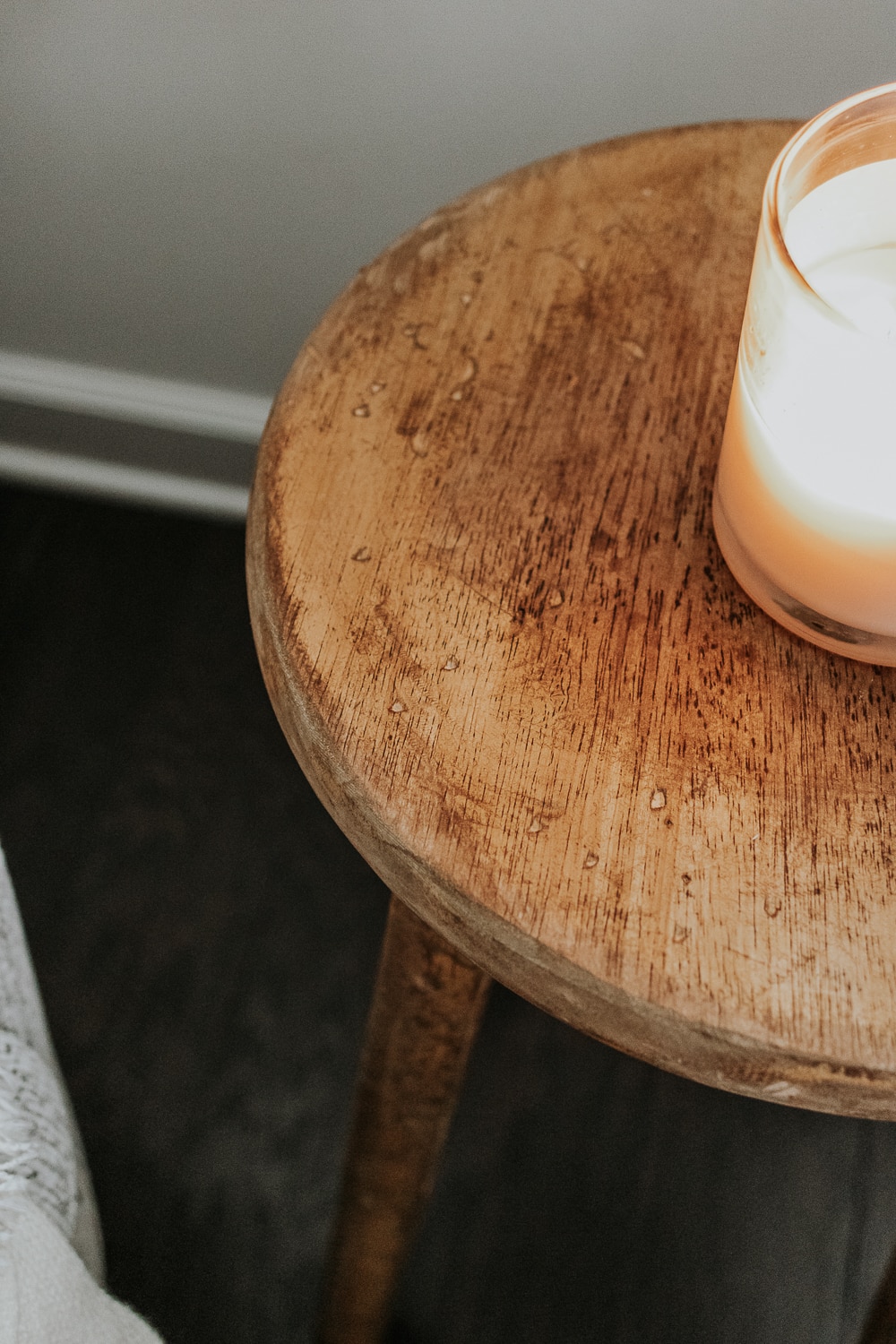 Sources: Swivel Chairs | Lamp | Faux Tree in Pot | Rug | Candle | Pouf
I hope you guys enjoyed this project! Thanks for visiting today!
xo Karen
Karen Sloan is the founder, editor and syndicated content writer of www.decorhint.com. She offers hints of inspiration for everyday living, including home ideas, DIY projects and lifestyle content. Her work has appeared on Google News, MSN, Pioneer Woman, Apartment Therapy, and Bustle, among others.