Have some old frames laying around? Don't get rid of them yet. A cheap can of spray paint is all you need! You can easily spray paint picture frames and give them a whole new look.
This is a great project for thrifted frames because you can get them for a steal. The frames I'm painting were purchased from Amazon. I thought I would like the gray wood but it turns out I don't. At all lol. So, I'm changing them to black frames.
The Best Spray Paint for Picture Frames
I always use Rustoleum spray paint for my projects. Either the Universal or Painter's Touch Paint and Primer 2x.
This spray paint works on wood, plastic, wicker, metal and more. No more worries about what's going to work on your plastic frame – this will do it. And it's also perfect for creating antique mirrors!
Why Spray Paint them instead of Paint?
Well, you can do either for this project. But with spray paint, it's easier to get a streak free, even finish on your frame.
Plus, there are so many different options with Rustoleum spray paint. You can get pretty much any color you want, and you can also try a different paint effect, such as copper, hammered, stone etc.
This also works if you want to make your pictures frames look aged.
Things You'll Need
Picture Frames
Rustoleum Spray Paint
X-acto knife (optional)
Painter's Tape (optional)
220 grit Sandpaper (optional)
Parchment Paper (optional)
Scissors (optional)
How to Spray Paint Picture Frames
learn how to spray paint picture frames.
Total time: 1 day
prepare Frame for painting

The best way to spray paint your frames is to take out the glass and backing. This way, you don't run the risk of getting spray paint on the glass and/or artwork. HOWEVER, you can also do this project without taking it apart. Just take some parchment paper and cut out a piece slightly smaller than the inside of your frame. Then, take painter's tape, and apply it to the glass and paper. This will hold the parchment paper in place. Finally, use an xacto knife or utility blade to carefully push down any painter's tape that might be covering the frame.

Lightly Sand Frames

If you have flat frames, you can give them a quick sanding to give the spray paint more adhering power. You don't want to scratch them up though – so use a very fine grit sandpaper, like 220. This is optional. Be sure to remove any sanding dust before painting.

Paint Picture Frames

Lay your frames out on cardboard and spray several light coats of paint. You want to keep moving the paint can so you don't have too much paint going on one spot at any time. This avoids drips and gives you that nice even finish. I don't spray paint the back of the frame, but make sure you paint the sides and that small inner ledge on the front. Allow your frames to dry completely (I left mine to dry overnight).

Reassemble & Hang

Your Frames are finished! Time to put them back together and hang them up on the wall.
---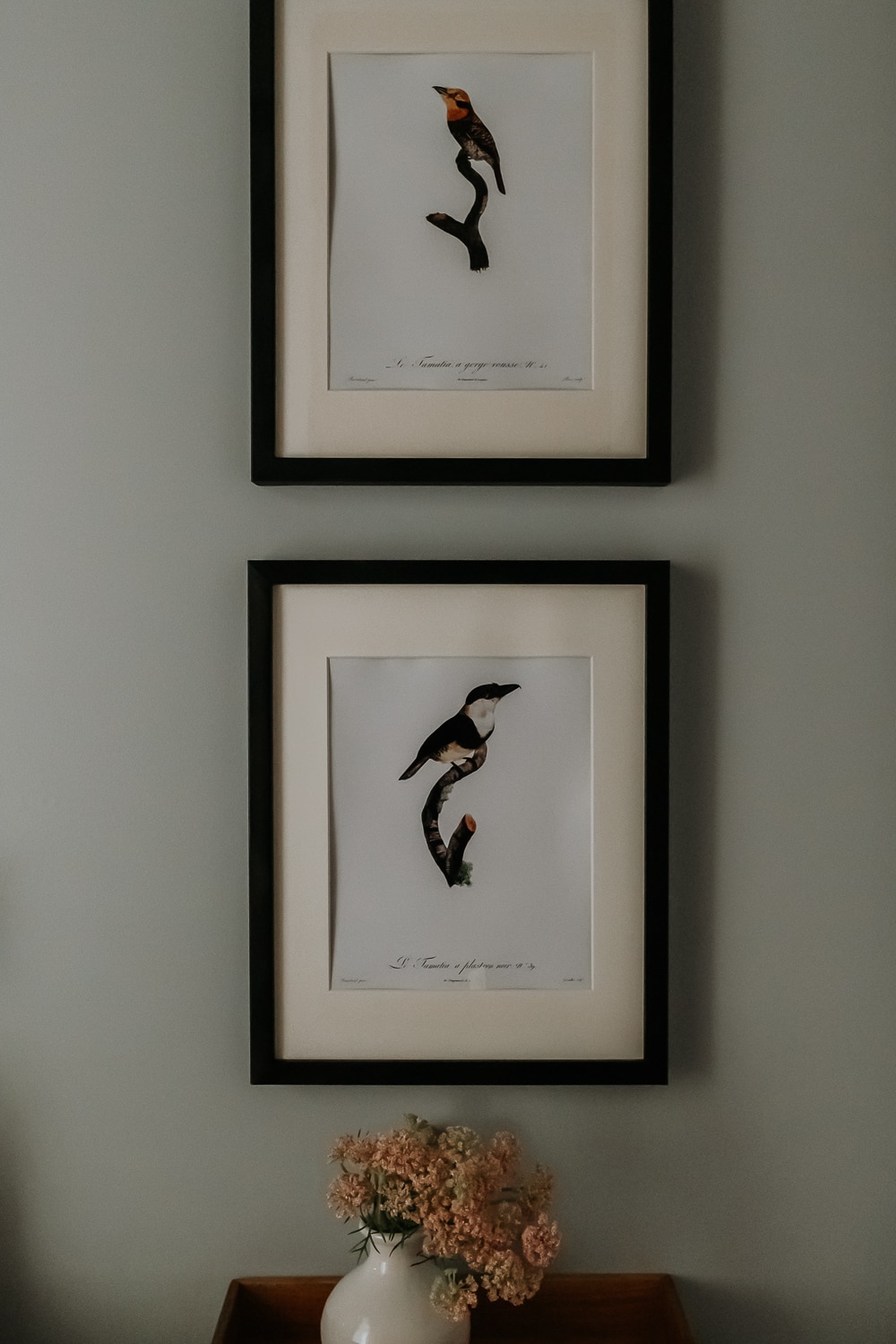 What if I get spray paint on the glass?
If you do get some spray paint on the glass, don't worry! There are a few things you can do. One is try a razor blade. You can lightly scratch the paint off the glass. Another things you can try is a little bit of nail polish remover on a cotton pad.
Or, you can just ditch the glass altogether! I prefer a less shiny look to my artwork anyways.
xo Karen
Karen Sloan is the founder, editor and syndicated content writer of www.decorhint.com. She offers hints of inspiration for everyday living, including home ideas, DIY projects and lifestyle content. Her work has appeared on Google News, MSN, Pioneer Woman, Apartment Therapy, and Bustle, among others.