Valyōu ValMinimal Sectional – My Honest Review
Thank you to Valyōu Furniture for sponsoring this post, all opinions and views are my own.
---
I'm so excited to show you our new Valminimal Sectional couch from Valyōu Furniture! Guys – this one is a stunner! Plus – at the end of this post, I have an exclusive discount code for you to use on your future purchase at Valyōu!
If you remember, I was looking for a sectional sofa for our kids playroom. I wanted a stylish and compact, but comfortable sectional that could easily fit through the door to our playroom. Our playroom is a good size but it's not a giant room by any means, so finding the right sized couch was essential. And for some reason our door is tiny and you have to get through a narrow little hallway before entering the room. This makes getting furniture in here a challenge.
I'm happy to report that this sectional couch from Valyōu fits the bill exactly. If you haven't heard of Valyōu yet – then I'm so excited to put this on your radar. This is a great furniture company.
Valyōu furniture believes that stylish, high-quality furniture shouldn't break the bank or only be available to designers. They have a fantastic collection of furniture, everything from sofas to living room sets to decor accessories. (Check out their gorgeous Feathers Sectional while you are there – one of my faves too!)
I was really pleased with their customer service. If you read any of the reviews on their website; you can tell that they really care for their customers and my experience was no different.
Allow me to run it all down for you from arrival to installation to my thoughts overall.
Delivery
First things first: Delivery. It only took about two weeks for our sectional to arrive, which is pretty quick for large furniture. It was wrapped well, with everything in plastic to keep it clean and with extra padding in the box to keep it from getting damaged.
The first thing I noticed when bringing the boxes inside was the weight. It's surprisingly not that heavy – which I love! This is going to make getting up the stairs and through that narrow door to our playroom that much easier.
The furniture legs were also wrapped really well in bubble wrap and included all the hardware needed. There is some minor assembly required which I'll talk about in a minute(but no special tools!)
All in all, it was a very seamless delivery process. I got notices all along the way keeping me informed of what the status was.
Assembly
The couch arrives assembled. You just need to attach the legs and then attach the chaise part to the couch part with a little clip underneath the couch.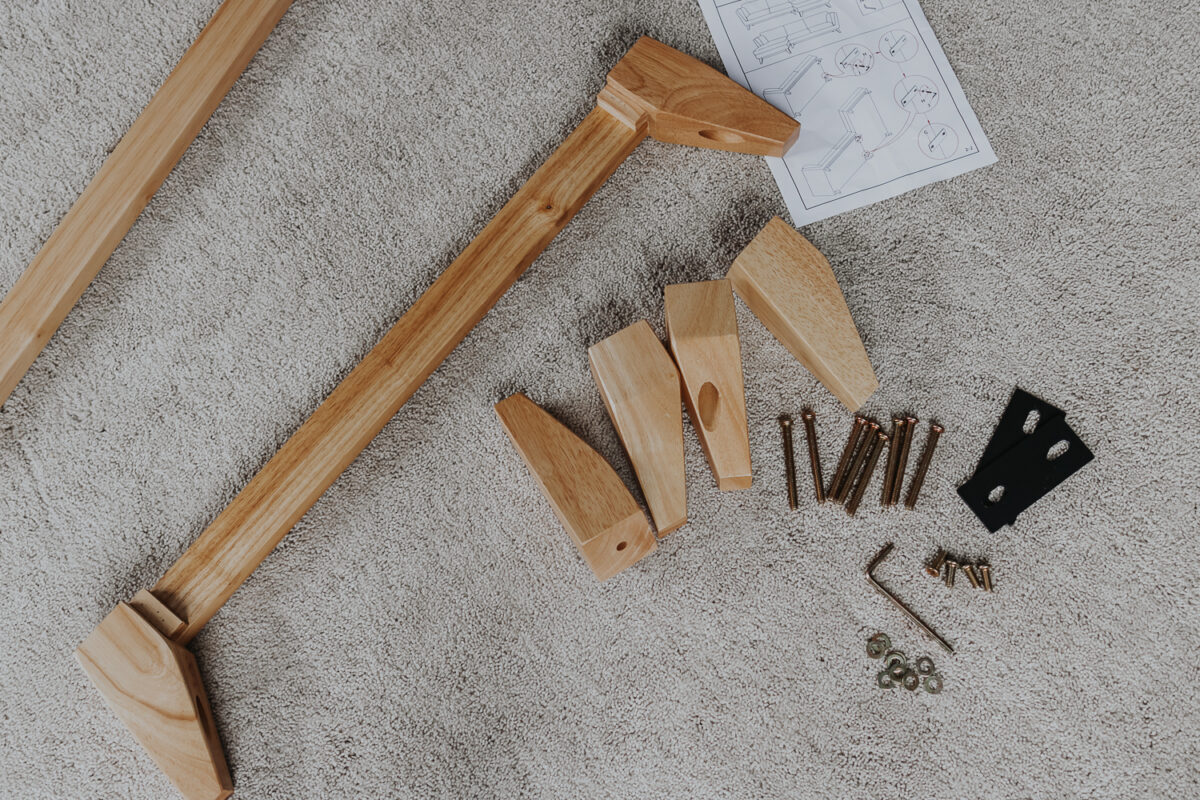 Everything is put together with screws and an Allen wrench, which is included. I probably had the whole couch assembled in about fifteen minutes – so it did not take long at all. A whopping total of 12 screws. That's it.
Since the couch is not too heavy, it was easy to maneuver in order to attach the chaise to the couch part at the end of the assembly.
Style & Comfort
So pleased with the style of the ValMinimal sectional! I would say it's more on the modern side with its low profile and raised legs. (Which I love for easy cleaning under the couch, by the way!)
I chose the light grey color. The fabric is 100% linen Polyester. It's soft and textured which makes it feel very luxurious. The cushions are plush and somewhat firm, filled with medium-density foam.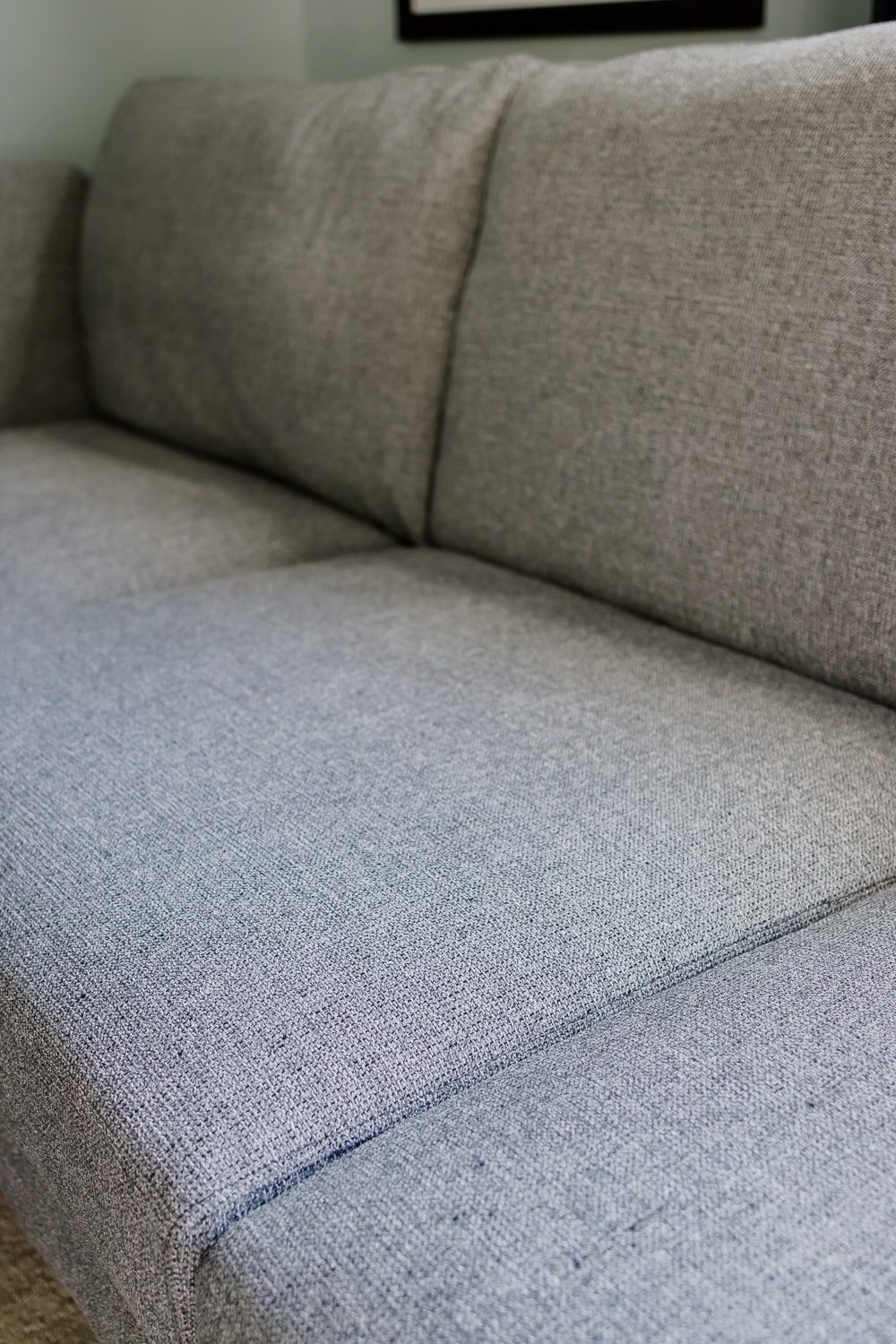 When you sit down on the couch, you feel supported but still like you are sinking into the foam a bit. I don't love those couches where I feel like it's going to be a huge effort to get out of them – know what I mean? This is not that couch.
I love the fact that the material is MACHINE WASHABLE (yes, putting that in all caps). All you do is zip off the covers and wash them on a cold cycle with a mild detergent. It's recommended that you put the cushion covers back on while they are still damp.
The legs of the sectional are made of pretty eucalyptus wood. The front of the couch and the chaise have wood trim that runs the length of the couch. I love how it adds a bit of warmth to the whole room.
My Overall Thoughts
Overall – I am super pleased with our new sofa!
This has made my kids playroom feel so much more like a room. Now, I'm inspired to get some additional styling done in there – even though I just finished a makeover of this room not too long ago.
DISCOUNT CODE
If you haven't checked out Valyōu furniture yet, then please do! I highly recommend them. Use the code DECORHINT5% to get 5% off a future purchase there!!
Feel free to reach out to me with questions or comments, and be sure to check out the YouTube video review on this as well.
Thanks for visiting today,
xo, Karen