Love the Primrose Mirror from Anthropologie but looking for more options? These Anthropologie Mirror Dupes got you!
---
After posting about these oversize floor mirrors, so many of you reached out and asked if I had a good dupe for the gleaming primrose mirror. And because I love you guys – I'm replying with a FULL POST on these Anthropologie mirror dupes.
These all have that same gilded, antique, baroque mirror look, but many are a fraction of the price.
I'll put this here in case anyone wants to know more about the Primrose Mirror. It's basically the "it" mirror right now in home decor (complete with its own hashtag). It's an Anthropologie item, a vintage-inspired mirror that's offered in several different sizes, from a wall hanging poster size all the way to a ginormous floor mirror version.
This article contains affiliate links to products we love. Please see our policy page for details.
It also comes in four different colors; gold, black, silver, and verdigris (which is a stately bronze color.) If you love the baroque style – you will probably love this mirror (and all the other options I'm about to show you). Keep in mind – the larger sizes of this mirror are HUGE and weigh 200lbs – so it's definitely a 'lean it up on the wall' type mirror.
Without further delay, let's get right into it.
A fantastic dupe! Less than $200 for this World Market vintage style mirror. Choose between bronze or gold finishes. A great wall-hanging mirror size at 24×34 inches high.
If you want a beautiful, unique shape to your mirror – then you will love the Morrey Mirror! The angles on this antique bronze mirror are so pretty. This is a good-sized mirror for your walls at 25x34inches, and the decorative scroll design at the top is a subtle nod to the primrose mirror.
I can't say Kelly Clarkson without saying; "aaaaah…Kelly Clarkson" in a Steve Carroll voice. But anyway, the Kelly Clarkson mirror is gorgeous and large and affordable and will give you those antique vibes you are craving. I have to say, I like a lot of her home goods!
The Kate and Laurel mirror is one of the most popular dupes for Anthropologie's "it" Mirror – and this one sells out ALL THE TIME. This is a beautiful mirror and you really can't go wrong with this one.
Another fantastic dupe! The Wayfair Everett Mirror is so classy and has more of a fancy trim. It's somewhat square in size at roughly 34×36 inches. The price is great though and the reviews are even better!
Hamilton Hills offers several of these baroque-style mirrors. I chose this one because it's most similar in style to the Primrose Mirror. At the time of writing this post, it garnered almost 300 good reviews. It's available in two sizes and comes with a 2 inch deep ornate gold frame – very thick and fancy. This will make a statement on any wall!
This mirror is such a bargain and is only available in stores. I had to include it on the list because it is a popular dupe for the Primrose Mirror. It's 24×36 inches high and crafted of wood and glass in a gold finish. But they also have a floor mirror version, as shown in the photo above.
According to the specs; the Jacqueline mirror frame is finished in a champagne silver leaf that has been crackled and antiqued so the dark undercoat shows through the leafing. It's 28×43 inches tall and will look perfect above a dresser or at the end of a hallway.
We definitely need to look at PB Teen more. It's not just for teens. And the prices are lower. It doesn't really make sense but I'll go with it. The Filigree mirror is a gorgeous mirror that also comes in a floor-length size with a beautiful gold finish!
The Graciela Mirror from Frontgate is one of their bestsellers and it's not hard to see why. This vintage-inspired mirror comes powder coated in gold and features a Mindi wood frame (that's white cedar for those that don't know). It measures 28×42 inches tall. It's a show-stopper!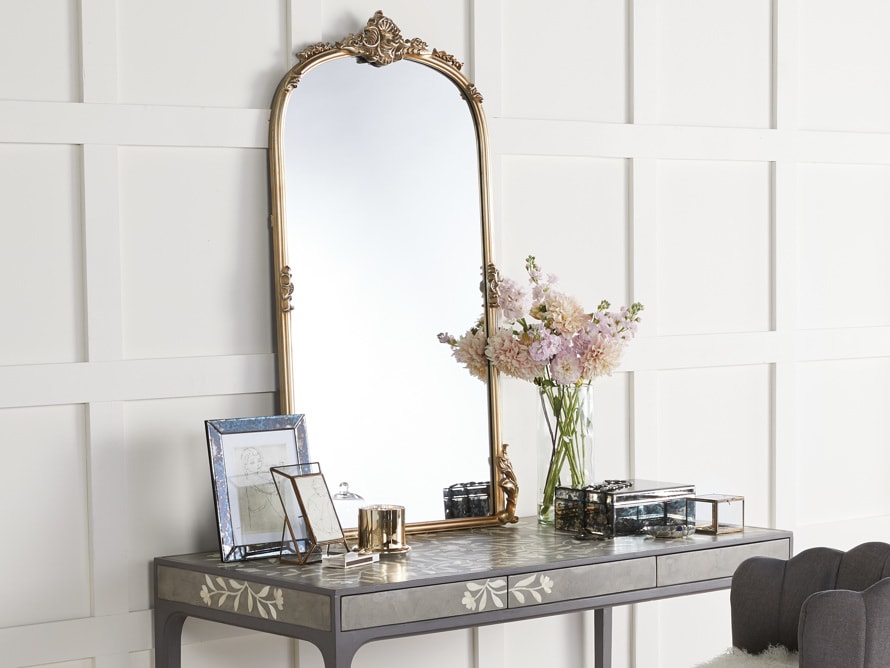 The Amelie Mirror from Arhaus is just about an exact match for the Gleaming Primrose. It comes in several different sizes, including a larger-than-life floor version. Framed in iron with a beautiful floral and vine pattern. Another winner option for a baroque mirror. This is one of the priciest options on the list.
The Beaudry mirror from Ballard Designs is so beautiful and comes in at an impressive 64×31 inches high. This also comes in two color choices; brass or oil rubbed bronze finishes. As someone who has purchased from Ballard Designs before, their quality and customer service are top-notch. While this mirror is on the pricier side, it's still less than what you will pay for the Anthropologie mirror.
One of my favorites! The Tulca Mirror is also very popular and the price is not bad for a mirror of this quality and size! It comes in two finishes (gold or silver) and stands at a hefty 36×36 inches wide. A perfect finishing touch for your mantel.
Scroll to Shop

That about rounds it up! So many amazing options out there, right!? Tell me what you want to see next – I love to shop for you!
xo Karen