Wondering if Clare Paint is any good? Check out my Clare paint review and get all your questions answered. This is not a sponsored review, just my honest thoughts about Clare paint.
---
If you follow me on Instagram, I mentioned a few weeks ago that my daughter Hannah no longer wanted a pink room. She thought pink was too babyish. And – although I loved the color in her room – I have to agree that it didn't seem to fit her anymore.
She requested purple. Which at first made me shudder in fear. Look, I'm not scared of color in our home per se. I'm scared of crazy bright colors in our home. And I wasn't exactly envisioning a purple room anywhere in our house. I want things to be mostly subdued and moody around here and feel cohesive as well. Which is why I'm always gravitating to navy I suppose!
But, I wanted to honor her wishes. It's her room and it should be a reflection of who she is. So I set out to find a purple paint color we could all agree on. And then it dawned on me that I've never tried Clare Paint and this was the perfect opportunity to give it a go.
So – I'm taking you from start to finish, going through pros and cons, and also highlighting some of my favorite Clare Paint Colors to date. Please keep in mind that this is not a sponsored post, and I didn't receive any product for free in exchange, I just really wanted to try out this paint and give you my honest thoughts.
Clare Paint Review
Choosing a Paint Color
Ok, this is where Clare Paint really shines. One of the things that I dislike about Benjamin Moore or Sherwin Williams is the overwhelming amount of choices. I am not good at making decisions with fifty thousand different shades of the same color. I get analysis paralysis. Perhaps you are in the same boat? So, the fact that Clare doesn't have so many choices is a pro for me (but I realize this could be a con for you.)
You can rest assured knowing that all the colors are designer-curated. You're not going to get a bad one! They really do help you find the perfect color. Not to mention, they offer mess-free paint samples so you can really make sure you are getting what you want (which I'll discuss more below.)
Finally, they even have what's called the Clare Color Genius. It's a quiz with a few simple questions about the room you are painting, how much natural light it gets, and also how much risk you are wanting to take. This helps guide you in the right direction if you are starting from scratch and have no idea what you want yet.
For my purple paint purposes – going with Clare was even easier because they only offer three purple paints in varying shades. It was a cinch for me to hone in on exactly what I wanted, which was WINK.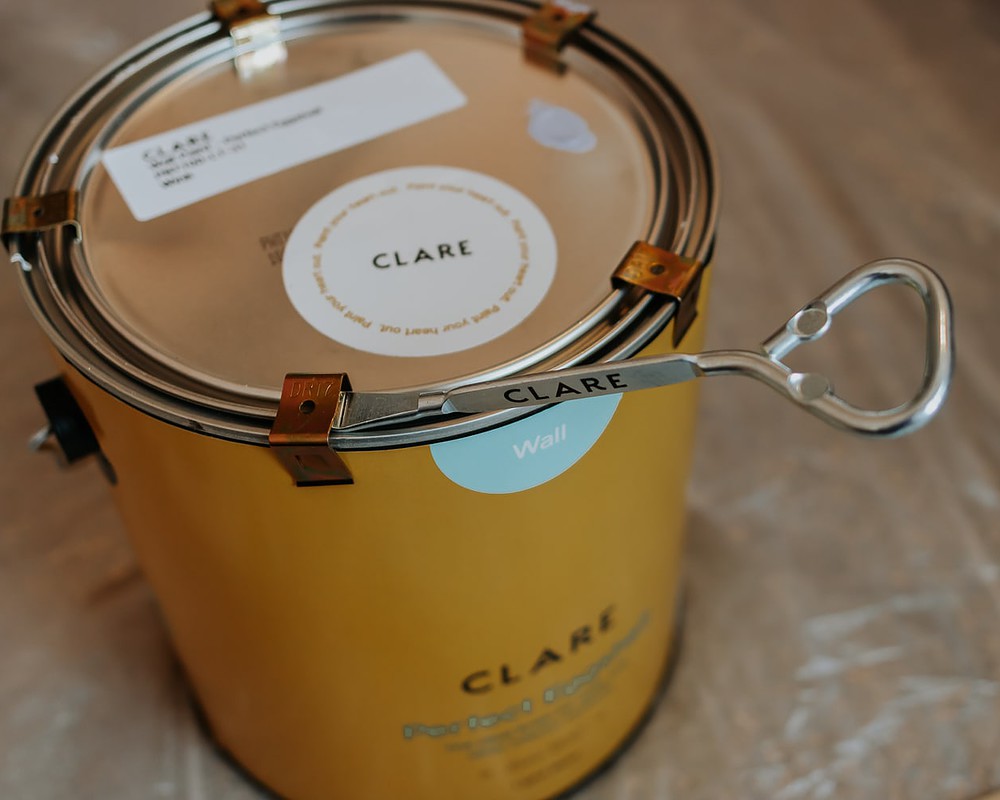 Mess-Free Paint Samples
You no longer have to actually paint samples on the wall. I think I've mentioned Samplize to you before, and Clare has their version of this as well. Their paint swatches cost a couple of bucks and are peel and stick, so you can stick them to your different walls at different parts of the day to see how it catches the light.
They also offer Paint Swatch Kits of their paint collections. For instance, if you are looking at white paint but not sure which one you want, you can buy their white paint swatch kit, which is a collection of their most popular white paints.
Here are the Paint Swatch Kits they offer at the time of writing this review:
Whites and Lights
No-Fail Neutrals
Best of the Blues
Dream Greens
Sunset Shades
Go-to Grays
Every paint color they have does come with the option to order a swatch.
Other Offerings Related to Paint
Aside from curated wall paint, Clare also offers primer, ceiling paint, and supplies. The paint supplies include items such as paint rollers, paintbrushes, metal, and plastic paint trays, plastic drop cloths, painter's tape, and even an extension pole.
I didn't personally try any of these so I can't speak to the quality of these items. If you are after convenience and just want to get it all in one place – this is definitely a plus. However, I thought the cost of their paint supply kits was a little high, considering I can get the same thing at a large hardware store for a lot less (and even less if you have most of the items already and just need to buy a replacement roller). But it's nice for them to offer this option nonetheless.
About the Paint – Sheens, Safety and Quality
Clare offers two paint sheens. One is an eggshell which is just a very slight sheen and suitable for most rooms. The other is Semigloss or Trim paint as they call it, which is more appropriate for trim, doors, and highly used areas like mudrooms. If you were looking for a matte option – you are out of luck here. I opted for Eggshell and have to say that I'm pleased with the sheen. It's not overly shiny but still washable – which is great for a kids' room!
Clare is a High-Quality Paint that is also safe, has low odor, and has Zero VOCs (or volatile organic compounds). It's not only Greenguard Gold Certified, it contains no toxic air contaminants, no EPA chemicals of concern, and no hazardous air pollution. That's a huge win in my book! Especially since I was painting my kids' room and didn't want to deal with possible odors and chemicals. I will tell you that this paint has almost no odor. I painted her room in one day with the windows open and didn't get bothered by the smell or get any headaches! Yay.
When I was first painting her room, I was a little spooked about the color. The color initially looked brighter than I wanted. But thankfully – it did not dry that way. It dried to the subtle purple color I was hoping for. The quality is fantastic. It has amazing coverage and dries fast. The final color was very true to the color online, in my opinion. I did not use a primer and had to apply two coats in some areas. But overall, it goes on nice and even.
Delivery
I was so intrigued with how the paint was going to be shipped to my door. So when it finally arrived, I was giddy and ready to take it all in. I ordered one can of Wink, so it arrived in a medium-sized box that said "THIS SIDE UP" on it. Ok, I see what they're doing here.
When I opened the box, there was a wood paint stirring stick on top, and the paint can was held in place with a cardboard mold. The paint can itself is locked with these metal clips and they give you a little tool to open it up. Also included was a really nice Painting Guide that includes a lot of helpful tips.
I will say the delivery of this paint was great! No spills, it came fairly quickly and it was exactly what I ordered.
You can see from the ordering to delivery – this is really more of a paint experience.
Returns and Happiness Guarantee
You can return paint and supplies within 60 days IF you haven't opened them. If you have opened them, or if you removed the original packaging, you are out of luck completely. There is also a $7 restocking fee for paint returns. Swatch purchases are final.
Their happiness guarantee states that if you are not satisfied for any reason, contact them and they will make it right. You can learn more about their return policy here.
Pros and Cons List
So, to go over everything I talked about in a cute little summary, here are my pros and cons list. Some of these are repeated because depending on what you want, it might be considered one or the other.
Pros:
Easy to Pick Paint Colors – the easiest paint picking process ever
Convenient – no need to leave the house to paint a room
Paint Quality is amazing, low odor, no VOC and Greenguard color certified 
Not an overwhelming amount of choices – for me this is a good thing
Peel and Stick Paint Samples 
Great reviews and customer service
Cons:
Expensive – the cost is definitely more than other paint companies, plus you might have to pay the shipping on top if you are under $100
$7 paint restocking return fee
Not time sensitive – if you are in a big hurry, this probably isn't your best option
They only offer gallon sizes.  Nothing smaller, nothing larger.  One gallon covers 375-425 square feet, according to Clare.  
Not an overwhelming amount of paint colors – choices might be too limited for some
Only offers two sheens; eggshell and semi-gloss 
Would I order from Clare again? Yes! I personally love the color options, I love the convenience and most importantly, I really love their paint. I would definitely recommend them and encourage you to give them a try if you are in the market to paint.
Clare Paint Colors
Here are some of their most popular paint colors, (including headspace, classic, fresh kicks, and current mood) as well as some of the ones that I'm most excited about trying out! Mark my words a GREEN will make it into this home sometime this year. LOL. You can click on any paint swatch to see more photos and information about this color.

I hope this review helped you! If you have questions, you can always drop me a line via my contact page or reach out to me through DM on Instagram.
I can't wait to show you the rest of Hannah's room when it's done.
Thanks for visiting today.
Xo Karen
Karen Sloan is the founder, editor and syndicated content writer of www.decorhint.com. She offers hints of inspiration for everyday living, including home ideas, DIY projects and lifestyle content. Her work has appeared on Google News, MSN, Pioneer Woman, Apartment Therapy, and Bustle, among others.