If you're like me, you hate wasting money. So when I discovered this DIY paint tray liner hack, I was pretty excited.
I mean, paint tray liners are not exactly expensive, but if you love DIY like me, you'll probably find that you paint quite a bit. And each time you have to buy a new tray liner can really add up. Plus, it's just annoying to run out and have to buy one.
Not only does this save you money, but it's also really easy to do. And it works beautifully.
No more running out to the hardware store to buy one of those flimsy plastic disposable liners. I can't tell you how often one little liner delayed a project for me. I had everything but the dang liner! I don't why I didn't think of this before but I wish I had.
In this blog post, I'll show you how to make a paint tray liner for pennies using foil. Although something tells me you are already know how to do this.
things you'll need
You can probably guess how this DIY hack is done. We are going to cover our paint tray liner completely with aluminum foil.
Here's how I do it.
Place a long sheet of aluminum foil over half the paint tray. Tuck the sides and ends around the edges of the liner to hold it taut and in place.
Place a second long sheet of aluminum foil over the half, slightly overlapping the first sheet. Don't forget to tuck it. Step 1 and 2 foil are just extra assurance that the paint won't seep through and stain your tray.
Place a third long sheet over the middle. With my stainless steel paint tray, one sheet fits perfectly down the center and up the sides a bit. You want to mold the aluminum foil so it curves up along the sides here.
And that's it! You are now ready to pour in your paint, about a quart at a time or slightly less.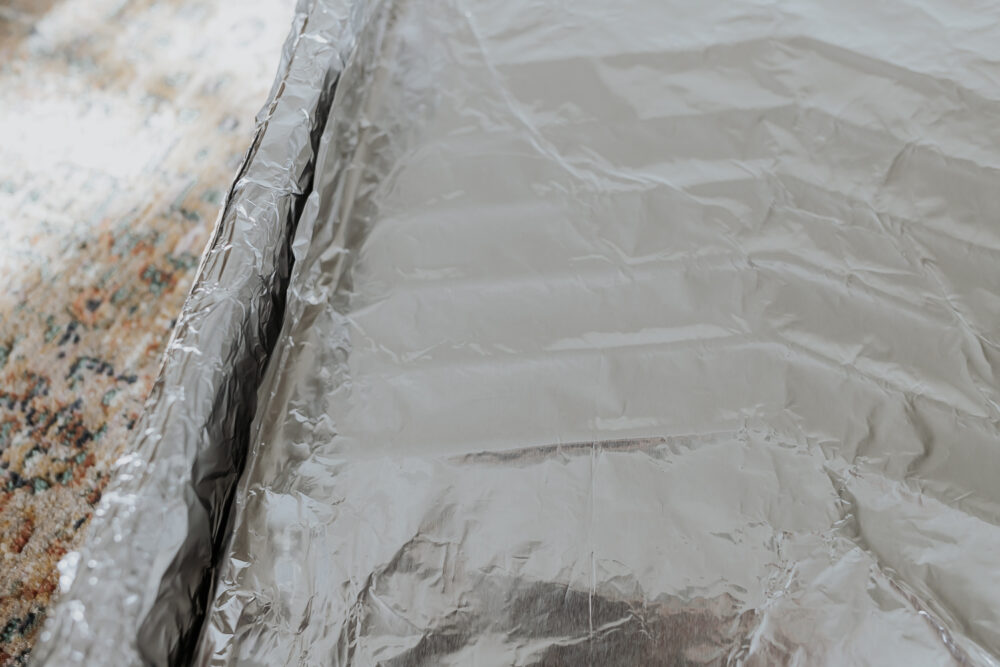 I think the key with this trick is using a good sturdy paint tray to begin with, like a stainless steel one. This would probably work with a plastic tray too – but the stainless steel ones are not that expensive to buy one time and they make it easier to roll your paint roller through the paint.
So, if you can – buy one of those to have for a lifetime.
Foil works very well as a liner for several reasons. For one, it's cheap and two you usually always have it on hand. No more delays in painting your rooms.
Third, and maybe most important, it's pliable. You can pinch, mold, tuck, bend and form it tightly over your paint tray. No more sloppy, flimsy, bunchy paint tray liners. The ridges in the paint tray will still show through the foil for extra rolling power.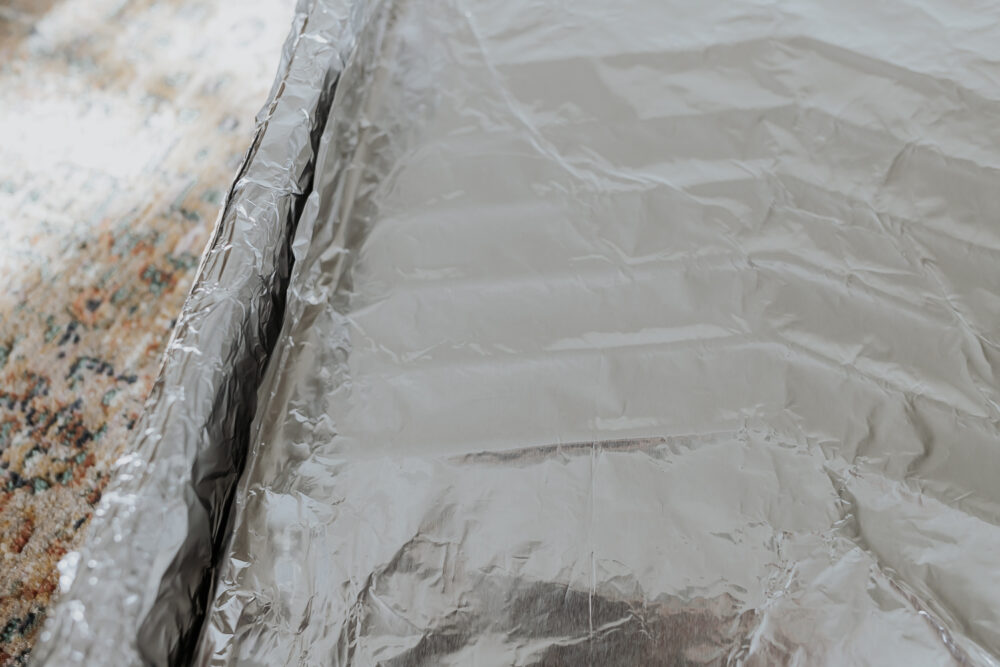 When you are finished painting, if you used all your paint, simply grab the top layer of foil, bunch it up carefully and properly discard it. If you didn't use all the paint this time, you can create a little spout with the foil and pour it back in the can. Then, dispose of the foil piece as you normally would.
It's rare that the two bottom pieces of foil get touched at all. In fact, I've had the same foil pieces on there for my last few paint jobs. I only have to replace the top piece of foil, which makes this diy hack even cheaper and less of a hassle.
Here are some other painting posts and projects you might like:
I hope you love this little tip as much as I do! Now go forth and paint. 🙂
xo Karen