Decor Hint is reader-supported. When you buy through links on our site, we may earn a small commission - at no extra cost to you. Learn more here.
Learn how to make your own DIY pillow inserts. Use a bed pillow to make them. I'll show you how.
If you have been a reader of mine, you know I have a passion for throw pillows.  Once I learned how to sew my own pillow covers, a whole new world opened up for me! 
Lately, I've made block print covers, bleach dot covers and tie dyed pillows.  My latest obsession with pillows is using embellishments.  There is something about pom pom trims, tassels, embroidery or a even a simple french seam that kicks things up a notch. 
I highly recommend you get into sewing if you have any interest at all.  Throw pillows are such an easy way to breathe new life into your decor.  Every room needs throw pillows (except for the bathroom maybe – but I could find a way to make a case LOL).   
By making your own covers, you can save so much money and change out your covers to your heart's content.  And make seasonal and holiday covers – so fun!  Today, I'm showing you an easy way to make nice throw pillow inserts – from a bed pillow!
As I've sewed more of my own covers, I've definitely learned a thing or two. To really make a professional looking cover – it's so important to choose the RIGHT insert! It's amazing what the right insert will do to your throw pillows – try it.
The best inserts are full, cuddly and fluffy. That hard, misshapen foam pillow just doesn't have the same pizzazz.
A down and feather pillow are what the professional interior decorators use. They can be ridiculously expensive depending on where you get them and the particular "fill".
But once you have them, you have them for a while. AND you can wash them! If you find you are allergic to down, or just hate being poked by feathers all the time, then down alternative works too.
I've always been a huge fan of Crate and Barrel's pillow inserts and they are pretty affordable.  Another great option for inserts is HomeGoods.  Amazon also now has great pillow inserts. I love this brand. You have to feel the actual pillow (or unzip it and read the tag).  If it feels foamy, lumpy and hard – pass. 
If the pillow feels airy, fluffy and you can stand it up and chop the "V" in it – it's a keeper. Just switch out the cover when you get home. I love the V look, my hubbie thinks the V look is out. I disagree. Either way, a down or down alternative pillow will lay much nicer on your couch than the foamy inserts.
So, now to get on with this quick tutorial!
DIY Pillow Inserts
My husband recently purchase a set of King sized feather filled bed pillows (two pillows came in the set). They are super duper nice! They have such a fluffy fill to them. The only problem – he hates sleeping on them. He tried, and they just don't work for him.
So they basically went unused and were stored away.
And then I got the idea to make throw pillows out of them. And it worked perfectly!
***UPDATE: Here's another method to avoid some of the mess. You could push the filling to the sides before cutting. Hand sew (if you can't fit the whole pillow in the machine) two parallel lines down the middle about an inch apart or so. Then cut the pillow. Then you can run each pillow through the machine to tighten up the seams.
The finished size is not a standard size – but since I make my own covers anyways, I can just make them to fit.  (Tip:  I always make my covers smaller than the insert – so it has a full look to it).  You can certainly make a standard size out of a bed pillow – but depending on what size you make you will only get one pillow versus two.
Related Posts:
The king sized pillow was 20 in. x 36 in. I just wanted two even sized pillows. So I cut it in half.
I took my soft tape measure and pinned it to each seam so it stayed put.
Then I drew a small dot at exactly 18 inches (half of 36).
Then I measured a straight line all the way down the pillow using that dot as the guide. (Yes, I used a level – didn't have my ruler near me).
Then, I took my scissors and cut all the way down the pillow. You will be eating feathers. You will be in a feather snowstorm. You will have to vacuum after this. But it is worth it. 🙂
***see update above for another method!
Then I stuffed as many feathers back in the pillow and pinned it back up.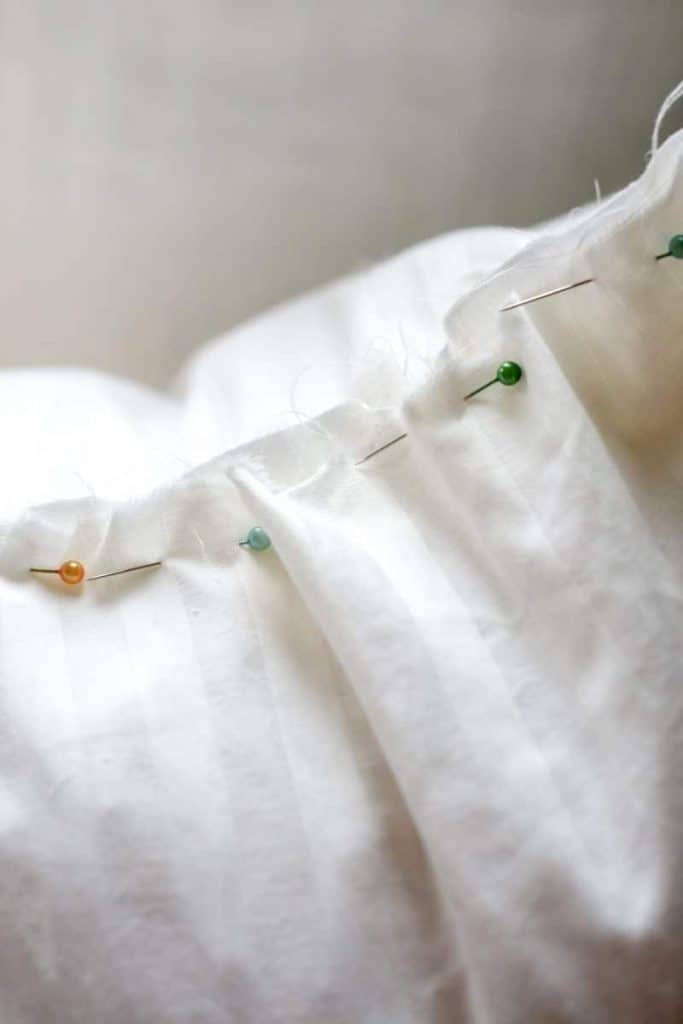 Then I just sewed the heck out of it so those feathers never come back out. It took some finesse. The feathers just wanted out! I had to keep shoving them back in there. I sewed each way along the opening a couple times and back-stitched the ends too. It's not very neat looking, but it's going to be the bottom of the pillow and it will be covered up with a pillow cover.
And now I have two new beautiful down inserts!
Here's how they look with a pillow cover on them. I'm very happy! Keep in mind, I only used one King Sized Pillow. The other pillow I may make a dog bed out of. (More to come on that too…)
If you have any down/down alternative pillows (or other types of pillows) laying around or in storage – here's a great way to use them up! I love finding new ways to use stuff around the house.
Happy Sewing guys!
xo Karen