DIY Scented sachets are easy to make and great for tucking in drawers and closets and keeping things fresh.
Today, I'm showing you two ways to do this; you can sew or not sew. Totally up to you. The rest of the process is the same either way.
For this original post, I used leftover ticking stripe. I really like the look of the ticking stripe and jute twine together. It has a rustic, farmhouse feel. You don't need much fabric, so this project is a good way to use up your fabric scraps.
The second time around, I made these in about 10 minutes with floral fabric and jute twine, but no sewing at all!
This article contains affiliate links to products we love. Please see our policy page for details.
Hint: You will be surprised at how 'scented' these are just with the essential oils.  I used lavender essential oil which smelled wonderful.  I really want to try vanilla or floral essential oils next time too. And I used plain long-grain white rice for this project. Don't want to bother with sewing or fabric? You can purchase these muslin bags pre-made. All you need to do is fill them up. A good way to make a lot quickly, such as a for a bridal or baby shower.
---
You may need to refresh the scents from time to time – simply open it up and refill with a fresh rice/essential oils batch.
---
Note: Instead of securing with a tie like in step 5, you can sew the top shut and use it as kind of a flat sachet. You can see it in the last picture below. The only thing with this type is that you can't really refresh the scents because it's totally fused shut. These make great heating pads! I microwave mine until it's warm and it's pure heaven.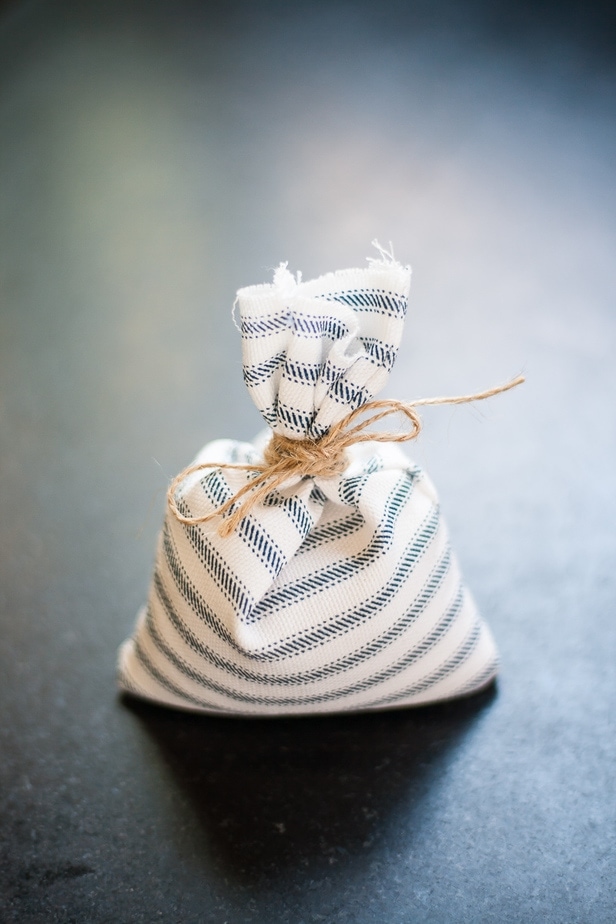 How and Where to Use Scented sachets
Here are some of my favorite ways to use these sachets.
Around the House
I put a scented sachet into dresser drawers, my linen cabinet, and I also hang them in closets.  They smell so good and they look very pretty too in a rustic kind of way.
One precaution – I would just make sure little kids can't get to them because they contain essential oils.
Scented Sachets as Favors
If you are hosting a baby or bridal shower, this is a great favor to send people home with. I always swoon over those pretty handmade favors at parties and showers. Don't you?
You could tie a little note to it thanking them for coming. Or just say – "smell ya later!" Just kidding, don't say that. 🙂
These sachets make great hostess gifts, teacher gifts or a little something for the neighbor. Or use them as gift toppers! Small ones would be good for that and such a sweet touch.
Another idea? Put together a sweet little gift basket of handmade goodies for Mother's Day or another occasion.
Or, pack these into a care package for your kids at college or a friend who lives long distance. They will open it up and it will smell really good. Like home. Like you.
I hope you guys enjoyed this tutorial and thank you so much for visiting the blog today!
xo Karen