DIY Scented sachets are easy to make and great for tucking in drawers and closets and keeping things fresh.
Today, I'm showing you two ways to do this; you can sew or not sew. Totally up to you. The rest of the process is the same either way.
For this original post, I used leftover ticking stripe. I really like the look of the ticking stripe and jute twine together. It has a rustic, farmhouse feel. You don't need much fabric, so this project is a good way to use up your fabric scraps.
The second time around, I made these in about 10 minutes with floral fabric and jute twine, but no sewing at all!
Things You'll Need
Square Fabric Pieces (mine were about 5×5 inches)
Uncooked Rice
Essential oils of your choice (I use A LOT of drops)
Optional Mix-ins: lavender buds (optional, but can be mixed with the rice and has many benefits), herbs (such as rosemary, and spices – cinnamon, cloves and nutmeg
Sewing Machine and thread. (optional)
Ribbon, rubber band or jute twine/string
Hint: You will be surprised at how 'scented' these are just with the essential oils.  I used lavender essential oil which smelled wonderful.  I really want to try vanilla or floral essential oils next time too. And I used plain long-grain white rice for this project. Don't want to bother with sewing or fabric? You can purchase these muslin bags pre-made. All you need to do is fill them up. A good way to make a lot quickly, such as a for a bridal or baby shower.
---
How to Make DIY Scented Sachets – No sew method
Cut Fabric into a 5×5 inch square (I just eyeballed it).
Fill a bowl with Rice and 30-40 drops of essential oils. You can also mix in lavender buds and herbs as well (or just use lavender buds).
Fill the center of your fabric square with a few spoonfuls of rice.
Gather up the sides of the fabric square, and secure with a ribbon, jute twine or a rubber band. You are essentially making a little pouches. Make sure it's secured tight!
Keep your sachet in a drawer, closet or bathroom. Give it a good squeeze when you want to release more scent.
You may need to refresh the scents from time to time – simply open it up and refill with a fresh rice/essential oils batch.
---
How to Make DIY Scented Sachets – sew method
Cut Fabric into TWO identical 5×5 inch squares.
Line up your squares with right sides facing each other. Sew three sides around, keeping the one side open. I doubled stitched each side just to make sure it's ncie and secure. Then flip it right side out.
Fill a bowl with Rice and 30-40 drops of essential oils. You can also mix in lavender buds as well (or just use lavender buds).
Carefully spoon your rice mixture into the sachet bag. You don't want to overfill the sachet or you won't be able to close it properly.
Twist the top and secure with a rubber band, ribbon or twine.
Keep your sachet in a drawer, closet or bathroom. Give it a good squeeze when you want to release more scent.
Note: Instead of securing with a tie like in step 5, you can sew the top shut and use it as kind of a flat sachet. You can see it in the last picture below. The only thing with this type is that you can't really refresh the scents because it's totally fused shut. These make great heating pads! I microwave mine until it's warm and it's pure heaven.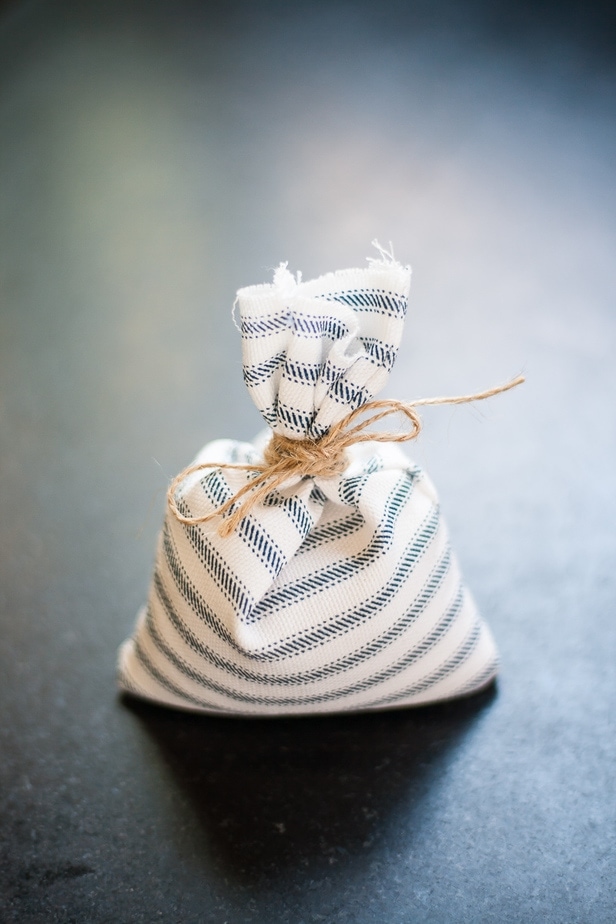 How and Where to Use Scented sachets
Here are some of my favorite ways to use these sachets.
Around the House
I put a scented sachet into dresser drawers, my linen cabinet, and I also hang them in closets.  They smell so good and they look very pretty too in a rustic kind of way.
One precaution – I would just make sure little kids can't get to them because they contain essential oils.
→ Here are some other ideas for using these scented sachets around the house.
Put them in shoes or shoe storage boxes.
Store one near your hamper.
Keep one near a kitty litter box (just ensure your cat can't get into it!)
Put one under the garbage bag at the bottom of the can.
Put one where you store your toilet paper.
If you store them with your thank you notes/cards, your notes will smell glorious.
Use them as a decor – throw in an entryway bowl or place on a stack of books.
Throw one in your purse and/or gym bag.
Store some in the laundry room.
Keep one in your car (but away from children) – keep those car seats smelling fresh. Some slip these in the back pocket of the seats or tuck them in the visor (make sure it's not a driving hazard).
Scented Sachets as Favors
If you are hosting a baby or bridal shower, this is a great favor to send people home with. I always swoon over those pretty handmade favors at parties and showers. Don't you?
You could tie a little note to it thanking them for coming. Or just say – "smell ya later!" Just kidding, don't say that. 🙂
These sachets make great hostess gifts, teacher gifts or a little something for the neighbor. Or use them as gift toppers! Small ones would be good for that and such a sweet touch.
Another idea? Put together a sweet little gift basket of handmade goodies for Mother's Day or another occasion.
Or, pack these into a care package for your kids at college or a friend who lives long distance. They will open it up and it will smell really good. Like home. Like you.
I hope you guys enjoyed this tutorial and thank you so much for visiting the blog today!
xo Karen
Karen Sloan is the founder, editor and syndicated content writer of www.decorhint.com. She offers hints of inspiration for everyday living, including home ideas, DIY projects and lifestyle content. Her work has appeared on Google News, MSN, Pioneer Woman, Apartment Therapy, and Bustle, among others.