DIY Scented Sachets with Rice and Essential Oils
This page contains links to products that were hand-picked by the editor. When you buy through these links, we may earn a small commission. Learn more.
DIY Scented sachets are an easy way to freshen up your linen cabinet, drawers, and closets. These fabric sachets are made with rice and essential oils.
---
I love a nice scented sachet.
They are great to tuck in drawers and the scents can be just divine.
These scented sachets are really easy to make.
I ended up using leftover ticking stripe fabric that I had from making pillows. I love finding new ways to use up fabric scraps and this is a good way to do that.
Related: Best Online Fabric Stores
I really like the look of the ticking stripe and jute twine together. It has a rustic, farmhouse feel.
Also, you can make these the no-sew way too.  I'll give instructions for both below.
Things You'll Need
*I know that some people use actual lavender buds in their sachets and that's totally cool too. I just wanted to keep this easy and use what I already had on hand.
You will be surprised at how 'scented' these are just with the essential oils. I used lavender essential oil which smelled wonderful. I really want to try vanilla or floral essential oils next time too.
Oh yea, and I used just plain ol' long-grain white rice for this.
How to Make DIY Scented Sachets
***Here's an easy tip to start off – if you have a larger piece of fabric, don't cut it out. FOLD IT in half or to whatever size you want your sachet. And then cut the other sides into a square. One side of your sachet is already done for you with the folded part. It makes it go even faster. You will need two squares or one folded piece into a square to make this.
Line up your squares. Right sides facing each other. Sew three sides around, keeping the top open. I doubled stitched each side just to make sure it's tight. Then flip it right side out. Oh, hello there sachet.
Mix your rice and essential oils in a bowl. I think I used about 10 drops or so. The amount of rice will depend on how large your sachet is.
Carefully spoon your rice mixture or lavender buds (if using) into the sachet bag. You don't want to fill it all the way to the top or you won't be able to close it properly.
Twist the top and secure with a rubber band, ribbon or twine.
Or – instead of securing with a tie like in step 5, you can sew the top shut and use it as kind of a flat sachet. I made a larger version of this type and you can see it in the last picture below. The only thing with this type is that you can't really refresh the scents because it's totally fused shut. But these make great heating pads! I just microwave mine until it's warm and it's pure heaven.
NO SEW METHOD: You can either follow the steps above and use fabric glue to secure your seams. Or, just cut a larger square of fabric and spoon the rice mixture into the center of the square. Gather up the edges and tie them with the string/ribbon as noted above.
You may need to refresh the scents from time to time – simply open it up and refill with a new rice mixture. These can be changed up depending on your mood.
How to Use Scented sachets
Here are some of the ways I use these sachets …
Scented Sachets Around the House …
I put these sachets into drawers, my linen cabinet, and I also hang them in closets. They smell so good and they look very pretty too.
One little precaution – I would just make sure little kids can't get to them because they contain essential oils.
Here are some other ideas for using these scented sachets around the house.
Put them in shoes or shoe storage boxes.
Store one near your hamper.
Put one under the garbage bag at the bottom of the can.
Put one where you store your toilet paper.
If you store them with your thank you notes/cards, your notes will smell glorious.
Throw one in your purse and/or gym bag.
Store some in the laundry room.
Scented Sachets as Gifts
If you are hosting a baby or bridal shower, this is a great favor to send people home with. I always swoon over those pretty handmade favors at parties and showers. Don't you?
You could tie a little note to it thanking them for coming. Or just say – "smell ya later!"
Just kidding, don't say that. 🙂
These sachets make great hostess gifts, teacher gifts or a little something for the neighbor. Or use them as gift toppers! Small ones would be good for that and such a sweet touch.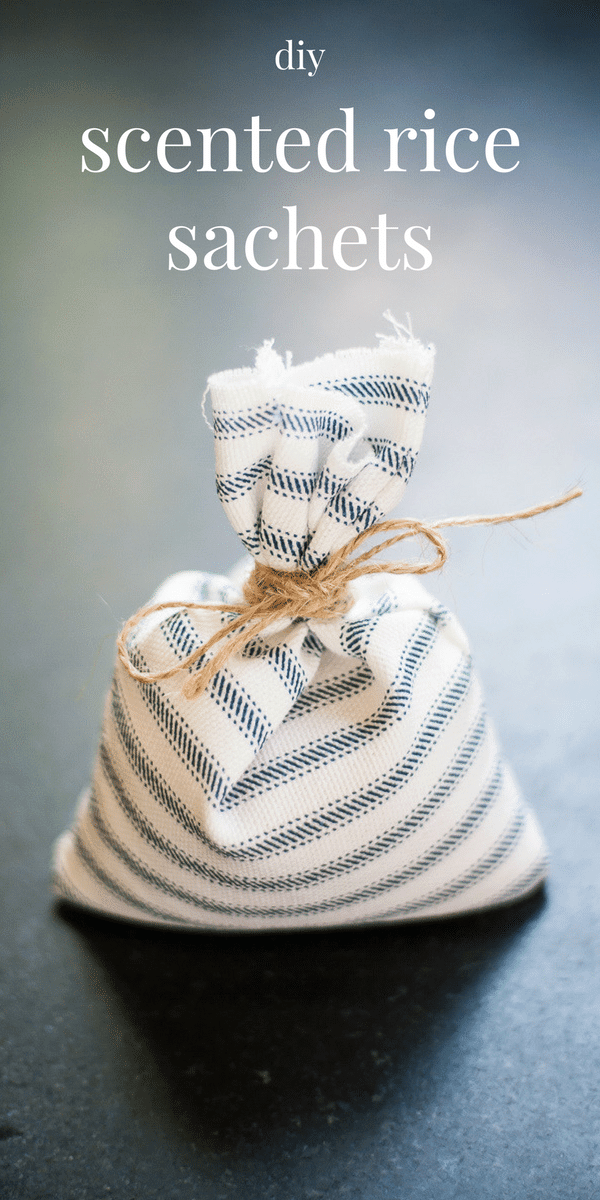 Another idea? Put together a sweet little gift basket of handmade goodies for Mother's Day or another occasion. Or, pack these into a care package for your kids at college or a friend who lives long distance. They will open it up and it will smell really good. Like home. Like you.
I hope you guys enjoyed!
xo Karen