A look at inspirational coffee station decor ideas for your home.
---
I don't know about you, but I start every single day with a ginormous cup of coffee.  
In fact, before I even get out of bed in the morning, I'm already thinking about it. I can't wait to go downstairs and brew that first cup of coffee. It's so good.
With over 2 billion cups of coffee consumed every day worldwide, I'm guessing I'm not alone.
But I never gave much thought to our coffee set up.
I make the coffee and then I do the things. I move on with my day.
But with the craziness that is the world right now, having a nice little coffee bar waiting for me doesn't sound so bad.
A little station that makes your morning coffee ritual feel a little more special. Luxurious, even. We could all use a little more special right now.
Coffee Station Decor Ideas
I'm rounding up some beautiful coffee station ideas to inspire you. Grab a cup of joe and enjoy these beautiful photos!
1. The Coffeemaker
Obviously, to create a coffee station we need a coffeemaker!  We have the Keurig at home and I absolutely love it.  I feel like the Keurig is one of those love/hate things though.  We really love the idea of making one cup of coffee with the push of a button.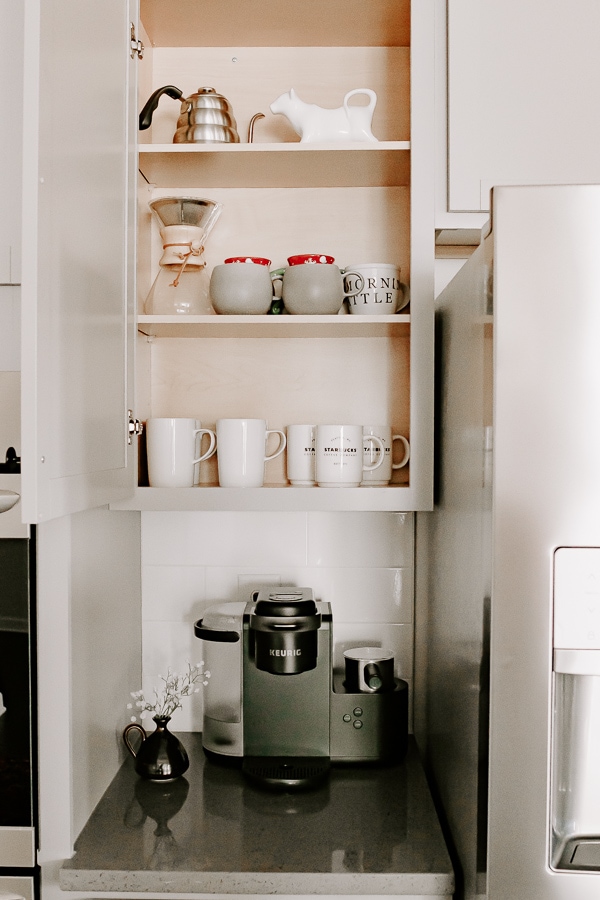 We can each enjoy our favorite brands. I love a dark roast, my husband likes the lighter varieties. I can't wait for the pods to become compostable. That's my only hangup with them now.
Whether you have a Keurig, a Mr. Coffee from 1985, or a fancy barista machine, your coffeemaker will set the stage for your station.
You should also give some thought to the placement of your coffee bar. A coffee station should have enough space for your coffeemaker, an outlet, and room for other essentials, like mugs, sugar, a grinder, and —- coffee!
But don't be discouraged if you don't have the counter space. A simple bar cart can also be turned into a coffee station and look so pretty! If you have guests, you could easily wheel this over to the dining room and back for after-dinner coffee.
Related: Kitchen Counter Decorating Ideas You'll Love
2. Built-in Coffee Station
If you prefer a clean, streamlined kitchen, you can completely hide away your coffee station. Then, you don't really need any decor at all! For some, a coffee station may just be too cluttered looking and busy to have out in the open.
Enter, the hidden coffee station.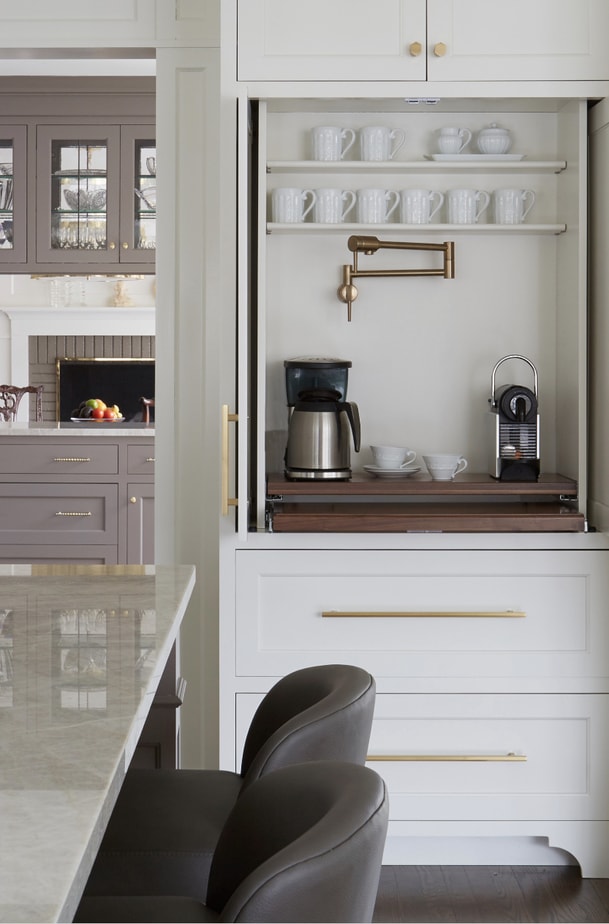 These coffee stations have pull-out features and lift-away cabinets for easy access. Some have pocket doors that fold out of the way. And some are tucked away in a side room pantry.
These hidden stations take a bit more planning, time, and money to achieve, but they can be done and they look amazing.
This one below is a bit more open, but a simple shelf of accessories is enough decor to bring it to life.
3. Chalkboard Wall
I'm seeing so many chalkboard walls behind coffee bars that I had to put this in its own heading. A chalkboard wall will really take your coffee station to the next level! So if you love that idea, check out these clever looks below.
This look is not hard to achieve. All you need is some chalkboard paint and chalk. The actual chalk art is up to you!
Even if you can't swing a full chalkboard wall, a simple framed chalkboard will suffice and be just as cute.
4. Floating Shelves
You don't need cabinets to set up a great coffee station. All you need are some floating shelves above. These are perfect for storing your mugs, sugar, and other coffee accessories. You can also dress them up seasonally for holidays.
If you don't love the look of open shelving, try these simple hanging rack systems from Pottery Barn or IKEA. (Check out the little hanging storage for coffee and Nespresso pods!)
Another idea is to use vintage storage crates as shelves.
5. Coffee Storage as Decor
Now, where to store the coffee and coffee pods? Here are some ideas.
For grinds and beans and other things, you can go pretty standard with a coffee canister and spoon. Try to find a pretty spoon/measuring spoon. It's those little details that will make your coffee station so much more luxurious and special.
For coffee pods, I love these ideas below. We store our coffee pods in the drawer underneath. I bought several in drawer organizers and the pods fit perfectly in them.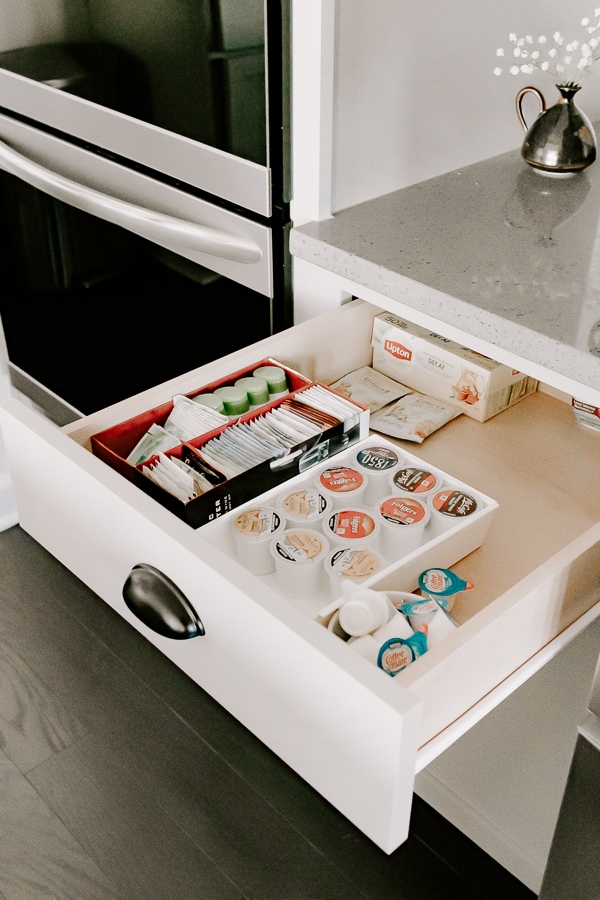 Amazon sells coffee pod organizers that fit under your Keurig, almost like putting it on a stand.  Or, you can just make your own kcup holder.
6. Artwork
I think what really makes your coffee station stand out is the accessories (and maybe one of those fancy barista machines if you can get it). Our coffee station is pretty bare right now – I'd love to add some coffee-themed art to jazz up the area.

A small framed print right next to your station makes it feel styled. Etsy is a great place to find some cool artwork for your coffee station. It one of the first things you will see in the morning so make it inspiring! 🙂
7. Canisters
Of course, canisters for sugar and coffee are essential. They also help style your coffee station. I prefer a set of canisters in different heights. Hearth and Hand from Target has some great options, but you can find cute canisters everywhere.

You can also buy a pretty container for straws and coffee spoons.
8. Pretty Mugs
If you have open shelving or a more open concept coffee station, you'll want some pretty mugs to put on display. I'm particularly drawn to whiteware.
This makes coordinating tablescapes and open shelving a breeze.  I don't think you can go wrong with your basic white mug.  However, I'm also really into the aged ceramic mugs that feel earthy.  Anything vintage looking is ok in my book! 
I love checking out CB2 for their selection of coffee mugs. They are affordable but also really good quality.
And of course, don't forget the kitchen section of your local IKEA! I tell you guys, IKEA is getting better and better. I just wish one was a little bit closer to me.
9. Florals/Greenery
Bring in nature! Florals and greenery can be the finishing touch to any coffee station. Go outside and forage for some seasonal branches, or pick up some dried or faux florals.
10. Trays
A tray can help your coffee station accessories feel more collected and organized. I've even considered getting a large enough tray to fit my whole coffee maker and accessories.
You can get a smaller tray to fit just the accessories. Our tank tray is one of my favorites!
11. Cloche / Lidded Dome
Your favorite breakfast pastries and croissants will look beautiful under a cloche. Anything under a cloche feels a little more special.
If you have space, you can go for a larger dome. I really love this cute mini cloche from Home Depot. The price is great and it's so pretty!
Favorite Picks for Your Coffee Station
Click on any photo for more information.

So that's it for this post on coffee station decor ideas! Have fun creating your own charming coffee bar at home.
Xo Karen
Karen Sloan is the founder, editor and syndicated content writer of www.decorhint.com. She offers hints of inspiration for everyday living, including home ideas, DIY projects and lifestyle content. Her work has appeared on Google News, MSN, Pioneer Woman, Apartment Therapy, and Bustle, among others.