Pretty DIY Clay Jewelry Dish
It has been a crazy rainy week here, but I'm ok with that.  Rainy days inside mean I can do craft projects (as long as my two-year-old allows).  I got ahead of a few DIY projects this week and can't wait to share them with you.  First up is this DIY clay jewelry dish.
I needed a little dish to put my earrings in so they didn't end up all over the place and lost.  I tend to take my earrings off at night and lay them wherever in my room or bathroom.  Since I wear a lot of little stud earrings, I wanted something to harness them all together. 
This tutorial is straightforward, but it will take a couple of days because you have to give your clay time to cure or dry.  I gave it 48 hours before I painted it.  I think it turned out cute, and I'm using it frequently already.  I decided on the heart shape because, well,  it's almost Valentine's Day!
At the end of this tutorial, you will have a cute jewelry trinket dish for your rings and earrings.
Materials Needed
DIY Clay Jewelry Dish Tutorial
I recommend putting some lotion on your hands first – it makes the clay easier to work with and not as sticky (to you.)  Grab a wad of clay and roll it out flat.  You can use a mason jar or a rolling pin to roll it out. 
Cut a free-form heart out of the clay in whatever size you prefer.  I kept mine relatively small. Remember that you want it large enough to fit over your form dish or vase as it dries ( to make the rounded shape).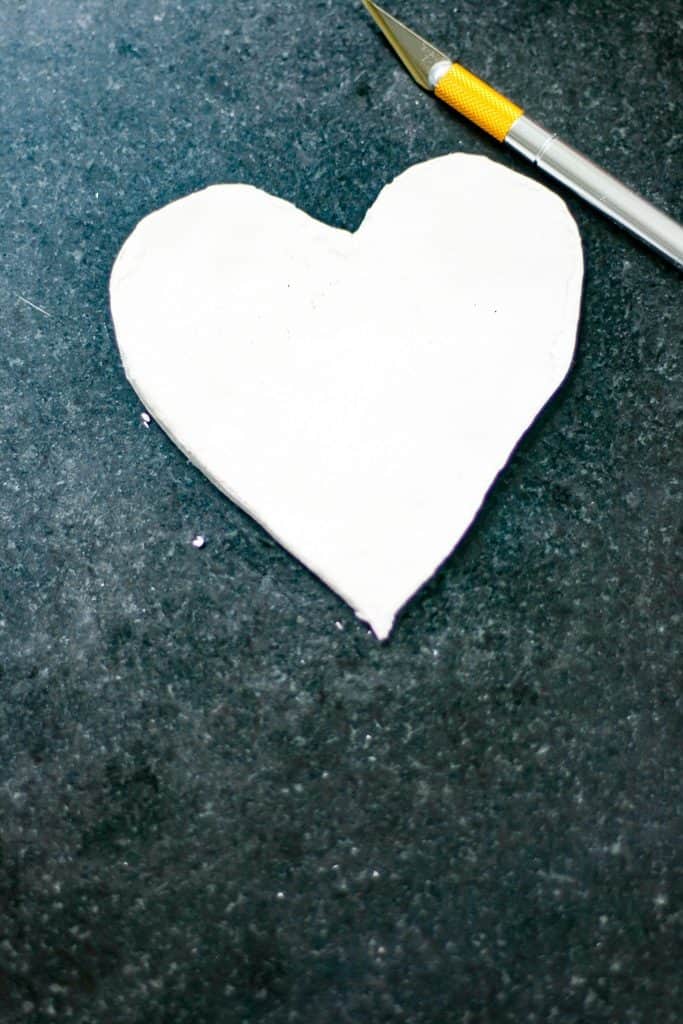 I used my fingers to smooth out any cracks or marks I didn't like. Then, I used my stamp to imprint just the edges of the heart. I didn't make any stamps in the center.
Once you are happy with your heart, you can carefully lift it on top of your dish or vase.  I lightly shaped the heart over my little vase to get the edges rounded the way I wanted.  Be careful not to press too hard, or you might ruin your stamp imprints. 
I left it like this for 48 hours.  The packaging for my clay says it fully cures in 36 to 48 hours.  I would double-check your clay specs.
After 48 hours, I lifted it off the vase and started painting with watercolors.
I made my edges a bit darker than the middle area.  Or at least, that's what I was trying to do!  I took a gold metallic Sharpie and outlined the rim to finish it up.  You could also use gold leaf to do this.
All done!  And now I have a cute little jewelry dish.  I also have tons of leftover clay for another clay project.  You could also make one for loose change or office supplies, like paperclips.  I can't wait to make more!
If you liked this tutorial, check out my DIY page for more fun crafts!