Easy, Rustic DIY Shelf Brackets
This page contains links to products that were hand-picked by the editor. When you buy through these links, we may earn a small commission. Learn more.
Learn how to create your own DIY shelf brackets from wood with this simple DIY tutorial.
---
Did you guys know that you can craft your own wood shelf brackets? You can! Pretty easily, in fact.
You can always grab some shelf brackets at hardware stores like Home Depot and Lowes, but let's be honest, they can be kind of ugly sometimes. And it's cheaper to make your own with a few simple materials and tools. Use up that scrap wood in the garage!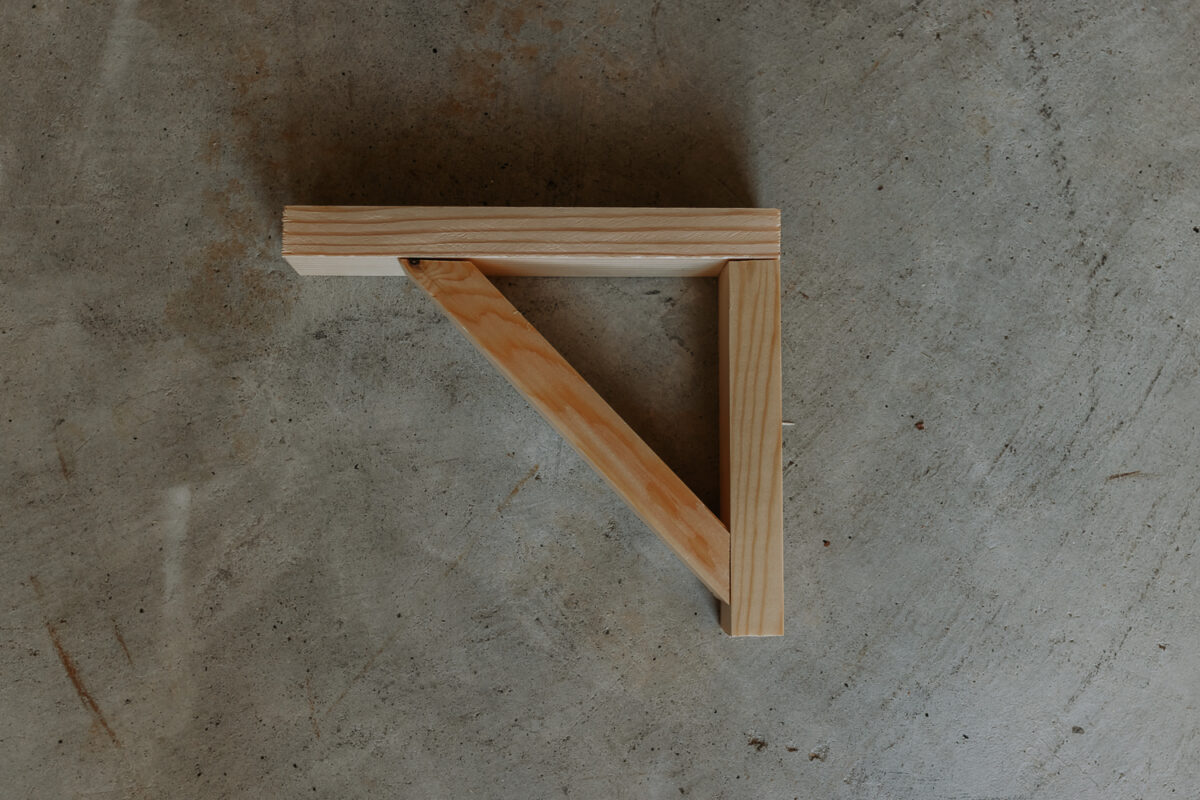 I'm building open shelving for Hannah's room and wanted some craftsman-style wood brackets to go with it. Are they perfect? Nope. But they add so much character to the room and they do exactly what they are supposed to – hold up her shelves!
So, let's get started with this simple project.  
Things You'll Need
Miter Saw that can cut angles
Drill and screwdriver drill bit
1x2x8 furring strip- but you can use any smaller width lumber for this project – use up those pieces of scrap wood you have (exact wood cut dimensions in tutorial below)
Wood Glue (Elmer's Glue is typically fine or use Gorilla Epoxy glue if a stronger joint is needed) Right Angle Clamp
Wood Stain – I used Early American
Stud Finder, Level and Wood Screws (for hanging)
How to Make DIY Shelf Brackets with Wood
Step by Step Tutorial for making shelf brackets with wood.
Total time: 1 day
How to Hang Your DIY Wood Shelf Brackets
Now that we have our beautiful shelf brackets, you might be wondering – how the heck do I hang these things!?? Well, I'll tell you.
The first thing you want to do is find the studs with a stud finder and mark them. Whenever you are hanging something that is going to hold some weight, your best bet is to screw it into the stud.
Try to line up your shelf brackets with these studs if you can. If you can't do that, then try to use a heavy-duty anchor (although these will be screwed at an angle to account for the middle support piece). My shelves are exactly 25 inches long. If you have longer shelves, just space out your brackets more!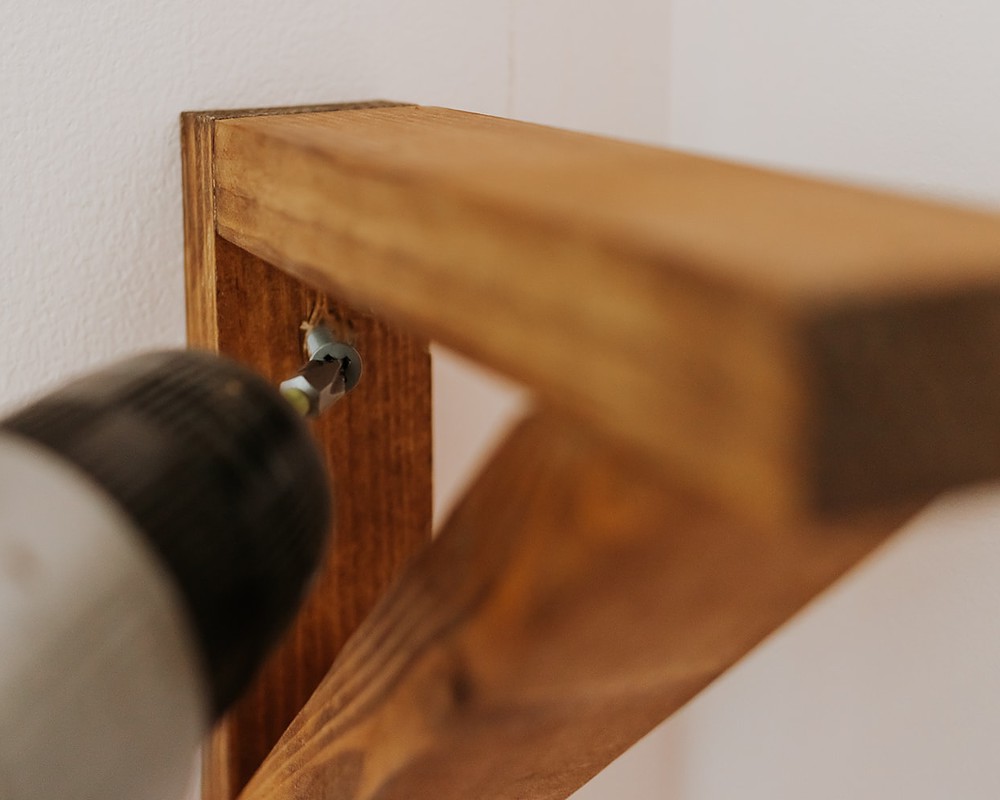 Since we have a middle piece, we will need to drill in our screws at an angle. This is a bit cumbersome but totally doable. To prevent your wood from splitting and cracking (lesson learned), you may want to drill a small pilot hole first before drilling in your screws.
After attaching your first shelf bracket to the wall, use a level to ensure the second bracket is installed at the same level. After both brackets are attached to the wall, place your shelf on top!
You can use a small screw to attach the shelf board to the brackets. You won't be able to see this screw if you cover the shelves with objects. If you are concerned about this, you can always pre-drill a hole from underneath the bracket and then install a screw and attach the shelf to the board that way.
And that's it for these easy shelf brackets!! Make sure to check out my other scrap wood projects and make yourself something fun.
I'll be showing you guys how to make your own shelves too in a future post. So stay tuned!
Xo Karen