Decor Hint is reader-supported. When you buy through links on our site, we may earn a small commission - at no extra cost to you. Learn more here.
DIY Pinboard tutorial in 5 easy steps! This project is super easy, inexpensive and will look great in your office.
---
Maybe you have an old corkboard lying around that's seen better days.
Or, maybe you just don't like how the plain cork is throwing off the vibe of your room. This pinboard project will save your pinboard from the dumpster AND give you a refreshing new piece for your walls.
This was one of the final projects for my daughter's room. She has an old bulletin board that I picked up on clearance from Land of Nod (now Crate & Kids).
But I really wanted it to be a linen pinboard to go with the new style of her room. Linen is such a pretty fabric and relatively inexpensive, so it's win-win in my book.
I was really inspired by the pinboard looks on Decor Pad.
But, you don't have to use linen! You can really take any kind of fabric and complete this project. I'm just particularly drawn to linen at the moment. And this works with any size pinboard as well.
You will need an inexpensive light-duty staple gun for this project. They don't cost a lot and you can buy them at hardware stores and on Amazon.
You will also need the appropriately sized staples to go with the staple gun. The staple gun you have will specify what type of staples it needs.
Just make sure it is a light-duty staple gun. I would recommend against a pneumatic staple gun that you would use for projects such as installing a stair runner. That would probably be a little too rough on your bulletin board!
I've also included a short guide on how to load a staple gun. I was a bit clueless when I got mine despite the instruction booklet it came with.
Things You'll Need
Linen Fabric or Fabric of Your Choice – I used this one (LOVE)
Bulletin Board/PinBoard
Staple Gun – I used this brand
Scissors for cutting fabric
Iron – to iron out the creases!
By the way, if you love easy DIY projects like this one, you definitely have to check out my DIY Peg Rail tutorial. You don't need anything fancy and it's such a practical project for your rooms.
DIY Pinboard Step by Step
The first thing you will want to do is iron your fabric to remove the creases.
Lay your fabric down on a table or the floor. Place your pinboard upside down on top of the fabric.
Cut your fabric so that it is slightly larger than your pinboard. You don't want to too much excess bulky fabric to staple, however, you want to ensure you have enough fabric to overlap the frame on the back.
Once you have the fabric cut, it's time to staple it to the back frame. Staple the fabric to the back of the pinboard while pulling the fabric tight – you don't want it loose or sloppy looking on the front side. Do this all the way around, pulling the fabric taut as you go.
For the corners, neatly gather the fabric and staple it to the corner parts of the frame. Make sure to pull the fabric tight. Don't worry if it looks bunchy in the back, it should look neat and tidy from the front. All done!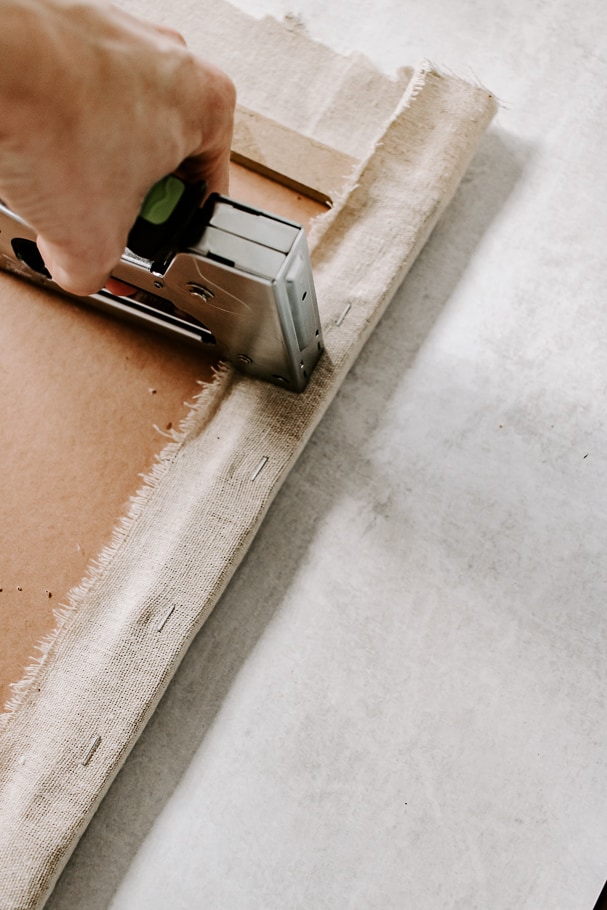 You should have something that looks like this when you are done. I put my staples in pretty close together because I don't want the fabric to have an opportunity to loosen up.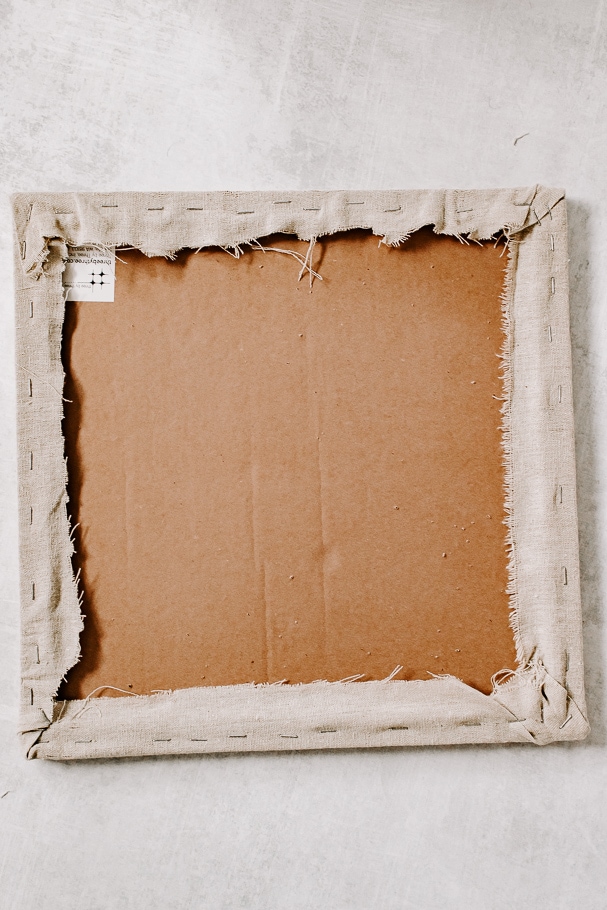 How to Load a Staple Gun
Follow these simple steps to load your staple gun! Please ensure you are using the right size staples.
Flip your staple gun upside down (so the handle is on the bottom).
There should be a little track release there that you can squeeze together and pull, and a track will slide out. There should now be a hollow space in the gun for where to insert your staples. My track does not come all the way out, but on some staple guns, it will.
Insert your staples into the gun part, not over the track. Make sure your staple points are facing down, as shown in the picture above.
Slide the track back inside the gun until you hear a 'click'. Now just flip your staple gun around, so the handle is at the top.
Now you are ready to use your staple gun!
How easy was that!?
Now that you have this beautiful new DIY pinboard, it's time to fill it with inspirational cards, drawings, and sentimental photos.
Have fun!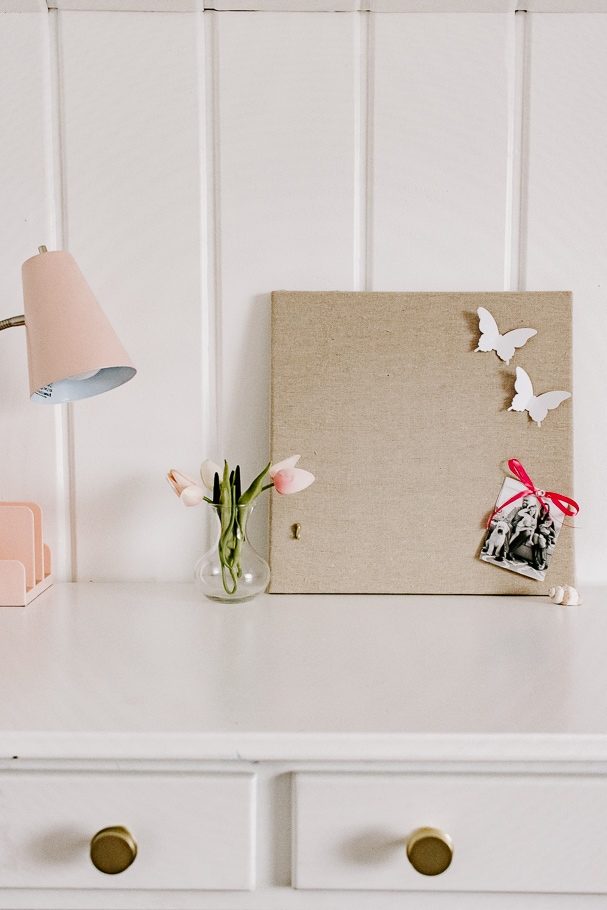 Thank you for visiting today!
xo Karen