This post may contain affiliate links. Learn more here.
A roundup of easy but stylish wood projects for your home! These projects are perfect for beginners and use basic woodworking tools.
---
Looking for some easy wood projects that you can finish up in a day?
Or how about an hour?
And with basic tools?
And inexpensive wood?
Well today, I'm rounding up some of my favorite wood projects that you can make for your home. All these woodworking projects can be completed with some basic tools, which I'll highlight below.
Oh, and most of them require nothing more than cheap scrap wood.
Call me plain and simple but I really like working with Pine and I think it stains beautifully.
I hope these projects inspire you to try and make something beautiful for your home. Trust me – the hardest part is metaphorically "picking up the hammer." Just get started and things will start rolling from there.
In fact, last year around this time, I rarely picked up a drill. Anything that needed to be done around the house, I usually called my hubby in. But not anymore! In just under a year's time, I've built up the confidence to complete projects and fix things around the house myself.
Now, I keep a running list of projects that I want to make for the house. And of course, share with you here!
So let's get going.
Recommended Woodworking Tools and Supplies
Easy Wood Projects
1. Simple Wood Bench
This wood bench will take you a few hours but once you know how to make it you open up a world of possibilities for more benches in different sizes! Make one for your entryway or the end of a bed.
2. Spice Drawer Risers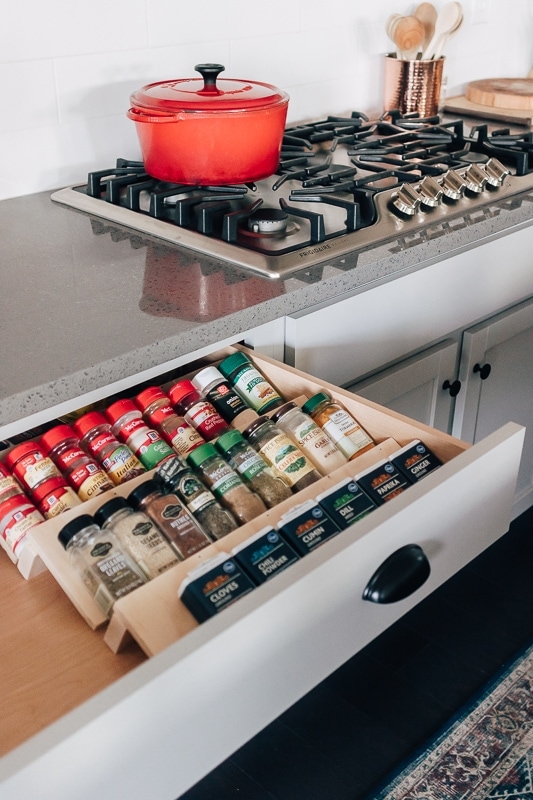 You can buy spice risers but I'm kind of partial to the pretty wood ones that are custom made for your drawer. Grab some cheap pine wood and get organized!
Get the full tutorial for spice risers here.
3. Kids Toy Box
These toy boxes are perfect for organizing stuffed animals, blocks or any other toy that needs to be corralled in your kids rooms. It's on caster wheels so it can be pulled around the room to make clean-up a breeze.
Get the toy box tutorial here.
4. easy Board and Batten Walls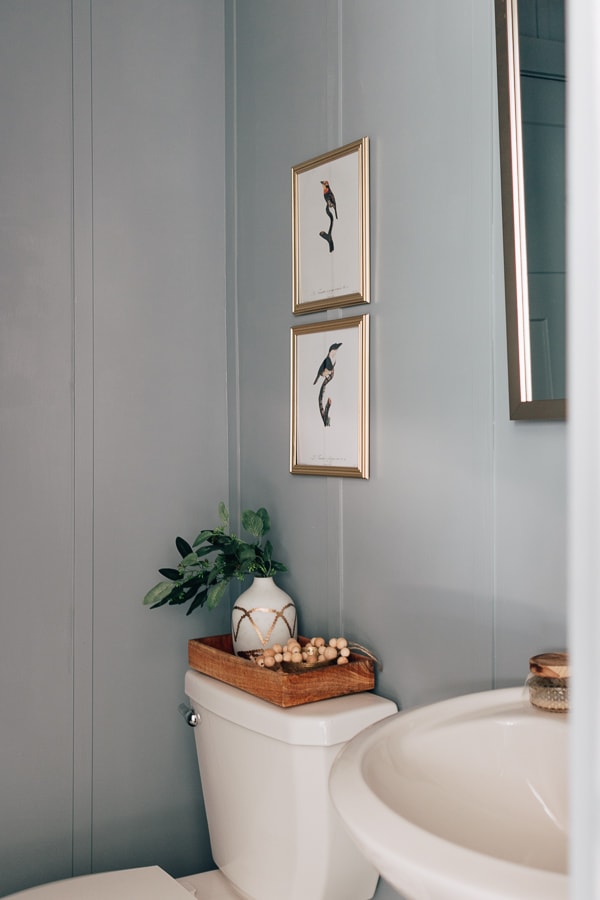 This tutorial calls for garden lattice – yes, you read that right. Cheap lattice can transform boring walls into stylish molding. This is not hard! Very minimal cuts and mostly attached with construction adhesive.
Get the full tutorial for board and batten here.
5. Small Wood Stool
I love these stools! My dad and I put this one together and while this is the most challenging project on this list, it's still very doable and sturdy as heck. There are so many uses for stools; seats, step stool, plant stand and more!
Get the full wood stool tutorial here.
6. Wood Pedestal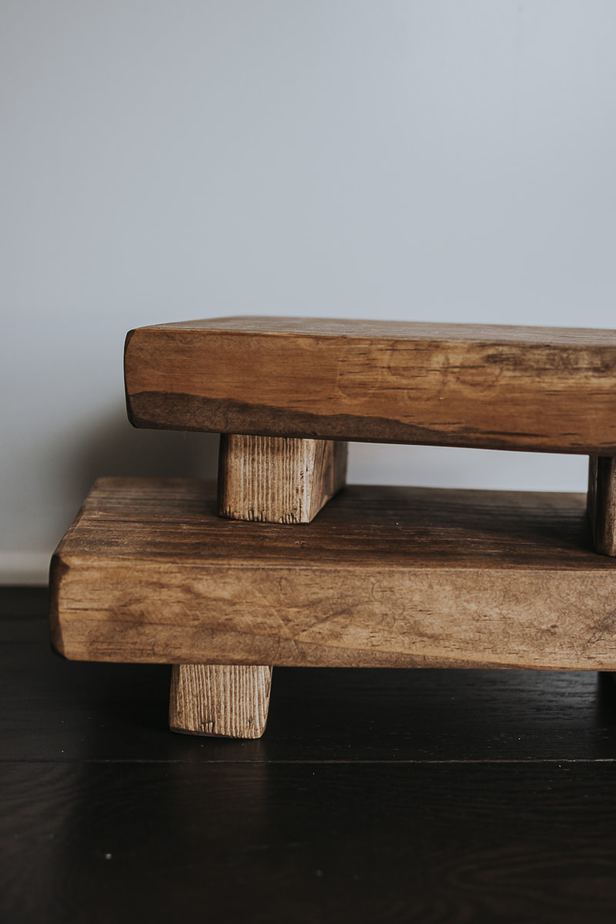 Not a stool – a pedestal. And a stylish one that doesn't cost a fortune. I made one for my bathroom and one for my kitchen. Life feels a little more luxurious when things are elevated on a pedestal.
Get the wood pedestal tutorial here.
7. Succulent Planter Box
Someone on Instagram asked me if my succulents were still alive and they actually are – which is kind of amazing since I neglected them for a good bit. The planter box is also still holding up and adds rustic charm to your tables. Don't want to worry about plant life? This project is also perfect for faux succulents.
Get the full tutorial for this succulent planter box here.
8. Farmhouse Coat Rack
Sometimes the easiest projects can be the most charming. Aside from the stool, this is one of my favorite projects. I took a cheap piece of pine and attached some old hooks.
I love how antique this looks and it's functional too. Whether you want to actually hang coats on it or just use it for decor (like me!) – you will love this project.
Get the full coat rack tutorial (plus those awesome old coat hooks source) here.
9. Peg Rail
If you are into rustic/farmhouse decor, I'm a firm believer that you can put a peg rail in any room and it will look great. This tutorial shows you two ways to make one (including one with screw in pegs – did you know those exist!?)
Get the full peg rail tutorial here.
10. Wood Bookends
This was one of the first wood projects I ever made and I was so proud of myself afterward.
These bookends came together with two pieces of molding from the hardware store. You can decorate and paint them to fit in with your decor.
Get the DIY wood bookends tutorial plus some ideas for jazzing them up right here.
11. Garden Trellis
Apparently I can't stay away from garden lattice. A simple garden trellis tutorial that will give you privacy as well as place for your climbing plants to grow.
Get the full tutorial for this garden trellis right here!  
12. Kids Activity Table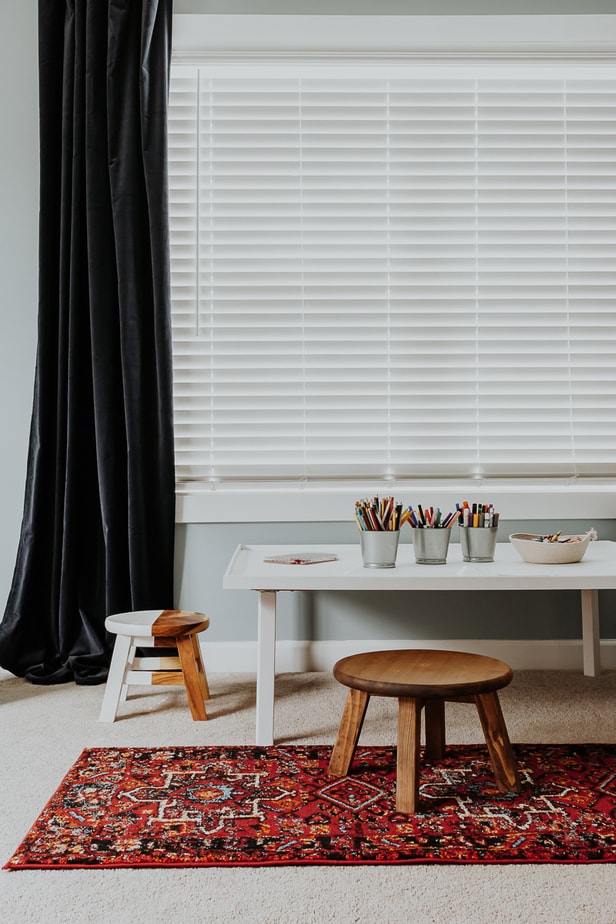 These kids activity tables can cost a fortune! But I made mine out of some plywood and premade legs that you can pick up at the hardware store. This table is perfect for legos, drawing, reading and eating!
Get the kids activity table tutorial right here.
Favorite Resources/Inspiration for Woodworking
While I learned a lot about woodworking from my dad and my husband, here are a few of my favorite resources for learning even more.
Woodworking for Mere Mortals – easy to follow and so many great tips! He has a great teaching style.
Ana White Woodworking – she is amazing! I think she has a tutorial for just about everything too.
Pretty Handy Girl – You will love Brittany as much as I do. So many amazing projects on her site and she has a great way of teaching beginners.
I tend to make things that I want to buy. If I see a pretty side table or stool, I try to figure out a way to make one first. Or, I see if I can thrift it. Sometimes that can be the cheaper option since lumber prices are a little insane right now.
I'll be sure to add more easy wood projects to this list as I complete them. And trust me, I have quite the list of things I want to try out. I encourage you to give it a go!
Thanks for visiting today,
Xo Karen