Decor Hint is reader-supported. When you buy through links on our site, we may earn a small commission - at no extra cost to you. As an Amazon Associate, I earn from qualifying purchases. Learn more here.
---
Want to know an easy way to upgrade a blah space?
Install board and batten.
Not only is this an inexpensive upgrade, but board and batten is easy to install and can help your rooms feel larger, too.
I originally wanted beadboard, however, making the cuts around the toilet pipes and sink pipes seemed too complicated right now – board and batten solves that issue. You can just install it easily around the pipes.
Here's our bathroom before …
I'll show you how our DIY board and batten wall completely changed the look of a boring powder room. And, although super weird to say this, I really love going in there now. LOL.
I'm walking you through everything we used to install a full wall of board and batten.
Things You'll Need
Primed Pine Lattice (yes, you read that right)
Flat Pine Molding (for crown molding)
Painter's Caulk
Paint / Paintbrush
Ok, but why did you use lattice?
Our bathroom already had thin baseboards installed at the bottom. Instead of ripping those off and starting over, we needed to find thinner boards that would line up with the baseboard. Lattice was perfect size!
If you don't have baseboards yet, you can use the standard / thicker boards for your board and batten – like this.
If you are in the same boat as us with those thin baseboards, then lattice boards might just be a good solution for you.
DIY Board and Batten Wall – Full Wall
NOTE: Our bathroom already had baseboards, but not crown molding. We wanted our board and batten to be between a crown on the top and the baseboards on the bottom. That's why we started by installing some simple flat crown molding.
Step 1: Use a Stud Finder
Use a stud finder to find all the studs and mark your walls with a pencil. This is helpful for lining up your board and batten and installing your crown.
Step 2: Measure and Install Crown Molding
This is not an in-depth tutorial on how to install crown molding. This article is helpful.
A quick recap: We first measured each wall where it met the ceiling. Then, we cut our flat pine molding to those measurements using our miter saw. Each end of our molding was cut to a 45 degree angle – so these molding pieces would line up and join together once installed.
We used construction adhesive and a brad nailer to install them, then used painter's caulk to hide the corner seams.
Step 3: Measure Wall for Board and Batten
Determine where you want your board and batten. I spaced mine out about 14.5 inches.
Measure the distance between the top molding and the bottom baseboards. You might think this will be the same all the way around – but ours wasn't. So I suggest you measure for each and every board.
Once you have your measurements, use your circular saw to make the cuts in your primed pine lattice. Then, apply a thin strip of construction adhesive to the pine lattice.
Apply the lattice to the wall and then immediately take your level and make sure it's nice and straight on the wall. You will have a few minutes to adjust the lattice and move it around until the adhesive cures.
Repeat this step with each lattice board.
Step 4: Secure Boards to the Wall with Nails
The construction adhesive will do the job for the most part, but just to secure them a bit more, we used our brad nailer to pop a few nails in each one.
Step 5: Caulk around Boards
After our lattice boards were up, we used a bit of painter's caulk to fill in any gaps between the boards and the wall.
Step 6: Paint!
Painting is what puts the magic finishing touch on this project. We used the color Babbling Brooke by Sherwin Williams. It's a lovely, smoky blue color and I'm just head over heels in love with it.
Related Post: Tank Tray Bathroom Decor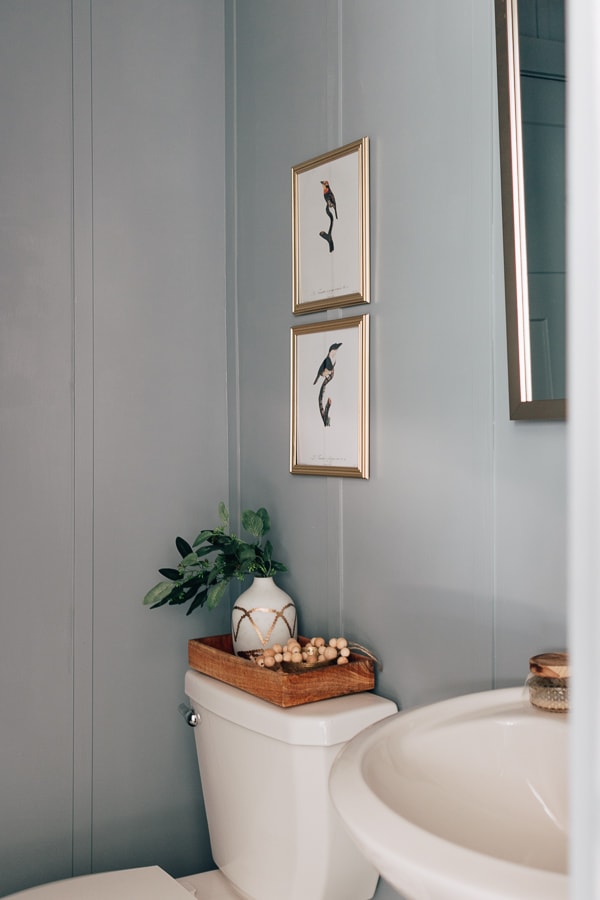 We decided to paint everything – including the doors and moldings. This helped that closet door to blend in seamlessly with the rest of the powder room. Before, it stuck out like a sore thumb!
I am so in love with how this project turned out, and we probably spent around $100 on wood molding in total. Not bad for a major difference!
We also decided to change out the mirror, I found a bronze square mirror from HomeGoods for less than $30. This mirror ties in with the vintage frames we have in there.
Our pedestal sink didn't offer a huge amount of space for the soap dispenser, so I bought this little 3M white ledge. Surprisingly it's holding up there pretty well, despite how often we are washing our hands in there these days.
We still need to get a towel holder. I'll probably just DIY one soon. My kids seem to think that balling the hand towel up in the corner of the sink area is how you "put it away". Ugh. Mom issues.
I hope you guys loved this before and after and it inspired you to install some board and batten (somewhere, anywhere!)
It's funny how once you do these projects, you want to do them everywhere around your house. Feel free to ask me any questions here or DM on Instagram. I'm happy to help!
Thanks for visiting today!
Xo Karen