This post may contain affiliate links. When you buy through links on our site, we may earn a small commission - at no extra cost to you. Learn more here.
---
Hi, everyone! I have a quick project for you today.
A personalized felt pennant.
I've always wanted to make these adorable pennants. You can buy them but the cost of making them is so much cheaper.
I decided to make one for my son Tyler with his name, and another one with his favorite team – the Steelers.
All you need for this project is a few pieces of felt, stencils, some hot glue, and a pair of scissors.
I've linked a few of them here in case you would rather buy one. But it's really fun to make your own pennant!

Things You'll Need
Related: DIY Burlap Banner
I made a video showing you how I made these pennants. You'll see how easy this is! The most tedious part is cutting out your letters.
I tried using my rotary mat and Xacto knife to cut the letters, but it didn't really work. The easiest option may be using a Cricut machine. I've never used one before so not totally sure, but I've seen tutorials online.
Stiff and thick felt cuts MUCH easier than the flimsy kind of felt.
How to Make a DIY Felt Pennant
The first thing you want to do is cut your stiffened felt into a triangle. You can use a ruler to get straight cuts or just eyeball it.
Using your stencils, trace the letters onto the felt. I did this on the back of the felt so you won't see any pen lines. If you do this, just make sure to trace your letters backward.
Cut out your letters and a small strip of felt to line the edge (see photos), and then four smaller strips for the little ties.
Glue the four little strips to the widest edge of the pennant; two in a v shape on each end. Then glue the longer strip on top (watch video to see this in action).
Glue all your letters onto your felt triangle – you may want to line them up first to get a feel for how it will look.
To hang them on the wall, use a couple of Command poster strips.
Related: DIY Bunting
You really can't go wrong – all in all, this cost me around $5, probably less. And it was fun!
These aren't just for kids either – choose your favorite teams, locations, cities, etc, and decorate your office, she-shed or man cave. You can see how Studio Mcgee styles them here.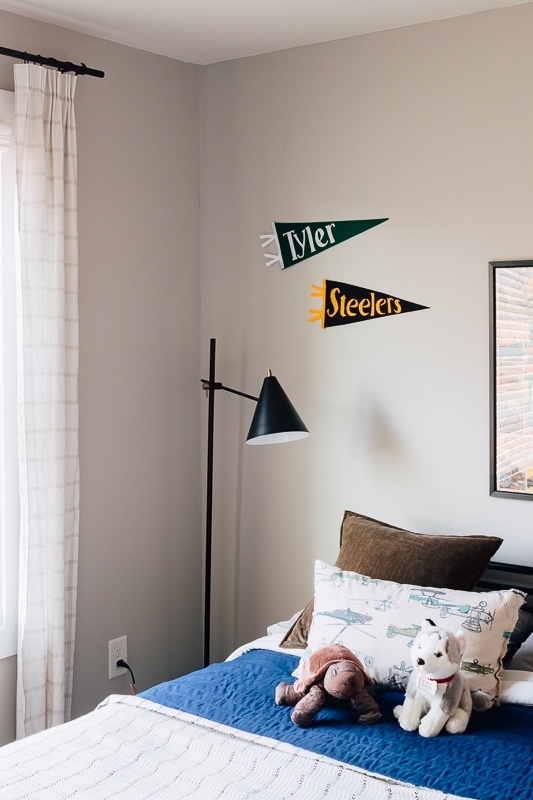 I hope you guys enjoy this project!
Xo Karen