A super easy tutorial for making a pair of DIY wooden bookends. These bookends are cheap to make and you can even customize them!
---
I'm so sorry Pottery Barn. I feel like I'm always calling you out and using you as an example.
I absolutely LOVE Pottery Barn, don't get me wrong. But I have an issue with spending money on something that I KNOW I can make myself. For much much cheaper.
Exhibit A: Pottery Barn Kids Bookends.
Adorable. Super-Cute. But almost $40 for a pair? Not for this gal.
I guess it really depends on what you choose to DIY yourself and what you are willing to spend money on. Because everyone is different. Some of you may not want to bother and you just want to buy the bookends. I totally get that perspective too. (NOTE to self: Make roundup post on cute kids bookends).
I hope this quick tutorial will give you some ideas for making your own wooden bookends. They are surprisingly simple to put together! The materials are cheap and they can be made to fit the decor of the room. Woot!
And trust me, people, I am no handy-woman. I am learning as I go here. So if I can do it – then you can do it.
Ok, let's get to the tutorial!
Materials Needed to make bookends
How to Make Your Own DIY Wooden Bookends
One of the best things about this bookend project is that the materials are cheap! I went to Home Depot and perused their section of Crown Moulding and Millwork.
That's where I found these two little pine pieces and decided they would work perfectly as a kid's bookend pair. I referenced the pieces I bought above – super inexpensive and easy to work with.
I actually love the look of the natural wood, but since this was for my son's room, I wanted the bookends to match with his bookshelf in there. But you could save yourself an extra step if you just keep them as bare pine wood.
Step 1: Join your Pieces of Wood Together
You are basically making an L shape with these pieces. I wanted the flat parts of the wood against the books and the decorative sides facing out. I took three nails and hammered them through the back, attaching the small rosette piece to the plinth piece.
Once the pieces are attached, you should be able to stand it right up.
Can I attach these pieces using wood glue?
Good question! I actually deferred to my hubby on that. He thought that the wood glue wouldn't have a strong enough bond to support the weight of books. So that's why I went with the hammer and nails method here. I don't have to worry about them breaking apart and they are pretty sturdy.
Now, I am not using them to hold a case of Encyclopedias but you get what I mean! For your typical books and kids' books especially, these should work perfectly.
Step 2: Spray Paint your Bookends if desired
Now that you have these cute bookends put together, you can spray paint them whatever color you like.
I LOVE Rustoleum Painter's Touch Spray Paint. They have an amazing array of colors! I just used their Chalk Spray Paint on a chair project for my daughter's room. But just search 'spray paint' in the sidebar on this blog and you will see how many times I've used this spray paint.
Like I said before, I decided to go with Matte Black since that would match the decor in my son's room already.
It took me a couple of coats to fully cover them. This spray paint dries in about 20 minutes and fully cures in 24 hours. Light coats are key to prevent runs and drips on your paint project.
Step 3: Attach a Toy to your Bookends
Here's the other great thing about this project – you can totally customize it! I'll show you what I mean in a minute.
My son loves cars and we have so many of them that I took two that he doesn't really play with and used them as "accents" on the bookends. You can easily attach your toys via Hot Glue, or just place them there as a decorative nod.
Here are my bookends plain, after spray painting. They look somewhat modern, right?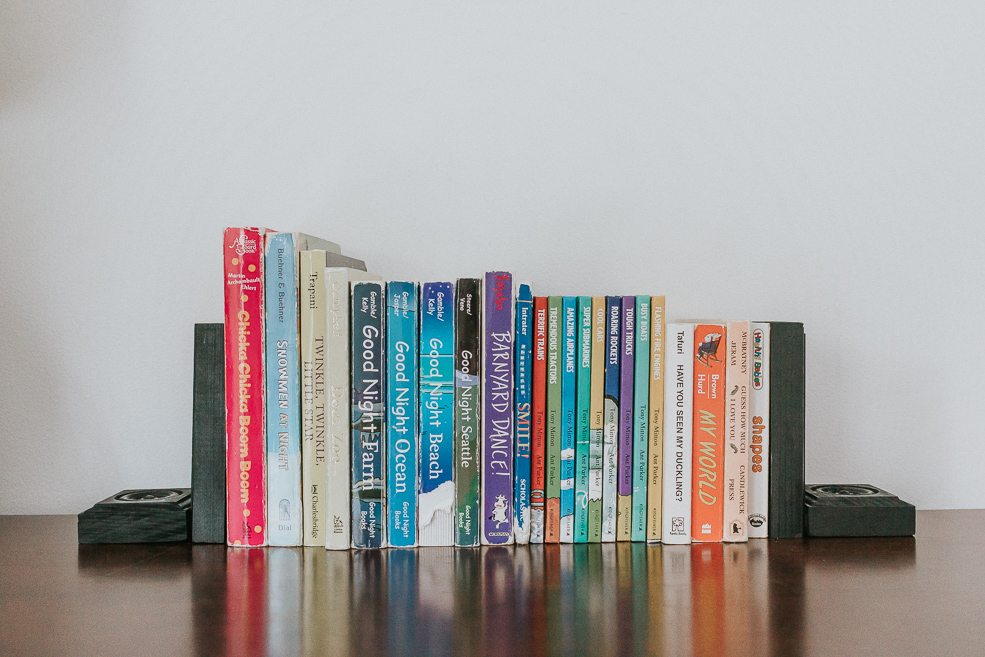 Here's an idea for car bookends …
How about sports-related, like baseball bookends?
Or Roar! Animal Bookends, like Dinosaurs …
These wood bookends are so fun, right? You could also buy additional wood pieces and make one of those popular mountain bookends. I see them everywhere and they are cute!
If you are more of a painter, you could easily paint a mountain or a cool road on these blocks as well.
So many ideas!
I'm thinking of making one for my daughter's room. I just recently finished her bookshelf with wallpaper. This ties in nicely with that.
Here are some close-up photos of these bookends …
Easy, right?
But where do I buy these little figurines?
I would look in your own toy boxes first – you never know if you have one hiding in there. If not, Amazon is a great place to look. Actually, that's where I bought the dinosaurs.
But here are some other ideas for figurines for your bookends :
You want to make sure the figurines are the appropriate sizes for your bookends before purchasing, but a quick search will bring up so many options.
Non-Stick Pads Help your Bookends from Sliding
If you really want some leverage and you want to make sure your bookends won't slide around, just stick something like these gripper pads on the bottom and these bookends won't be going anywhere.
Truthfully, I didn't have any issues with my bookends slipping and sliding but it never hurts to make them extra sturdy!
Please let me know what you come up with if you try this project.
And check out my other woodworking projects (if you can even put my projects in the woodworking category – sounds fancy):
I have to say, I'm really getting into these wood projects. Maybe something like this from The Merrythought will be my next venture? 🙂
Until next time!
xo Karen
Karen Sloan is the founder, editor and syndicated content writer of www.decorhint.com. She offers hints of inspiration for everyday living, including home ideas, DIY projects and lifestyle content. Her work has appeared on Google News, MSN, Pioneer Woman, Apartment Therapy, and Bustle, among others.