Check out these DIY Bathroom Mirror Frame Ideas. This post has been sponsored by Frame My Mirror™.
---
Since moving into our home three years ago, the only upgrade we've made to our bathroom is painting the walls. This is our main floor bathroom and the one we use for guests. It was in need of some serious refreshing!
An easy way to take your bathroom decor up a notch? Frame the mirror! It's not hard to do, especially if you use one of these mirror kits. If you are up for more of a challenge, I included a good tutorial for framing your own bathroom mirror below.
I was thrilled when Frame My Mirror reached out to me to partner on this project. It's amazing the difference that adding a mirror frame made to our bathroom. And it was so easy to do!
Frame My Mirror offers custom-fit frames for any size mirror. They have a variety of frame styles and colors to choose from so you are sure to find one that fits the style of your bathroom.
If you have a boring builder-grade mirror (like we do), you can easily transform it into something more stylish with their DIY Mirror kits.
You can also get samples of any frames for $1 each. The samples are a good size and really help you decide on the final product, so I highly recommend ordering some. And just in case you need it – Frame My Mirror offers free design help.
We ended up trying out Eastland in White, Avery Reverse in White, and the Weston in Gold. You just never know what is going to look good, so I wanted to test out a thicker frame, a thinner frame, and a different color.
You also get free shipping on all orders and everything is guaranteed and returnable, so there is nothing to lose!
diy bathroom mirror frame ideas
Let's dive right into these ideas.
Note: I moved my mirror up on the wall to allow for more room for the frame at the bottom of the mirror. You may or may not have to complete this step.
1. diy mirror kit
Once you decide on the mirror frame you want, you will need to order the size custom to your current mirror. We ended up really liking the Eastland in White. It is a thicker frame and has a nice inset design all the way around.
The ordering process is very simple and straightforward on the website, and customer service is available to help if need be.
You just need to enter in a few measurements and place your order.
The mirror frame doesn't take long to arrive. Everything is very well packaged in a long box. Inside, you'll find all the materials you need to put together your frame, including the glue. The only thing you will need on your own is a hammer.
The actual DIY part of this project is super simple – anyone can do it. You will find a step by step instruction guide in your package.
Here's how to put together your frame …
Place your frame face down on a level surface. That means the blue tape side will be facing you.
Using the glue that was included with your frame, glue the corners of your frame together securely.
Now, insert the included wedges into their correct holes on each corner and hammer them gently into place until they're flush with the frame.
Give your frame about three hours to set before hanging. You can wipe off any excess glue with a damp cloth.
Before hanging permanently, test out the placement of your frame first. Frame My Mirror comes with two corner guides that you can stick to the mirror for perfect placement.
Clean your mirror with rubbing alcohol before hanging to ensure your frame sticks properly.
When you are ready to hang, remove the tape backing from your frame and place the entire frame over your mirror, using the corner guides to help you.
That's it! The frame will hold nice and secure to your mirror. I'm so happy with the way our mirror turned out. It changed the whole look of the bathroom!
Take a look at the before and after …
These DIY Frame Kits are the perfect way to take a boring mirror and make it into something custom and beautiful. Look at the difference it will make in your bathroom!
Related: DIY Canvas Floating Frame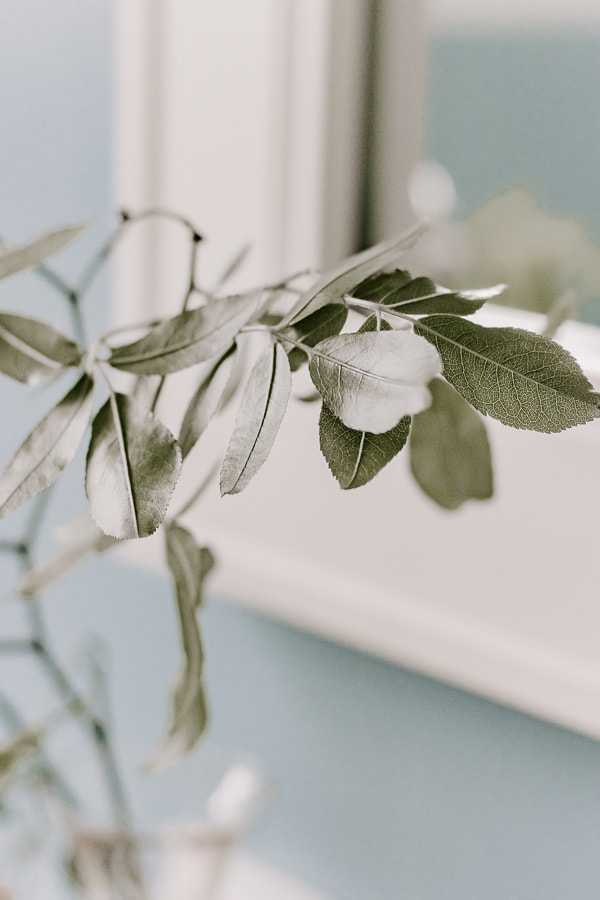 The mirror we have is your basic inexpensive bathroom mirror from Home Depot. But you would never know it after adding this pretty white frame to it.
If you are looking to upgrade your bathroom quickly and easily, definitely give this project a try.
2. Build your Own Mirror
I have yet to try this option, the diy mirror kit just made it so easy for me. However, I found a few good tutorials for building your own mirror around a frameless bathroom mirror.
I especially like the simplicity of this project from the DIY Plan. He uses pocket holes to put the frame together.
xo Karen
Karen Sloan is the founder, editor and syndicated content writer of www.decorhint.com. She offers hints of inspiration for everyday living, including home ideas, DIY projects and lifestyle content. Her work has appeared on Google News, MSN, Pioneer Woman, Apartment Therapy, and Bustle, among others.