If there is one thing that makes an uncluttered desk look cluttered – it's all those dang wires and cords everywhere! The unfortunate thing is that you need those wires and cords so you can't just get rid of them. Here's how to hide unsightly cords with two cheap products.
Part of our renovation was a built-in desk nook. I LOVE this desk nook. That original window there is one of my favorite things in our whole house. This window makes me want to work and sit at this desk. It's so pretty!
However, one thing that was throwing off the whole vibe were these cords …
We found this really cute desk from Project62 at Target that fits in this nook perfectly. And the best part is – it comes with a handy outlet and USB cubby area in the back. Perfect for hiding some of these cords!
If you happen to have a desk with drawers to the bottom, then it's pretty easy for you to hide those cords. But our desk is open at the bottom leaving those cords to dangle everywhere. If you are in the same boat – here's how I hid those cords.
Prefer to watch a video? Here you go … 🙂
How to Hide Unsightly Cords
First – we need to do some cord organization. If there are any cords you don't really need out all the time (like a usb cord), then put it away and just bring it out when you need it. The less cords the better! With the remainder cords, figure out where each cord goes and to what device. For any cords that don't get plugged into an outlet, you can bundle them up with these velcro ties.
For cords that go underneath your desk to an outlet – use these command light clips. Attach them along the legs of your desk and fish the wires through them to hold them in place (they will be hidden along your desk legs!)
If you have big bulky cords going to an outlet like I did – use a pretty seagrass basket or a large plant basket to hide them (making sure you still have room to get in and out of your desk area obvi). Plus – the basket makes great storage to stick extra cords (like that usb cord) and desk accessories if need be.
For cords that stick out under your monitor – you can buy a monitor stand – something like this is pretty. The stand helps to hide those cords – that's next on my list. 🙂 Either way, hiding these cords is a huge improvement from what it was before.
While you're at it – might as well pretty up the desk area too!
A cool screensaver can change the whole look of your room – this retro flip clock is free and can be downloaded here. Works for PC and Mac!
I added a pillow for a pop of blue and a plain white mug to conveniently hold my favorite drawing pens and markers. A little rug would be great here too.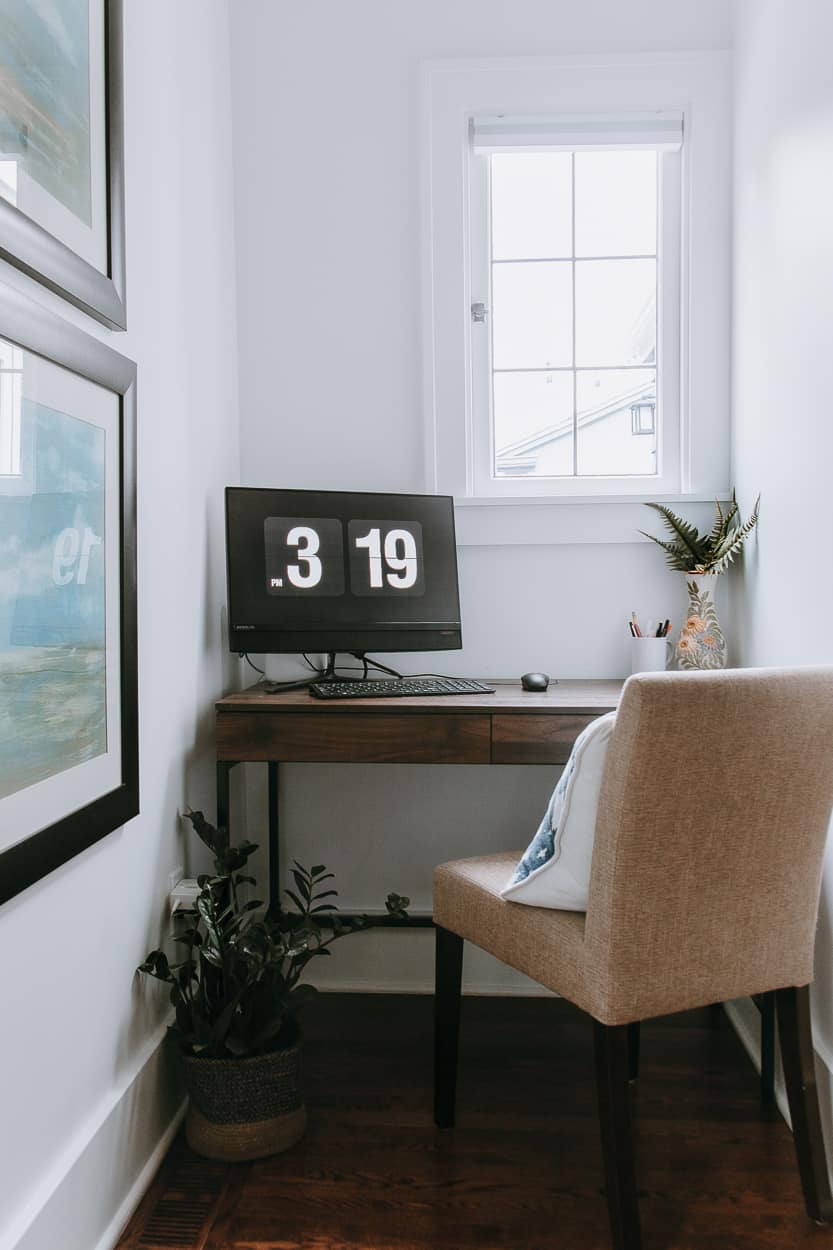 If your office and desk area feels off – maybe it's all those cords and wires everywhere. I think we get so trained to overlook them. Try this method to give it a neater appearance!
And if you are looking for a way to hang your pictures straight – try this easy trick. It works for me every time.
Karen Sloan is the founder, editor and syndicated content writer of www.decorhint.com. She offers hints of inspiration for everyday living, including home ideas, DIY projects and lifestyle content. Her work has appeared on Google News, MSN, Pioneer Woman, Apartment Therapy, and Bustle, among others.