I wanted to share with y'all how to paint outlet covers. But that's not the only thing – I'm also sharing the BEST way to paint them, and it involves throwing out your current outlet covers. Say what? Yes, but we will get to that in a minute.
Non-matching covers are a pet peeve of mine, especially if you have dark painted walls (like in our office here). I highly recommend you consider matching the outlets to the paint color of the walls.
The only time I would say you don't have to match them is if you are using brass plate covers. But that involves switching out the receptacle too, and unless you want to get into electrical work, that's not a great solution.
can you (and should you) paint outlet covers?
You might be wondering if you can and should paint outlet covers. Yes, you can paint them. But should you? Well, that's where things get tricky. They are not the easiest things to paint. If you don't do it properly or well, they inevitably end up chipping and looking like an eyesore. Not to mention, if you decide to paint the receptacle too – it's a bit of a fire hazard and I don't recommend it. Fortunately, THERE'S A BETTER WAY.
Introducing: Paintable Outlet Covers
These paintable outlet covers are inexpensive and require no electrical work. You paint them and pop them directly over the existing receptacle (remove the old outlet cover first.) I've been using these for the past couple months and I am really impressed. You can buy them from Amazon and have them delivered to your door.
This is as easy as it sounds – but I'll give you the things you need and the how-to below.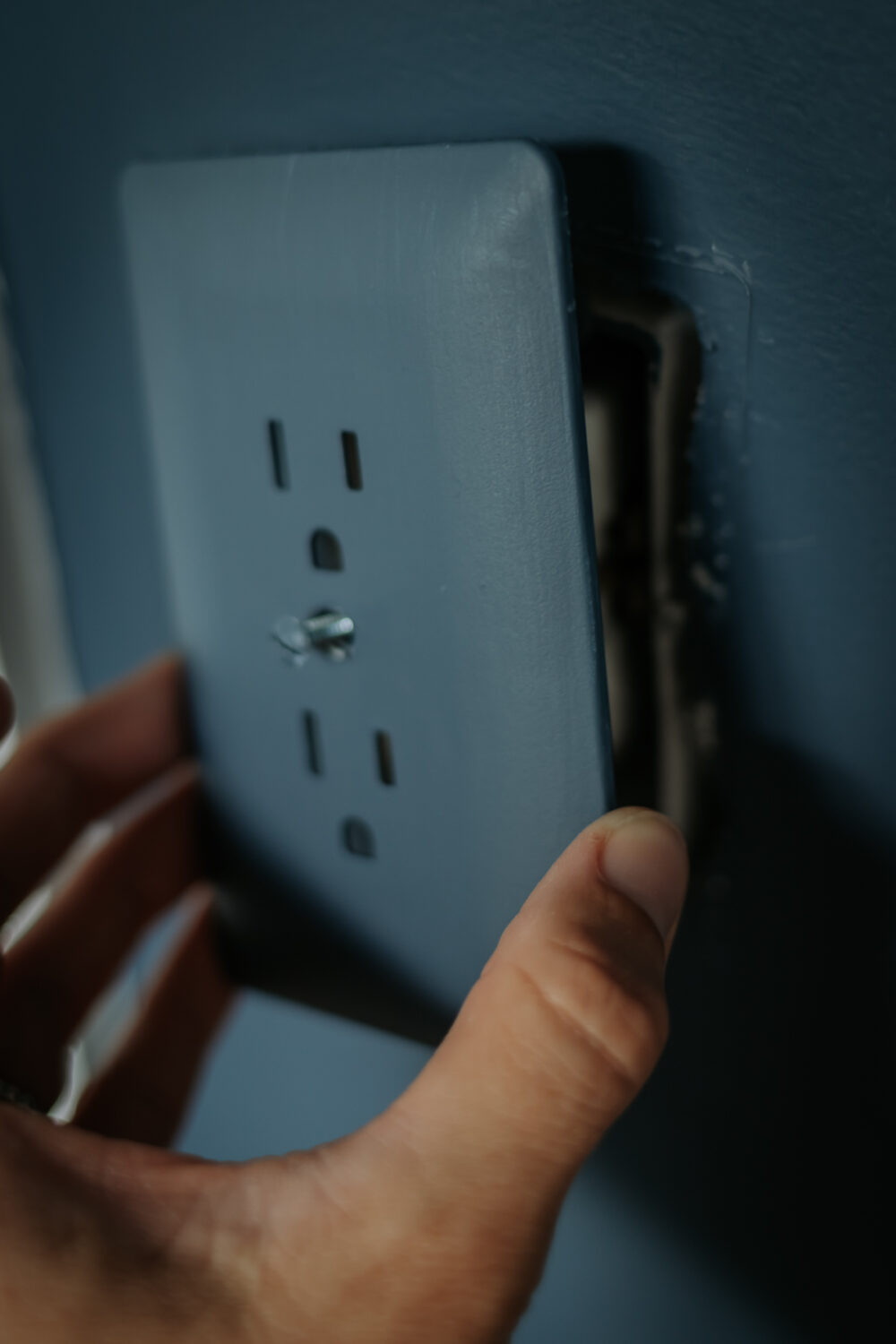 things you'll need:
Screwdriver
Paint (I use the same paint I use on the wall)
Paint Roller or Brush
how to paint and install paintable outlet covers
Remove the old outlet cover from the wall. You can easily do this by unscrewing the screws that hold it in place using a screwdriver. Go ahead and throw it away unless you need it for another room.
Place your new paintable outlet covers on cardboard or old newspaper. Use a roller or brush to apply a thin coat of your paint to the outlet cover. Allow it to dry completely and reapply as needed.
Once it's fully dry, take your outlet cover and place it directly over the existing outlet, lining up the holes. Screw it into place with your screwdriver until it's flush with the wall. That's it!
Remember to always exercise caution when working with electrical outlets. It's always best to play it safe, consider turning off the power to the outlet and use care when removing and reattaching the cover. Happy painting!
Karen Sloan is the founder, editor and syndicated content writer of www.decorhint.com. She offers hints of inspiration for everyday living, including home ideas, DIY projects and lifestyle content. Her work has appeared on Google News, MSN, Pioneer Woman, Apartment Therapy, and Bustle, among others.