I've bought so many Christmas garlands over the years and unfortunately had to return most of them. Most of them are too fake, too skimp, and not the right color. What's up with the NEON green? I've said this before but I'll say it again: I'm super picky when it comes to faux florals and greenery – my eagle eyes can spot a fake from a mile away.
I thought this post would be helpful if you are looking for the best, most realistic garlands out there! But you have to get them early because they sell out so quickly.
When shopping for faux Christmas garlands, I consider factors such as quality, realism, pre-lit or unlit, color scheme, and price (because I'm usually on budget, y'all). Most of these are budget friendly, with the exception of a couple. But again – think investment, not OMG!!
Most realistic Garlands
I'm not going to overwhelm you with 25 garlands here – I honestly hate those types of posts. I'm only pointing out the best garlands that are worthy of a spot in your home. And because of that, this list is tiny but none of these will not disappoint you. Let's get started going through each one.
1. Norfolk Pine Garland (available at multiple Retailers)
We are starting with my favorite garland of all time. HANDS DOWN. I've never seen such a lifelike drapey garland! This is one of the best christmas garlands around. I can't tell you how many people ask me if these garlands are real. It's the Norfolk Garland, folks.
Every year, I try to get one or two more. So hopefully in about five years I'll have enough to spread around our house. And the best part is that these garlands are pretty affordable (especially in the off months). They are soft and drapey and look so beautiful.
This Norfolk Pine Garland sells at various places, so I'm including a bunch of sources here. I've purchased mine from Kirklands and Afloral. You can also purchase from Etsy and Amazon. It's the same garland – so shop around before it sells out!
Here are several options for it below:
2. Afloral Faux Cedar Garland
Another winner from Afloral with their faux cedar garland. But again, I'll include some very, very close runner ups here. This one is so realistic, a good green color (not fake neon) and drapes beautifully. I love the shape of the branches.
However, just like their Pine Garland, there are some pretty close matches to this garland. Check out this one from Etsy! Pretty close match, am I right??
I also came across this one on Etsy. It's very full and lush and a fantastic price! It's faux cedar and hemlock, but just as beautiful in my opinion. The reviews for it are stellar and I think you should give it a second look.
3. Pottery Barn Cedar Garland
Pottery Barn has two different versions; I personally like a drapey, kind of sparse looking garland but maybe I'm weird like that. You can see that one here. They also have a very FULL, lush looking cedar garland if you want a major statement without having to layer garlands.
It's expensive, but you buy it once and you can use it forever. These garlands never go out of style. Etsy also has a very good cedar garland (not lush, but beautiful and realistic) right here.
4. Long Needle Pine Faux Garland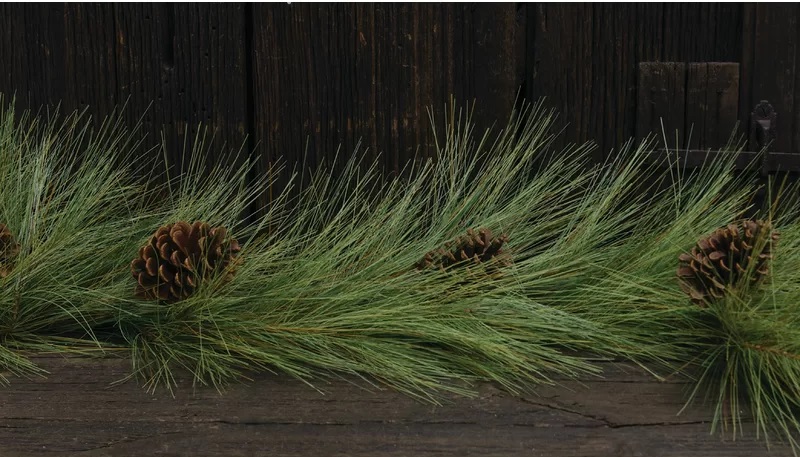 If you love the look of longer needles, look no further than this beauty from Wayfair. It's 5 feet long, comes with pinecones and looks as real as can be. Plus – you can beat that price! Tons of 5 star reviews.
5. Angel Pine Garland from Ballard Designs
You'll also love the Angel Pine Garland from Ballard Designs. It's SOFT, not plasticky looking and the needles have a shaded look to them, just like a real pine garland. It's almost 9 feet long and comes with added pinecones so you can literally just hang it up and be done. Amazing reviews!
6. Party Joy Garland at Amazon
I purchased this party joy garland last year and let me tell you – I was pleasantly surprised for the price.
It comes with 16 feet of lights, and the needles look pretty real to me. They are not a fake color. It's not super full, I think the photos show one or two garlands layered. But if you love the trendy skimpy look (which I do) this is pretty good. This garland is a bit delicate. You may have to pop a few sprigs back on from time to time. Doesn't really bother me. They have other styles as well – thinking I might try the cedar version this year!
My Overall choice?
The best faux garland in my opinion is the Norfolk Pine Garland. It's just that good. It's the most real looking garland. And it's the one I really look forward to sprinkling around the house because it just looks good and realistic on everything.
And that wraps it up for this year! Whether you choose a simple garland for decorating or a more elaborate one, it will add a festive touch to your holiday decor and bring joy to your home, for years and years to come.
Karen Sloan is the founder, editor and syndicated content writer of www.decorhint.com. She offers hints of inspiration for everyday living, including home ideas, DIY projects and lifestyle content. Her work has appeared on Google News, MSN, Pioneer Woman, Apartment Therapy, and Bustle, among others.