DIY Christmas Bead Garland
This tutorial will show you how to make a pretty DIY Christmas bead garland. This is an easy Christmas DIY and will add a rustic touch to your holiday tree.
---
If you've been a reader of mine, you know that one of my favorite things to DIY is knockoff decor.
I'm seeing tons of Christmas decorations out there and one of them that really caught my eye are these wood bead tree garlands.
West Elm has one.
Crate & Barrel has one.
Hearth and Hand had one last year (not sure if it's still around). By the way, kind of obsessed with this holiday look from them.
Since I always seem to have wood beads lying around, I thought, why not make one myself?
This is one of those projects where you can make it yourself for just slightly less than the store brands. Some of you might just want to purchase if you don't want to bother with the DIY.
But, ya know, it's fun and I'll save the ten bucks! Especially this time of year. This is also a fun activity to involve the kids. They can help string the beads (just be careful with the needle). It's great for that hand-eye coordination.
So let's get started!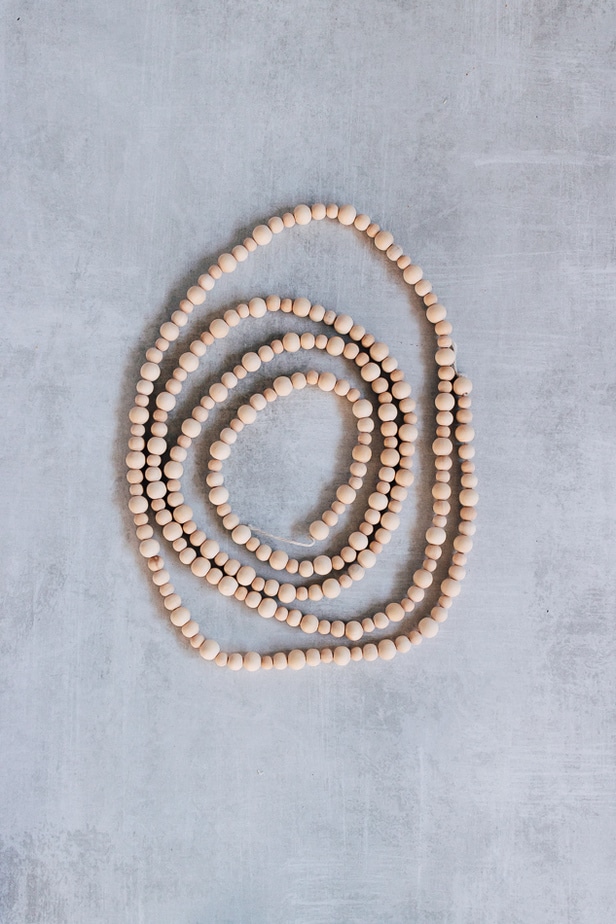 Things You'll Need
The easiest and quickest way to string your beads on is by using a needle, in my opinion. It can be kind of tricky to thread your string through those little holes. Using a needle allowed me to complete this bead garland project in mere minutes!
DIY Christmas Bead Garland
This is very similar to my wood garland for everyday decor. Actually, it is the same, but longer and with a different bead pattern. Ha!
You might be able to figure out how to do this, but I break down all the steps below. Again, I think using a needle is the key.
It makes it so much easier, especially when trying to string on those little beads. Just make sure your beads are still able to make it over the little knot on your needle.
Here is how to make your tree beaded garland…
You first want to cut your string to the length of your garland. I made mine 9 feet long. Tie a triple knot on one end of the string.
Thread your needle and knot it at the other end. So, one end of your string should be knotted and the other end should have your needle knotted.
Find your bead pattern! I went with a simple pattern, smaller to larger beads on repeat. You can peruse the stores to get inspiration or just copy their look entirely. I won't tell.
String your bead pattern on your thread. Periodically, you can push all your beads down to the end.
Once all your beads are strung on, remove the needle and tie a triple knot at that end. Now you're done!
These wood beaded garlands look so pretty around your tree. But! That's not the only place you can put them. You can also hang them from your mantel (which is my plan).
Or, you can hang them across a window or staircase. Drape them over a stack of books or nestle them in between a trio of little Christmas trees. There are so many ways to use them.
In fact, you can decorate with them all year long. I plan on hanging this DIY Christmas bead garland across my daughter's window in her bedroom.
I can't wait to start decorating and incorporate all these fun little DIY projects into my Christmas decor this year. For more Christmas tutorials, check these projects out …
xo, Karen