DIY Dried Orange Garland.  Make this pretty garland just in time for the holiday seasons.  You will be surprised how many ways you can use these garlands to decorate.
This post contains affiliate links. For more information, please see my disclosure page (link in footer). Thank you for reading and supporting Decor Hint.
Hi!
Today I really want to show you this incredibly easy and stunningly beautiful dried orange garland tutorial.  Nature can sometimes provide us with all we need for the prettiest decor.  And not only that – but nature will make your home smell so good and feel so cozy.  Perfect for the upcoming holiday seasons.
Let's think about what's on the horizon for a moment.
There's fall – like,  right now.
Then there's Thanksgiving.
Then Christmas! Oh my!
You can use this dried orange garland for each season.  Once it's dried, it will pretty much last you for a long time, if not indefinitely.
Just a little FYI :  I personally use this as indoor decor only.  We live with so many crows around us that I'm sure it would get destroyed in a heartbeat if I used it outside.  Although – it would look really pretty on the front door.  I would say go for it if you are up for the challenge.
One of my favorite ways to decorate for the seasons is incorporate natural elements.  My decorating style is definitely becoming more simple and minimal.  So if you are in the same boat, this will be perfect for you.  It's inexpensive to make and it has this natural and organic look to it – uh, because it is natural and organic! I love how it gives this bright pop of orange wherever you need it.  And I'm going to show you how many different ways you can use these dried oranges.
On to the tutorial!
Materials Needed
Here's what you'll need to make a dried orange garland.
Oranges – I used 2 and I ended up with a good amount of slices.  I also used 1 lemon which is really pretty too!
Cotton rope or twine
Baking sheet and parchment paper
That's it, really!
How to Make a DIY Dried Orange Garland
Preheat your oven to 200 degrees.
Slice your citrus.  I sliced mine about 1/4 to 1/2 inch thick.
Lay them on a baking sheet lined with parchment paper.
Bake the citrus slices for 3-4 hours, flipping them halfway through.  (It took me closer to 4 hours.)
I stored mine in a ziploc bag until I was ready to use them.  They dried out even more, but stayed nice and flat.
The orange slices will darken as you dry them out, but they will develop this rich, vibrant orange color which is stunning!
To make the garland, poke a little hole in each slice with a knife.  And thread your rope or twine through them.  You can also use a needle and thread to make the garland.
That's literally all there is to it.  Repeat as necessary.  I have a feeling I am going to be making a lot of dried orange garlands this fall. 🙂
Now, let's talk about how to use these beauties!
Check out my other popular DIYS :
Ways to Use Dried Orange Garlands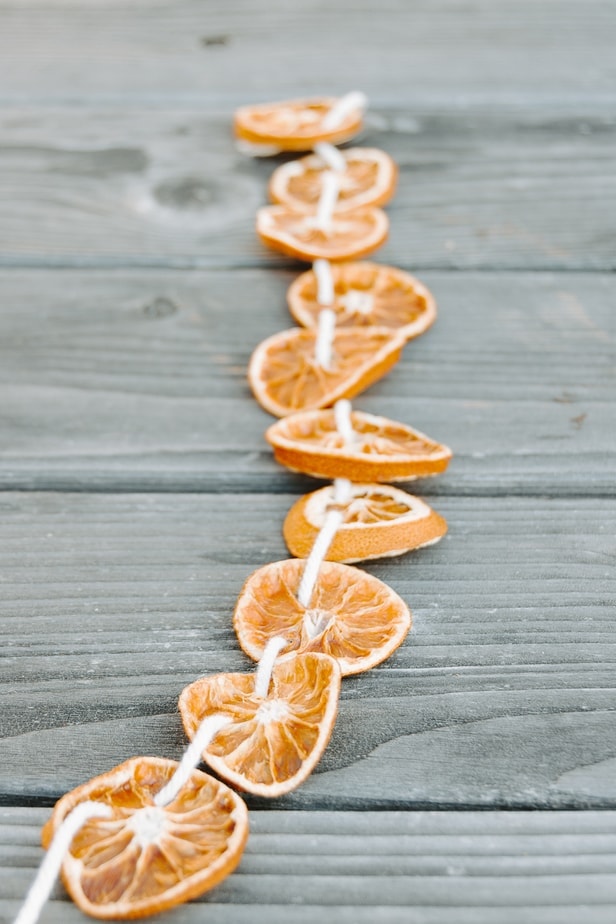 I had so much fun figuring out all these ways you can use dried oranges and a dried orange garland.
Garland
One way is just to use it as a garland.  Nestle it through your mantle greens for the holidays.  Or string it from your mantel for a rustic look.  I've even seen these strung on door and doorways.  It looks so pretty.
You can also hang this from your stair banister for a festive look.
Centerpiece
Lay it out among your table centerpiece for a nice look and a fresh scent.
Ornaments
You can use these as ornaments too.  I really want to try to make dried orange ornaments this year.  I would use a thinner, shorter rope (like baker's twine) and string them throughout the tree for a pretty pop of color and a more natural look.
Gift Topper
Oh yes, you will look like a professional gift wrapper (if that's a thing) with these beautiful orange slices glowing from your presents.  Take some kraft paper, the twine and attach a few orange slices and maybe a sprig of rosemary.  I don't know anyone who wouldn't want to get that gift!
Holiday Vase/Bowl Filler
You can also use just the dried oranges as a vase filler surrounding your candles.  Or, mix it with cinnamon sticks or pinecones and set them in a pretty bowl as a potpourri.  Smells good too!
One of my favorite ways to use this garland? As a wreath!
Wreath
String it along a diy hoop wreath lined with greens.  It's so pretty.
I love this color combination of orange and green.
So, I recently made a diy hoop wreath for Summer.
I took off the summer flowers but kept the faux eucalyptus on there.
Then, I simply wrapped the orange garland around the eucalyptus hoop wreath.  You can tweak it a bit afterwards to have the oranges and leaves placed just where you want them.
I kind of like that you can still see the rope throughout.  Natural twine would be really pretty here, too.
It's really easy to do and you could make a bunch of these dried orange citrus hoop wreaths (say that three times fast lol) in different sizes and put them together for a pretty holiday vignette.
I love this so much!
For the cost of a bunch of oranges – you can decorate your whole house for the fall and holidays!
So, tell me – how would you use these dried orange garlands around your home?
xo Karen
Let's connect! Don't forget to Subscribe to my Newsletter and Follow me on Instagram. Thanks as always for visiting!