How to Make a Dried Orange Garland
---
Today I want to show you this incredibly easy-to-make and stunningly beautiful dried orange garland. 
Nature can sometimes provide us with all we need for the prettiest decor.  And not only that, but nature will make your home smell good and feel cozy.  Perfect for the upcoming holiday seasons.
Put it up in early Fall, and you won't have to take this down until after Christmas. You can use this orange slice garland for each season.  Once it's dried, it will last for a long time. And if you like this, you will also love these dried orange ornaments!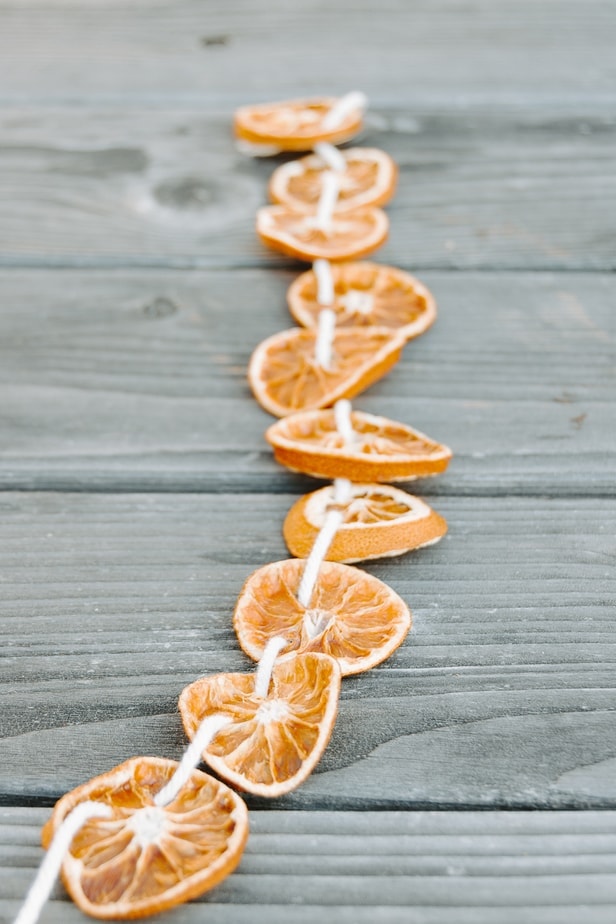 Just a little FYI: I personally use this as indoor decor only. We live with so many crows around us that I'm sure it would get destroyed in a heartbeat if I used it outside.
Although – it would look really pretty on the front door.  I say go for it if you are up for the challenge.
Things You'll Need
2 Oranges
Cotton rope or kitchen twine
Baking sheet and parchment paper
Toothpick or knife (to poke a hole in the slices so you can thread the rope through)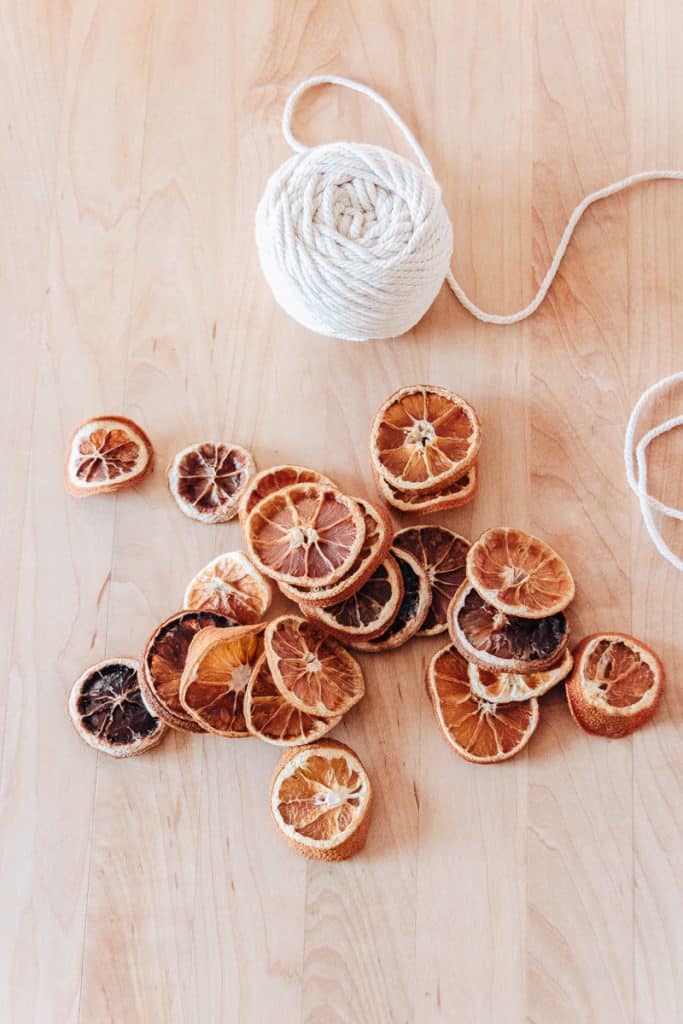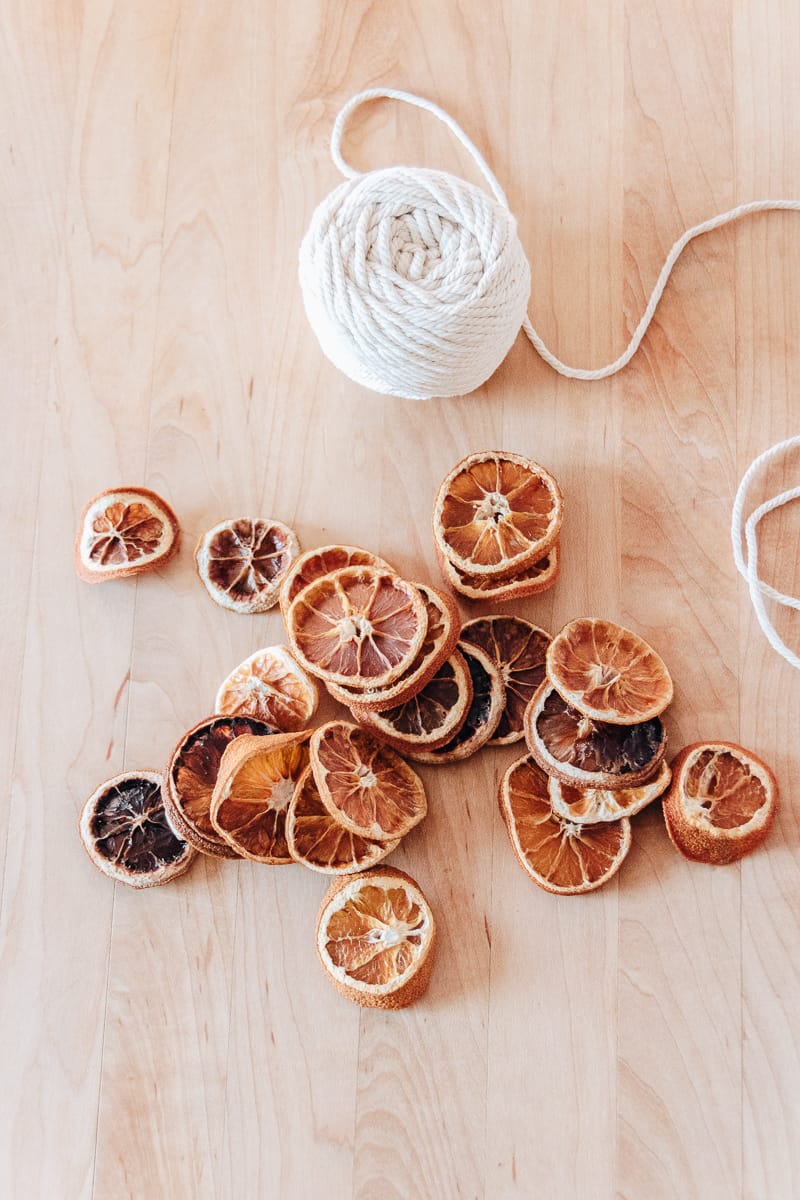 How to Make a Dried Orange Garland
Preheat your oven to 200 degrees.
Slice your citrus. I sliced mine about 1/4 to 1/2 inch thick.
Lay them on a baking sheet lined with parchment paper.
Bake the citrus slices for 3-4 hours, flipping them halfway through. (It took me closer to 4 hours.)
I stored mine in a Ziploc bag until I could use them.  They dried out even more but stayed nice and flat.
The orange slices will darken as you dry them out, but they will develop this stunningly rich, vibrant orange color!
To make the garland, poke a little hole in each slice with a knife or toothpick. Thread your rope or twine through them. You can also use a needle and thread to make the garland.
That's all there is to it – easy peasy! I have a feeling I'll be making a lot of orange garlands this Fall.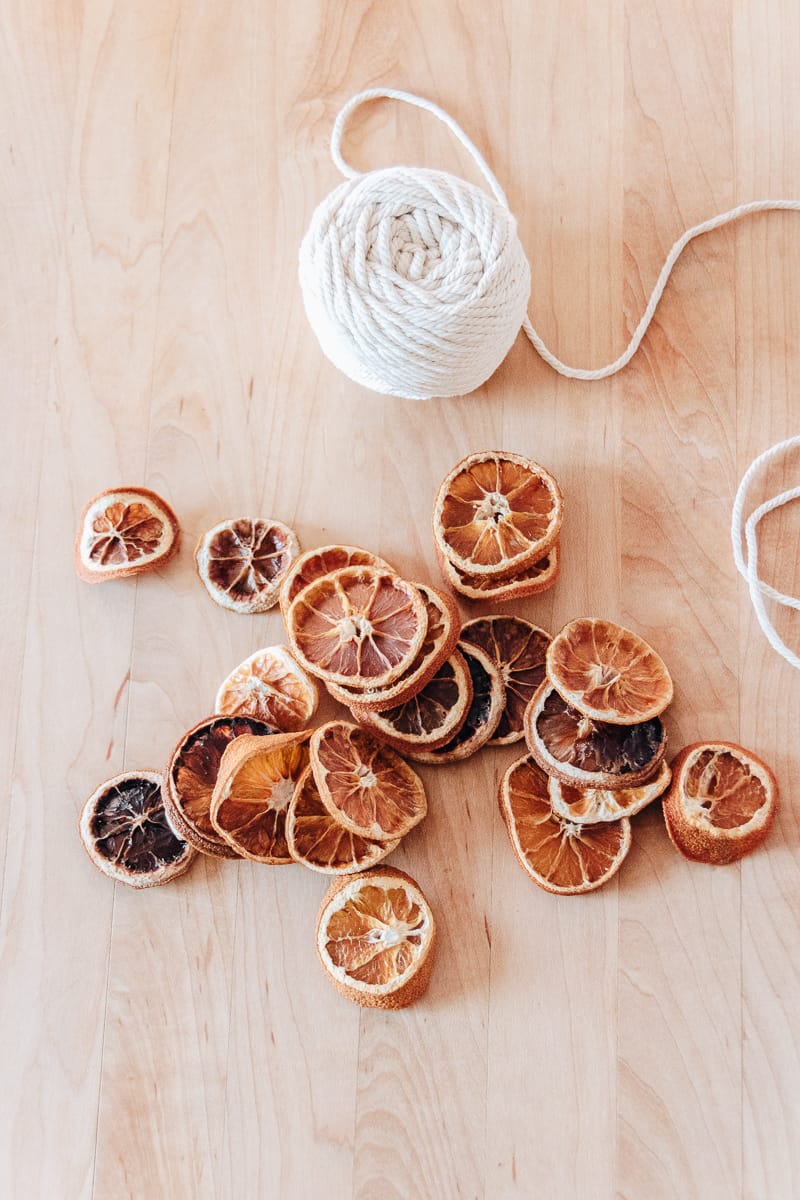 Now, let's talk about how to use these beauties!
Holiday Garland
One way is to use it as a garland.  Nestle it through your mantel greens and garland for the holidays.  I've even seen these strung on doorways, too.  It looks so pretty. You can also hang this garland from your stair banister with ribbons for a festive look.
Centerpiece
Lay it out among your table centerpiece for a nice look and a fresh scent. You can even make edible citrus chips.
Christmas Ornaments
You can use these as ornaments too.  Get the DIY Orange Slice tutorial right here!
Gift Topper
You will look like a professional gift wrapper (if that's a thing) with these beautiful orange slices glowing from your presents.  Take some kraft paper and the twine, and attach a few orange slices and maybe a sprig of rosemary. I don't know anyone who wouldn't want to get that gift!
Holiday Vase/Bowl Filler
You can also use the dried citrus slices as a vase filler surrounding your candles.  Or, fill a lovely bowl with this scented DIY orange potpourri.
Dried Orange Wreath
One of my favorite ways is to make a dried orange wreath. You can either hot glue the slices on one by one or use the garland to string it along a DIY hoop wreath lined with greens.  It's so pretty! I love the color combination of orange and green.
Fall is my absolute favorite time of year, but the whole holiday season from Fall through New Years is just magical for me.
Perhaps I'll do another post soon on a DIY orange wreath.