How to Hang Garland Without Nails or Damage
This post will show you how to hang garland on your walls, mantel, ceiling, etc without using nails and without damaging your walls. This is the same method I have used for years with success and it's inexpensive and will work with heavy garlands.
---
One of my favorite parts of decorating for Christmas is hanging up garlands. It's such a great way to make your home feel festive. Beautiful garlands just make your home come alive!
I wanted to show you guys how I how my garland every year.
This method works for walls, doorways, ceilings, mantels – basically wherever you want that garland to stay put. It's super easy and inexpensive and won't damage your walls!
Don't worry – there is no hammer and nails involved!
How to Hang Garland with damaging your walls
Here's how I hang our garland.
I use these 3m Clear Command Hooks and these white hooks (if you're a reader of mine, you know my love affair with these things).
I have these faux garlands from Factory Direct Craft (can't seem to find them on the website but Target and Terrain have similar options) and these hooks are perfect for them since they blend right in.
Here's the simple process.
Clean your walls with rubbing alcohol first. Don't use these on freshly painted walls – it's best to wait at least a week. You also can't use these on wallpaper according to the manufacturer, but I've never tried myself.
Attach one adhesive strip to the hook. Make sure you are using the correct side of the adhesive strip (one will say 'wall side' on it).
Stick the hook with the adhesive to the wall and press firmly. Done!
You can stick them anywhere, and they remove cleanly. I usually pick up a bunch when I'm at the store. It's a regular item for us!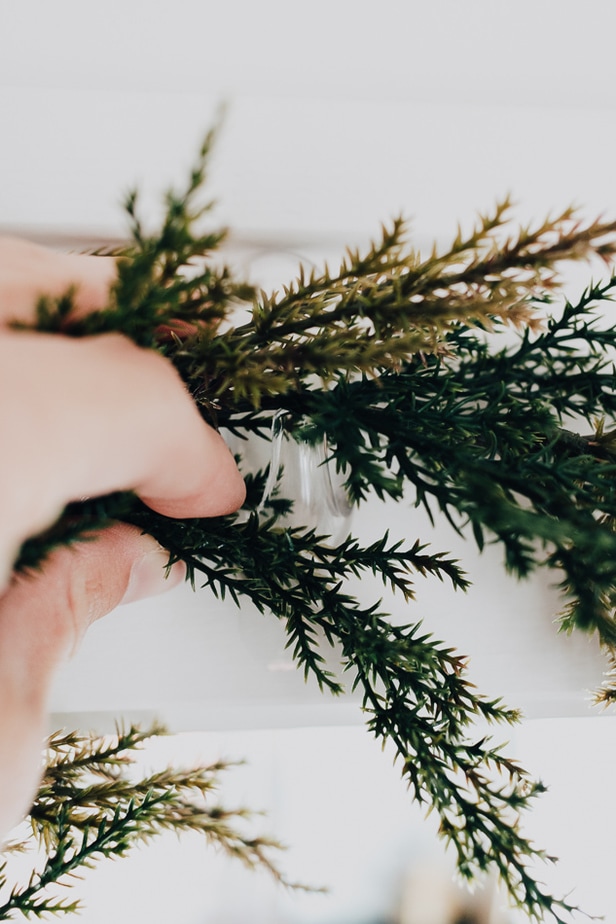 You can literally "hang" your garland directly on these hooks.
What about hanging heavy garlands?
Simple!
They make these same hooks that hold 7.5 pounds! The real cedar garlands that you get around the holidays can be heavy, but they are no match for these hooks. I've also seen these ones recently, which have amazing reviews and hold up to 13 lbs! Wow!
The bushy garlands hide the white and bronze hooks if you are worried about that.
How to Remove Command Hooks
When it's time to take the garlands down, there are a few tricks I've learned for removing command strips and hooks.
Pull the tab coming out from the hook SLOWLY. If you pull too fast, it may break.
You can also use a hairdryer on the strip to warm up the adhesive, then take a piece of dental floss and run it between the strip and the wall to loosen the grip.
Command Hooks for Garland
I've included my favorite hanging products for your home below!

xo Karen