---
Have you guys seen these Christmas Gnomes popping up everywhere?
I swear every store has their own little Christmas gnomes for sale right now. I think I initially glazed over them, but after seeing them so many times, I kind of grew a little obsession for them.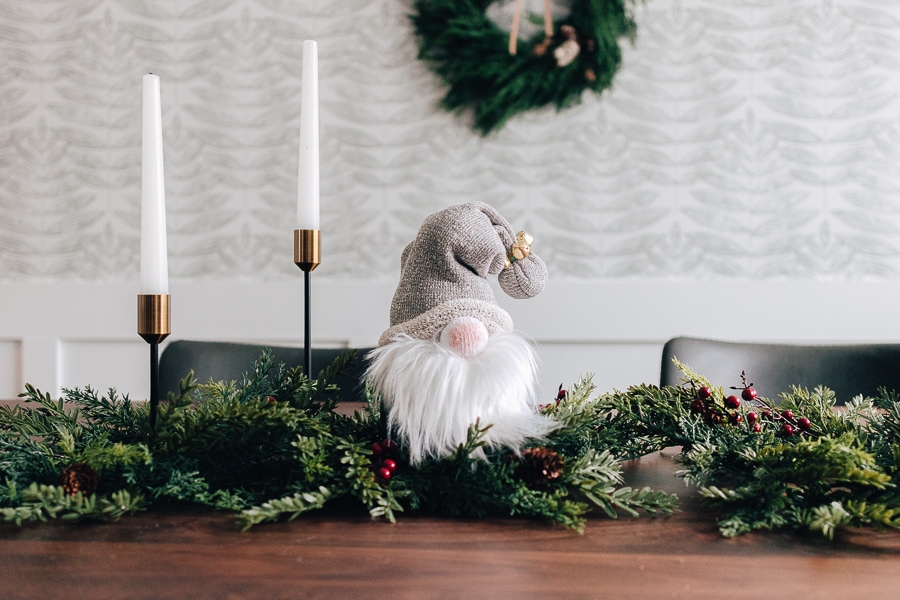 Today, I'm showing you guys how to make these adorable Holiday Gnomes.
I put together a video so you could actually see how these come together. This is a fantastic kids craft and they will LOVE making their own (with your help). So grab the kiddos for this fun Christmas craft activity.
Here's the good news – you can pick up most of the materials from the Dollar Store.
The only exception might be the craft fur, which I haven't seen for sale at any dollar store. (One workaround might be cotton balls, but I do think the craft fur is what really puts that finishing touch on your gnome.)
I picked up my craft fur from Joann's. Did you know that you can get as little as 4.5 inches of fabric cut at Joann's?
You don't need much fur for this project – these are little gnomes after all. So, you can get a little fur and use the entire thing without having to store a huge amount for later.
The other thing is that I assembled my gnomes using rubber bands. No hot glue needed. I just tucked in the little beard. You can't see the rubber bands so don't worry about that showing.
If you are just displaying them, this works fine. However, if you think your kids are going to play rough with them, you might want to glue your pieces on so they stay put.
Let's get started.
things you'll need
3 socks
cup
rice
jute twine or ribbon
little bells
blush
DIY Christmas Gnomes Tutorial
I'll list out the steps below, but I do recommend you watch the 2-minute video so you can get the gist of this project.  It's so easy! 
Here's how to make your Christmas Gnomes:
Fill your cup with rice and use this to fill up your sock. I used about two cups for each gnome. Tie off the sock at the top with a rubber band.
Grab a hunk of rice and secure it into a little ball with a rubber band. This is the nose! (if you want to make feet, see notes below.)
Grab your other sock and cut it in half at the heel. Slip this over your sock gnome right up to the nose.
Grab your third sock and cut it in half. Fill it with a bit of rice and tie it into a ball with a rubber band.
Place your sock hat on your gnome, and push the hat down to right above the nose.
Take some jute twine or ribbon and string a few bells on, then tie it around the little ball on your hat. This hides the rubber band too.
Cut a triangle of out of craft fur for the beard. Use a craft knife or scissors. I like a long beard, but you can make this whatever size you want.
Tuck your beard into the top of the sock, right under the nose.
Finally, take a little blush and give your gnome a rosy nose. It's cold out there!
Instead of making a nose out of rice, you can buy these little wood balls and glue them on instead.
Notes: To make feet for your gnomes, follow the same steps you used to make the nose. You can gather up two balls at the bottom of your gnome for feet and secure them with rubber bands. The rice is pliable, so you can shape the feet better after securing.
That's it!
These gnomes are really adorable! The rice gives them some weight so they stand on their own.
You can use them to decorate your mantel, your bookshelves, and console tables. I think a set of three is a good number when displaying.
Here are some other ideas for your gnomes:
Use different colored craft fur, brown or gray, or mix the colors with white.
Use patterned socks, like Fair Isle.
Make a little cone hat out of felt for a different look.
Bend some floral wire into glasses and hang them over your gnome nose.
Glue on some buttons or ribbons to fancy up your gnomes.
I hope you guys enjoyed this tutorial and these little DIY Christmas Gnomes! I also posted this video on my YouTube Channel – subscribe there if you want.
Xo Karen