How to Hang Wreaths on Windows
Learn how to hang wreaths on windows – without damage or special tools!
---
I love the look of wreaths in windows around Christmas. But just how in the heck do you hang them?
I'm here to give you the rundown of how to do this (don't worry, there are several options here depending on your windows.
Related: How to Hang Garlands
Things You'll Need
Alright, let's walk through everything we are going to need to get this done.
• Wreath
This part is totally up to you! If you want larger or smaller wreaths, plain or already adorned wreaths, real or faux – it's not going to affect the final outcome. I happened to find a bunch of these smaller wreaths from Walmart for a great price.
• Ribbon
You will need a lot of ribbon! The ribbon is going to hold our wreath inside the window. You can also add some ribbon or a bow to the front of the wreath. And of course, adorn them with anything you want (pinecones, baubles, lights, etc). It goes without saying that you will also need scissors. 🙂
How to Hang Wreaths on Windows
Learn how to hang wreaths from your windows with this simple method!
Total Time: 1 hour
Remove Screens from Windows (If Applicable)

You'll want to remove the screens from your windows first. This won't work with screens, UNLESS, you are hanging your wreaths on the top part of your windows (in which case skip below for a solution).

Prepare Wreaths

Fluff up your wreaths and add your decorative bow. Then, take a longer piece of ribbon and loop it through the top of the wreath to make a little hanger. How high or low your want your wreath on the window will determine how much of a ribbon hanger length you need (i.e: If you want them hung lower on the window, you will need a longer piece). My ribbon pieces were about 18 inches long.

Open/Tilt Window Inward

We have single hung windows that open inward for cleaning. There are two latches at the top on each side that slide and allow the window to release inward. Here is a good explanation of what I'm talking about. You'll want to tilt your window inward (if you don't have these types of windows, see below for more solutions.)

Place Wreath on window and Close

Take your wreath by the ribbon hanger we made in Step 2 and allow the ribbon to hang over the top of the window. How high or low your want your wreath on the window will determine how much ribbon length you need. Holding your ribbon in place, carefully close the window and lock it. This will "lock" the ribbon in place and hold the wreath where it needs to be!

Optional – Tie a knot

This step is optional. For added security, you can tie a knot in the ribbon part that comes out of the window. This will hold the wreath from potentially sliding down or getting blown away in very windy weather.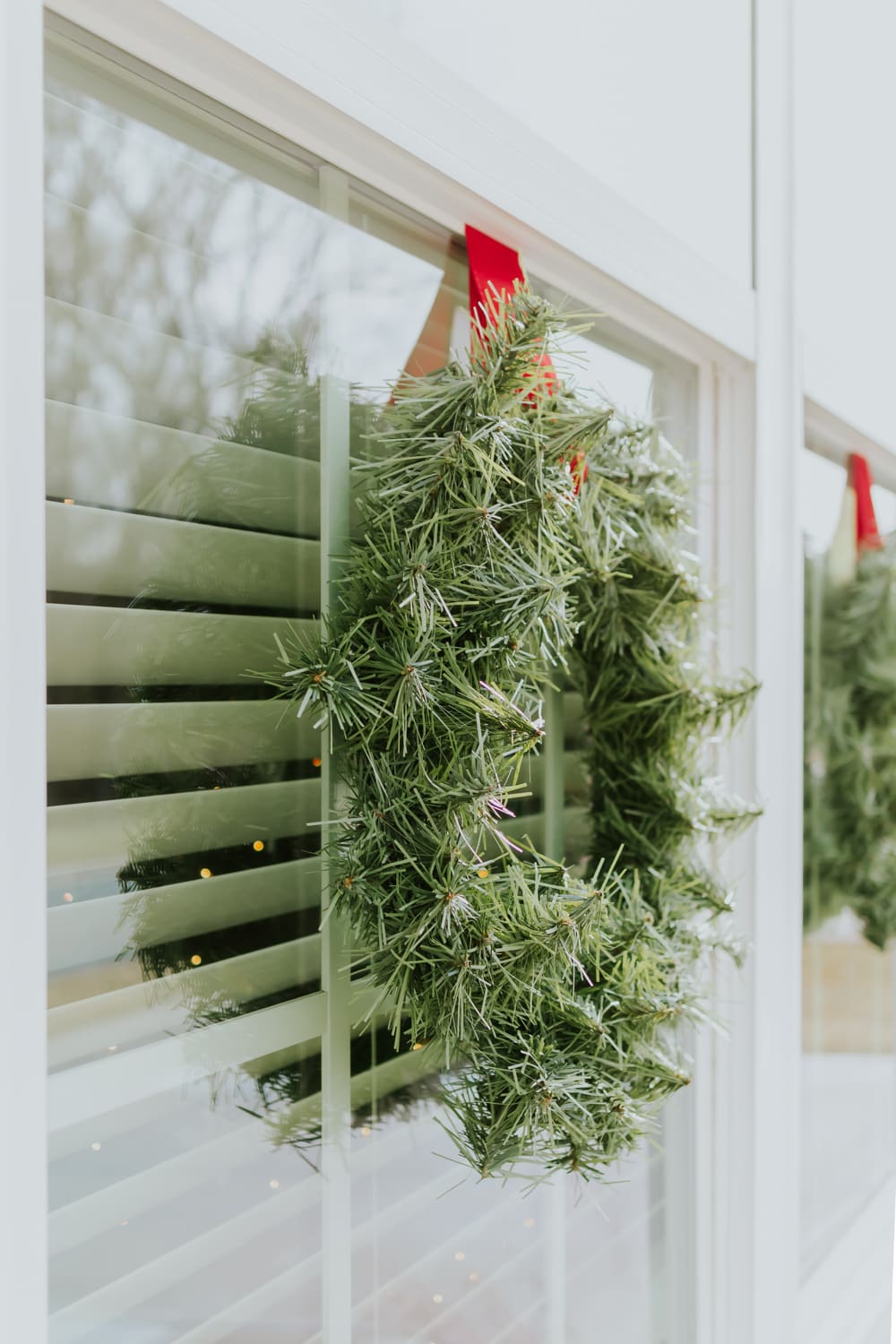 What if I can't tilt my window inward?
If you have windows that don't tilt inward, such as older historical windows, you can try using one of these wreath hangers:

If using one of the command wreath hangers, make sure to clean the window with rubbing alcohol first for better adhesion. And please be careful! Obviously, this can be a dangerous task if you have a second story. The easiest route might be calling a professional. 🙂
Thanks for visiting today!
xo Karen