let's make these fun pipe cleaner candy canes for the holiday! This is an inexpensive project and makes a great kids' craft.
---
I have a really great kids' craft for ya'll today. These pipe cleaner candy canes! They are not hard at all to make, they just require a bit of patience.
Your kiddos can string on the beads and then you can finish it up with the wire cutters/scissors. I told my kids that I wanted 28 beads strung for each candy cane in alternating red and white. So this activity keeps them busy and helps them with counting and colors (if they are younger, obviously.)
Best of all, you can get all the materials needed from Amazon, or stop by Walmart and other craft stores to pick up the goods. These look really cute on the tree and you don't even need a string to hang them! You can just hang them directly from the branches.
Pipe Cleaner candy canes can be a bit floppy, so to help with this issue I decided to use 2 pipe cleaners for each candy cane. This makes them a lot more sturdy and they hold their shape better. And don't worry, the pony beads still fit through two pipe cleaners at once.
Here are the links to all products I used:
Pipe Cleaner Candy Canes – Step by Step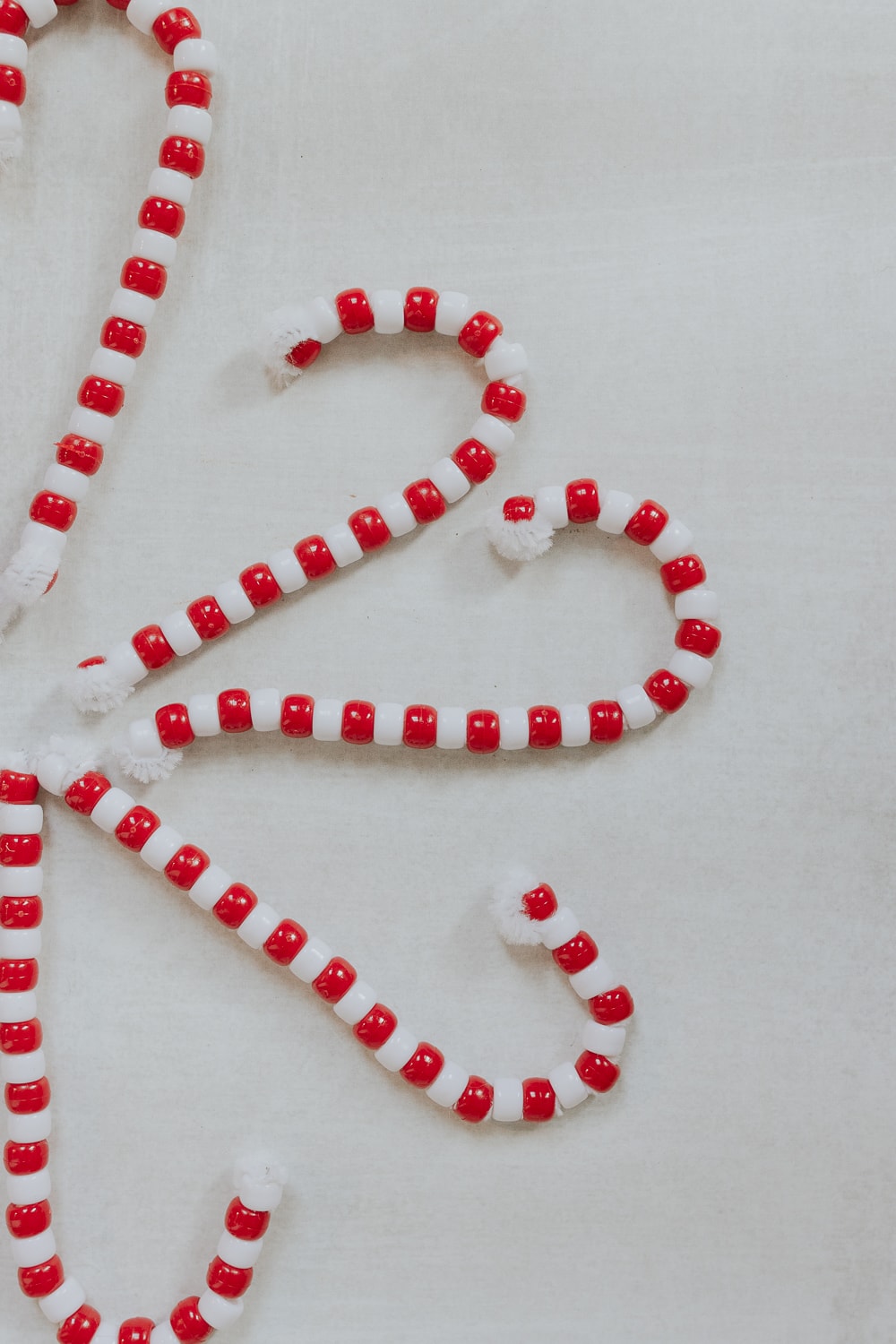 How to make festive pipe cleaner candy canes.
Total time: 30 minutes
Grab 2 Pipe Cleaners and Knot First Bead

Grab 2 pipe cleaners and hold them so they are lined up with each other. String on your first pony bead, and then loop the ends of the pipe cleaner through the pony bead to create a knot around it. You want to push it towards the end of the pipe cleaner so you have enough room to string on more beads. This knot is going to hold your pony beads in place. At the end, we will cut off the excess pipe cleaner from each end.

String on Remaining Beads

I used a total of 28 beads for each candy cane. You can use this number or any number you want. You just want enough beads on there that you can bend them into a candy cane shape.

String on Final Bead and Knot

After you string on your last pony bead, you will want to knot this the same way we knotted the first bead. So loop the ends through this pony bead and pull tight to create a knot around it. Both ends of the candy cane should be secured now.

Cut off Excess Wire and Bend into Shape

Cut off the excess pipe cleaner from each end of the candy cane. I used wire cutters for this step, but I also tried my scissors, and those cut too. So if you have really strong scissors, you can probably use those (not sure if the pipe cleaners will dull the blades, though). Finally, bend those candy canes into shape and hang them up!
After making a bunch of these, my kids got tired of it and I had to finish up this project. LOL. But it was good for the first 20 minutes! 🙂 And then they decided to come back and help me hang them on the tree.
You can make a bunch of these for your tree (I think more candy canes make a bigger impact and help your tree look cohesive). Or, you can tie jute twine to them and use them as garland to string across your mantel, hang from your peg rails and coat racks, and string across windows. I think Martha would be proud.
It's so festive! I hope you enjoyed this project, be sure to check out all the little Christmas Crafts here.
xo Karen
Karen Sloan is the founder, editor and syndicated content writer of www.decorhint.com. She offers hints of inspiration for everyday living, including home ideas, DIY projects and lifestyle content. Her work has appeared on Google News, MSN, Pioneer Woman, Apartment Therapy, and Bustle, among others.