DIY Shaker Peg Rail with Shelf
How to create a shaker peg rail with shelf – plus a video tutorial!
---
I have a real passion for creating my own home decor. It gives me the freedom to create something exactly as I picture it, all while saving a bunch of money in the process.
This shaker peg rail with shelf is my latest project! This is a step up from the peg rail and the farmhouse coat rack that I created before.
Why Use a Shelf?
If you are looking to fill a little nook in your kitchen or a bedroom, this is the perfect way to do that! You can decorate them with art, wood boards, vases, and sentimental objects. You can take advantage of vertical space and hang longer items from the shaker pegs – kind of like I did with our Fall Entryway. In that case, it was a string of little bells and a scarf. But you could also hang a mirror, artwork, copper ladles, and pans – I mean – the sky is the limit!
And let's not forget about the seasons and holidays. Winter garlands, dried oranges, wreaths, and more. Oh my! I'm excited.
I just love the shaker style, don't you?
Let's get right into it!
How to Make a Shaker Peg Rail with Shelf
A step-by-step tutorial for creating a shaker peg rail with a shelf.
Total time: 1 day
Cut Wood To length of Rail

You'll want two equal pieces of wood. My wood rail is exactly 25 inches long, so I cut two pieces of wood from the 1×3 that measure 25 inches.

Measure and Mark Peg Placement

You need to mark your peg placement so you know where to drill the holes. I had the two end pegs 2 inches from the end of the board, then I spaced the other three pegs 5.25 inches apart. You will also need to find the center of the board, which is exactly 1.25 inches on a 1×3. Mark this spot with a pencil. You will want to use a special drill bit to make these holes.

Drill Holes for Pegs

Using your drill with a 1/2 inch countersink, Forstner, or spade drill bit – drill holes for your pegs using the peg placement marks you made in the previous step. Test each peg to ensure a tight fit.

Sand Wood

I used an orbital sander for this but you can also use regular sandpaper. Sand all the rough edges for your wood pieces. You can also round some of the edges to take away that raw lumber look.

Attach Pegs to Rail

Place a spot of wood glue in each peg hole, and then place a small amount of wood glue around each peg tenon before inserting it into each hole. A little bit goes a long way and prevents glue from seeping out of the holes (and potentially preventing wood stain to adhere later on.)

Attach Top Shelf to Rail

Place a line of wood glue on the top of your peg rail and attach your top-shelf piece to your peg rail. Use wood clamps to firmly hold this in place for 24 hours. Tip: Ensure that you are not clamping your peg shelf so hard that it bends it forward. You still want the shelf to be level and straight.

Optional – Follow with Brad Nails

If you want an extra-strong peg rack – you can pop a few brad nails where the top shelf and peg rail meet. This is an optional step.

Stain And Protect Your Shaker Peg Rail

After the wood glue has cured (24 hrs), apply your favorite wood stain to your shaker peg rack. I'm using one of my favorites – Early American. You want to follow with a coat of polyurethane for protection. You can also just cover your peg rack with polyurethane if you prefer a natural look. Allow your peg rack to dry completely.

Hang On Wall

You'll want to drill your new shaker peg rail into the studs, if possible. Use a stud finder to mark the placement of the studs on the wall and then on the peg rail. Pre-drill holes in your peg rail at these stud marks while holding it to the wall. This will also mark the holes in the wall. Then, use 2-inch screws and drill through the holes into the wall.
Wood Glue, also called carpenter glue, is a type of PVA glue that binds to the fibers of the wood and cures stronger than the wood itself. It's imperative that you follow the directions on your particular brand of wood glue for drying/curing times. Most unstressed joints will be fine after clamping for 30 minutes to an hour. However, for the strongest joints, you want to clamp and let it cure for at least 24 hours.
It's also important to note that wood glue doesn't like stain – so be sure to stain your wood after gluing or cover the parts that need wood gluing with masking tape. Remove wood glue before it dries on areas that you want to stain later.
Note about Screw Length
Since we are using a thinner piece of wood – 1×3 – for this project, the 2-inch screws were ample enough for attaching to the wall. If you decide to make a peg rack that is thicker, you will need thicker screws for hanging securely to the wall.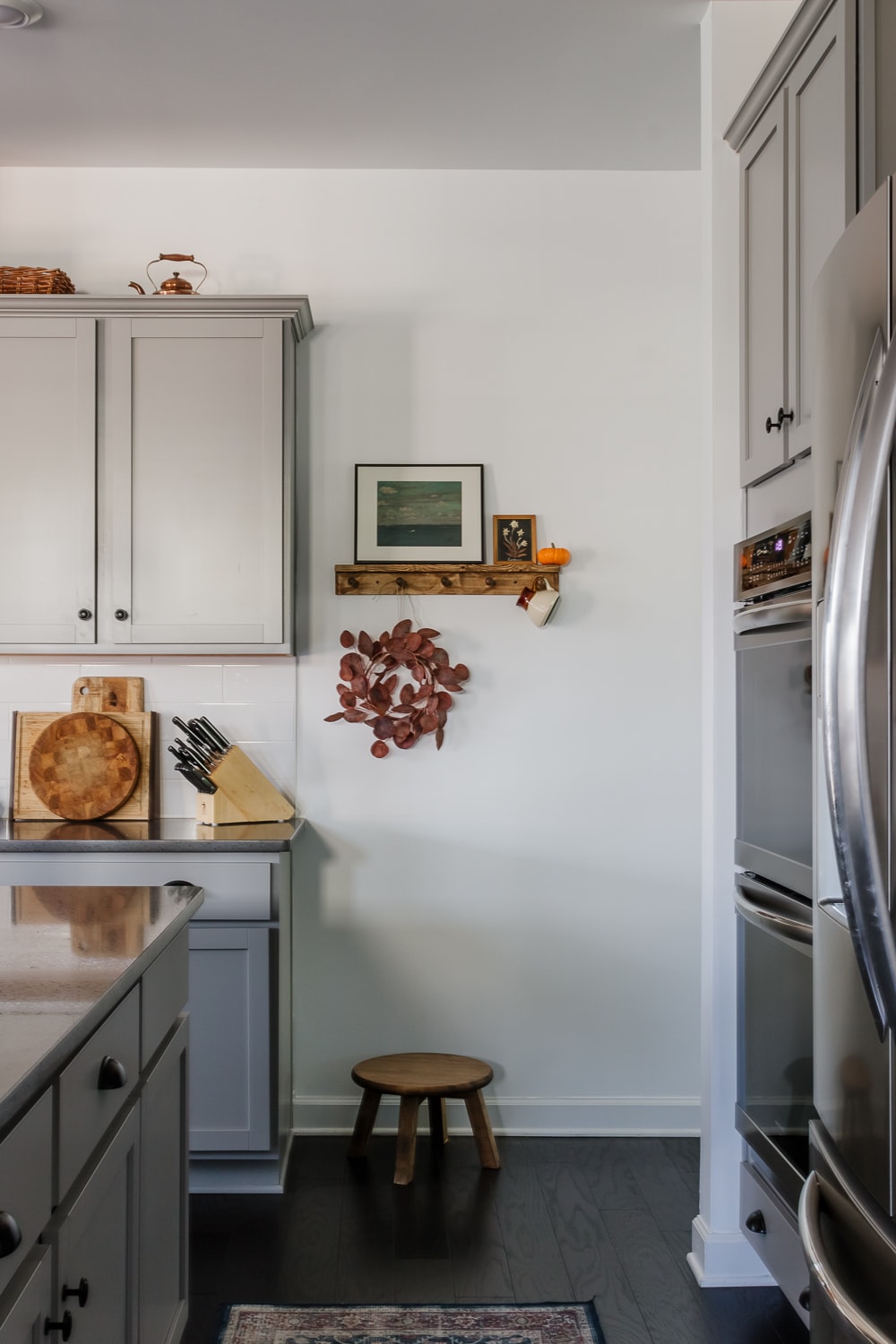 And that's it for this fun shaker peg rail with shelf!
I have this decorated with some artwork from my shop, as well as a miniature pumpkin (since it is Fall after all). I ordered a few things that I want to hang from there but unfortunately, they did not arrive in time for this post to go up. It's always fun to decorate a shaker peg rack and a great filler for empty walls!
Thanks for visiting today!
xo Karen