Your Christmas Decorations Checklist
A Christmas decorations checklist for your Holiday. Stay organized and make sure you have what you need to make this a season to remember.
---
Your Christmas Decorations Checklist
Christmas Tree
The biggie! Whether you go faux or real, you want to make sure you have your Christmas Tree checked off the list. We do one of each, and then my kids get a mini one for their room. It makes a great little night light for the season!

Tree Skirt or Collar
You can use faux sheepskin throws or even a chunky knit blanket and just wrap it around your tree for a tree skirt. Whether you use that or a more traditional tree skirt, you need something there to cover the ugly base!
Tree Ornaments and Star
You don't need a lot here – just a few baubles and/or even some handmade ornaments. I personally love making my own ornaments. My favorite ones this year are these salt dough snowflakes. They are a cinch to make and look so pretty on your tree.
Tree Lights
Tree lights make everything feel and look magical. I've even seen some folks use net lights around their tree!
Tree stand
If you are buying a faux tree, most of them will come with their own tree stand. If you are buying a real tree, you will definitely need to buy a tree stand that holds water and holds up the tree upright in place.
Wreath
Wreaths are essential! Not only do you need one for your front door, but these can also be hung over mirrors, on cabinet fronts, blank walls, the backs of chairs, and interior and exterior windows.

Garland
I'm going to repeat what I said about wreaths for garlands. Garlands are essential! And these are the most realistic garlands you can buy. Not only do you need one for your front door, but these can also be hung over mirrors, draped across the tops of cabinets and furniture, across windows, your mantel and so much more.

Mistletoe
Mistletoe is a tradition that dates back centuries. It was a symbol of luck, health, and fertility. I like it because it feels very Christmasy to me. We hang ours in the foyer (and no, we don't force people to kiss under it). I'm ok with the faux varieties since the real stuff is poisonous!
Candles
I like to place flameless candles around the house and then just a couple of real candles with a favorite Christmas scent strategically placed to welcome guests and set the mood.

Stockings
Don't forget the stockings and your stocking hangers. As much as I love the ones that all coordinate – our stockings are hand-me-downs from when we were kids. Don't have a fireplace? You can hang them from your staircase banister or even a window!
Natural Elements and Vase Fillers
Natural elements include pinecones, dried oranges, cranberries, cinnamon sticks, dried eucalyptus, berry stems, and more. These make fantastic bowl and vase fillers and don't feel too forced.
Tabletop decor
Tabletop decor is anything like Nutcrackers, mini trees, bottle brush trees, nativity scenes, mini light-up houses. You don't want to go too crazy here but little touches here and there are so festive.


Table Linens
Table cloths, table runners, and cloth napkins are perfect for dressing up your dining table. You can even make your own table runner and DIY placemats.
Ribbons and bows
Ribbons can go on your tree and adorn your garlands and wreaths, too.
Advent Calendar
A tradition for some, including us. Best to have it up by December 1st!

Wrapping Paper
One of my favorite decor ideas is also one of the cheapest! Take some old boxes you have laying around and wrap them up with pretty Christmas wrapping paper. Don't forget the bows! Then, set these around on accent chairs, under the tree, and going up the staircase. I made a TikTok video about this too. It helps fill in those blank spaces that just need something.
Poinsettias
Poinsettias and Christmas just go together. And luckily you can find one in a color (white, red, or pink) that would match your existing Holiday decor.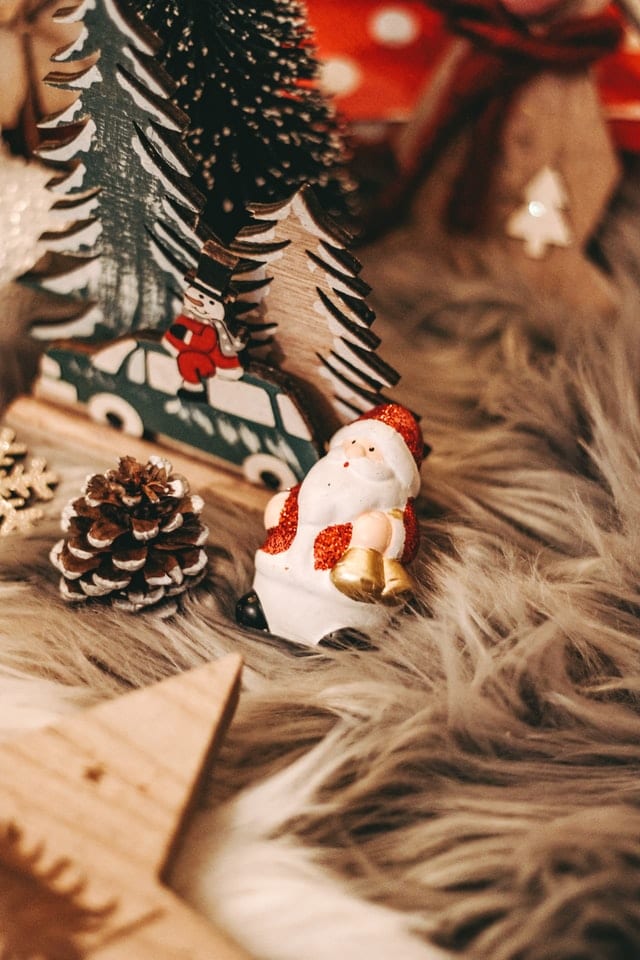 Hanging Essentials
Handy tools and products for hanging your decor! These include 3m command strips, jute twine, mini light clips, large hooks, and wreath hangers. Get my tip for how to hang garland here and how to hang wreaths here.

Outdoor Decor
We can't forget about curb appeal! Net lights, mailbox swag, garland, wreath, battery-operated lights (in case you aren't near an outlet), and lawn decor. And then the fixings for a pretty outdoor planter like pinecone and cedar picks, evergreens, and berries.
I hope this helps with your holiday decorating this year!
xo Karen