Happy December! It's officially time to start thinking about getting out all those Christmas decorations if you haven't already. These star salt dough ornaments are easy to make and will help fill in your tree if you need a little extra somethin'-somethin'.
(I've included affiliate links for your convenience. I earn a small percentage from a purchase using these links, and there is no additional cost to you. You can read more about affiliate links here.)
As I mentioned before, this year I'm toning down my Christmas decorations. I'm going less glitz and glam and embracing more natural decorations, neutral textures and just a lot less stuff in general. I don't want all my surfaces dripping with Christmas. Don't get me wrong – I still want that cozy, festive look. But I'm learning that you can still achieve that look with a lot less. It makes the things you do decorate with feel more thoughtful. At least for me. It's easier on your home. Easier on your budget. Easier on you!
I wanted to give you guys a little glimpse of our tree this year too. I know many people out there have two or even three trees in their homes this time of year. We used to do that as well. I used to put one "fancy" tree upstairs in our living room and one "kiddie decorated" tree in our TV room. I would agonize over the placement of each Christmas ball on our fancy tree. Everything had to be perfect. Perfectly placed ribbon. Christmas balls evenly spaced using geometric equations (not really, but it felt like it). And this year couldn't be more opposite from that!
This year, I let my kids have at it. I didn't rearrange their ornaments (well, not really.)
We put up the handmade ornaments, the ornaments we collected from our travels, our baby ornaments etc. I used a few Christmas balls and that's it.
And you know what?
I love it!
I love the feeling of letting go of perfection. We all had so much fun decorating to the sound of Bing Crosby's greatest Christmas hits. This tree feels more real to me. (And quite literally, it's not a real tree.) It's a unlit 7 foot Silverado Slim from Balsam Hill that I picked up on clearance last year. The pre-lit trees are super convenient but the lights never last for me. This way, I can use my own lights.
Maybe one year I want color.
Maybe the next year I want white lights or cafe lights.
It leaves me the option which I like. And it doesn't take me long to put the lights on every year.
We only have the one tree this year. Perhaps next year I'll add another tree or maybe two smaller table top trees to our TV room. For now – that room is still a construction zone!
Basic Recipe for Salt Dough Ornaments
Let's get to making these salt dough ornaments. Here's the basic recipe. I changed it bit from when I made these last year.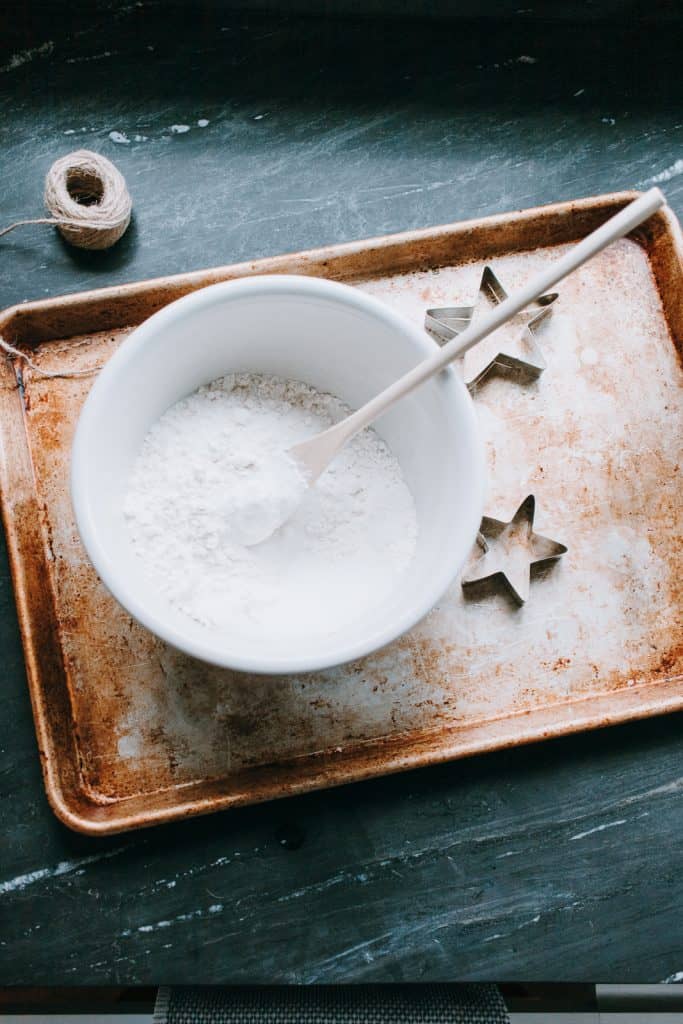 2 cups flour
1 cup salt
1 cup of water (more or less).
Jute twine.
You basically mix the flour and salt and then slowly pour in the water while mixing until you get a nice dough consistency. Salt dough ornaments are very forgiving. Too much water? Add more flour. Not doughy enough? Add more water.
Then you roll them out and use cookie cutters to make the shapes. Stars in this case! Rolling them out on parchment paper or with a good dusting of flour makes it much easier. I found the dough to be a bit sticky. It's basically like making Christmas Cut Out cookies – but please don't eat these! Or let your pets get into them. The sodium content is crazy high.
Don't forget to poke a hole in them before baking for the string. I just used a toothpick.
I bake them on a parchment lined baking sheet in a preheated oven at 200 degrees for about an hour and a half. They will also continue to dry just left out in the open. It can take several days for them to fully harden this way.
Once they are cooled, you can tie on a piece of jute twine to each one. Voila! I love the handmade look to these with the added texture from the jute twine.
These star salt dough ornaments should last years for you. The ones I made last year are still going strong. I store them like all my other ornaments – wrapped in tissue paper and put into my ornament box.
Here's another look at our tree this year. We have had that lighted star for so many years. I also still use my red tree skirt, but I'm thinking it needs a little something. Perhaps some jumbo white pom pom balls added to the trim would help? That's a project for another day.
How do you guys decorate your trees? Do you go all out or are you more minimal in style?
Xo Karen
For more Christmas Ideas this year – go to these posts :