Pretty DIY Placemats You can Make in 10 Minutes
You can make your own placemats with this easy tutorial! Learn what is needed to make placemats, the best fabric for placemats and how to make your own DIY placemats.
---
With the holidays fast approaching, (sorry), it's time to think about all that holiday entertaining. So I thought I would make some simple DIY placements to spruce up our table.
Are placemats even in style anymore?
YES!
Ok, yes I think they are. All my favorite stores still carry them and designers are still decorating with them. So as long as I continue to see them everywhere, I'll continue to use them.
Plus, let's be honest, placemats really do add a nice touch to our tables.
You can easily make a placemat with a yard of your favorite fabric, a sewing machine, and some thread.
For these ones, I decided to make black and white plaid placemats. They go with our color scheme and are neutral enough to use throughout the year.
Let's get started!
What is Needed to Make Placemats?
1 yard – 1 and a half yards of fabric (see 'How much fabric will I need?')
Sewing Machine and thread
Iron (optional, to use at end of the project)
What's the best material for making placemats?
In my opinion, medium weight cotton or sturdy cotton/linen blend makes the best and prettiest placemats.
The fabric I used is medium weight cotton. And because it's essentially two layers of fabric sewn together – it really makes a nice sturdy placemat.
How much fabric will I need?
Standard placemats are 14 inches x 20 inches. If you want to make four placemats of this size and leave room for error – purchase a yard and a half of fabric.
I ended up making slightly smaller placemats (12×17 inches) and I only needed 1 yard of fabric.
How to Make Your Own Placemats
Here's a handy diagram to show you how to do this!
Step 1: Wash and Dry Fabric
You want to wash and dry your fabric to account for any shrinkage prior to sewing. Once your fabric is dry – let's move on!
Step 2: Cut Your Fabric into Equal Sized Rectangles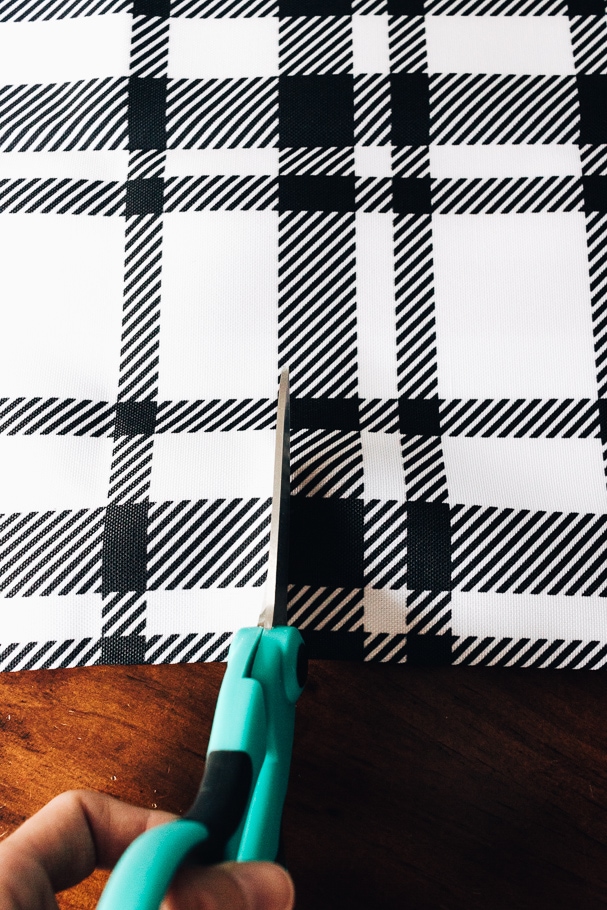 It's really up to you how big you want your placemats to be. I just went online and looked up placemats for sale in order to get standard sizing. Hint – its about 14″ x 20″.
Don't forget you will have a small seam allowance all the way around, so the finished placemat will be ever so slightly smaller than what you cut out.
Each placemat requires two equal rectangular sized pieces of fabric.
Since I was working with plaid fabric – I just cut along the lines of the pattern to keep straight, even cuts. Easy peasy!
Step 3: Line up Fabric Pieces
Take your two rectangles and line them up on top of each other – with the pattern side facing in.
Step 4: Sew Pieces together but leave a Small Opening
Now you are going to sew your pieces together all the way around. Use a smaller seam allowance – you don't want your placemat much smaller than what you cut.
Leave a very small opening on one side. This is so that you can flip the placemat right side out.
Step 5: Flip Placemat Right side out and Sew closed.
Now you are going to carefully fish your placemat through the small opening you left in step 4. Flip your placemat right side out so the pattern side is now on the outside.
Sew a small, neat seam all the way around. This gives your placemat a nice, finished look.
For the small opening – you can push the fabric in (so the fray side is on the inside) – and continue to sew it closed.
You can look at this picture (below right) to kind of see what I mean. Hopefully. 🙂
Step 6: Iron them flat and Enjoy!
Now you have a placemat! A reversible placemat!
You can take a hot iron and press it flat. See how easy that was?
Sewing these placemats took me all of ten minutes (minus the cutting and ironing). But that didn't take long either!
This is a quick project and perfect for the Holidays!
Want to save even more time?
I didn't do this initially, but instead of cutting two separate rectangles, cut one larger piece and fold it in half. That way – you have one side closed already.
When you flip your placemat right side out – you can still sew a nice seam all the way around the placemat to gives it that finished look.
Finished DIY Placemats
My placemats ended up being about 12 inches x 17 inches – which is a small but nice sized placemat in my opinion.
Perfect for my small round table!
These reversible DIY placemats are also machine washable. Remember you already washed and dried them – so they shouldn't shrink on you anymore.
Pottery Barn sells a set of 4 placemats for $48 (at the time of writing this post). Crazy! And you can technically get four placemats from one yard or slightly more of fabric. This is a great savings and you can totally customize them for holidays and seasons.
Of course – a beautiful linen fabric never goes out of style or season.
More inspiration:
Thanks for reading!
xo Karen