---
Happy September, y'all! And Welcome to our Fall Entryway tour!
I'm so honored to be a part of the Harvest Home Tour for 2021! If you are looking for some Fall inspiration, then you're in luck because 30 talented home bloggers have opened up their doors this year to show you their Fall decor. Yay! (links to all other tours below.)
Can you believe it's already September? School has just started here in our small NC town and the weather just took a turn for the better (IMO – I'm so over that heat and humidity). In other words – it's time for Fall Decorating! I'm excited to show you guys how I add a bit of fall flavor to our little entryway this time of year.
The inspiration for my entryway started with one color. Or one look maybe I should say? I was in Target and caught a glimpse of this beautiful maroon wreath from Hearth and Hand and just had to have it. It's wispy and somewhat small (they have a larger version too in case you are wondering), but this one wreath started me down a path of neutrals and rustic warm vibes with a pop of – you guessed it – maroon! So I'm totally feeling this color palette right now.
And my style is somewhat simple and understated – I like to keep things easy and organic. I never want anything to look like I tried too hard if that makes sense. I tried a few different looks here (added some different pillows and things) so let me know which one you like better! 🙂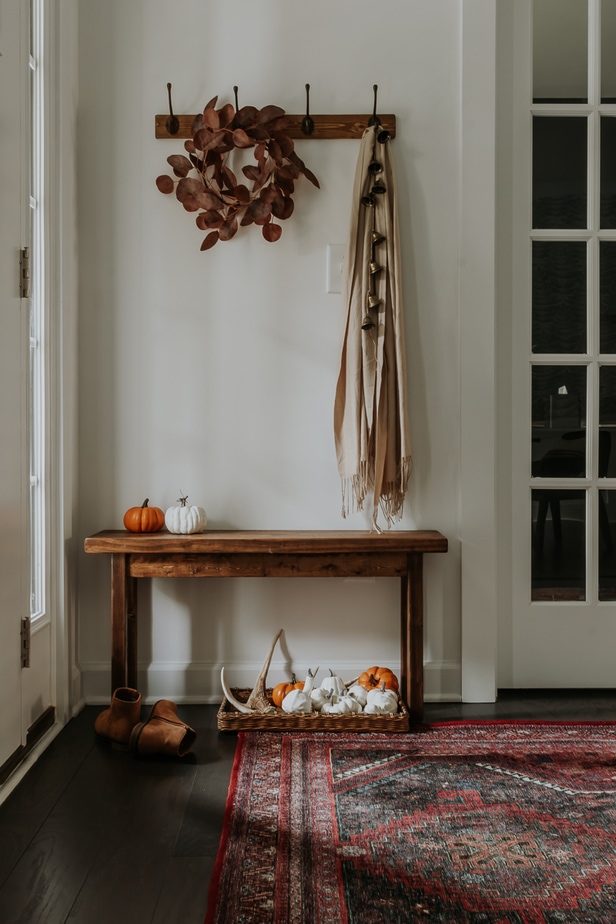 It took me some time to figure out the flow of our entryway. We have a home where our foyer area opens up to the dining room on one side and an office with french doors on the other. I didn't want it to feel like a complete afterthought – or, just an empty space that you simply walk through to get to the other rooms in our house.
Instead, I wanted it to feel warm and inviting and set the tone for the rest of our house. I wanted it to be a place that you could linger for a little. I first defined the space with a good-sized area rug. This one is from Ruggable and it's 100% machine washable. Then, I made a little rustic bench and a farmhouse coat rack to fill that empty wall with some warm wood tones.
And if I told you that "decorating" the coat rack is one of my favorite things ever would you believe me?
I like to hang a seasonal little wreath or a basket of dried grasses from those rusty hooks. I usually hang a scarf in a complementary tone or color. The scarf not only brings a little staging and color to the area but also hides the ugly light switches on the wall.
Every space in our home gets a little pop of vintage, so I made a chain of antique bells by tying each one to a long piece of jute twine, and then just casually hung this on top of the scarf. These bells sound so Christmasy so I think I might leave this up till January!
Finally, pumpkins! Real pumpkins are not ready yet in my area, so I fake it first. I bought a bag of these white pumpkins in assorted sizes from Amazon. I arranged a few on our bench and an assortment of them in a wicker tray underneath, which I found at a local thrift store. I also threw in some of my deer antlers that were foraged (those are real!)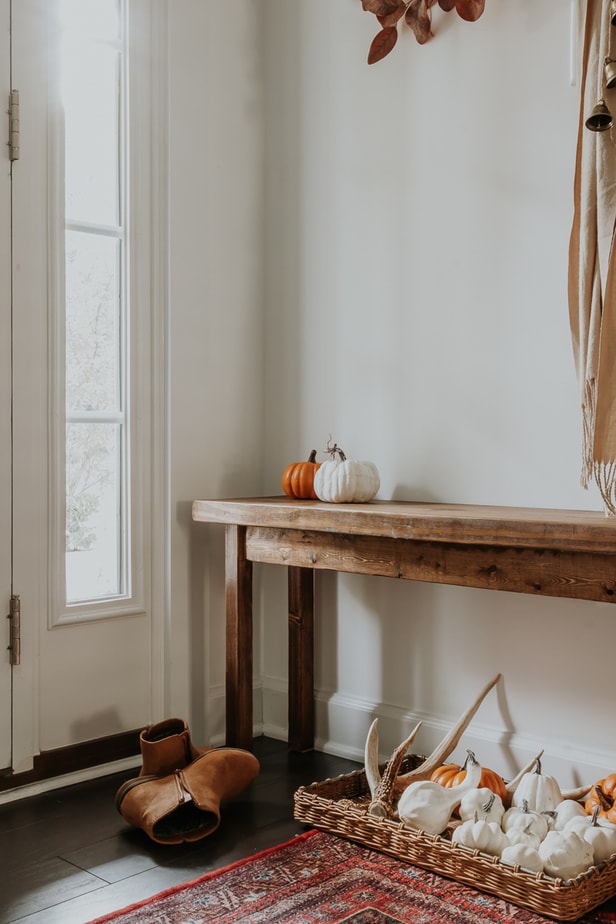 How do you make your faux pumpkins look more real? Here are a few tips. First – don't buy the faux pumpkins that look "perfect". You want lumpy, bumpy-looking faux pumpkins. Then, you want to carefully remove the faux stems, and hot glue REAL pumpkin stems on them. You can buy these from Etsy, but this year I'm planning to save a bunch from our real pumpkins when we get them. Finally, a little paint goes a long way! Use matte or chalk-style paint in real pumpkin colors – nothing too orangey. Soft orange and green and a little beige too and feel free to rub some dirt on top too! (I'm hoping to do a DIY post on this soon so stay tuned!)
So that about wraps up our Fall entryway. I hope this gave you guys some inspiration! Don't forget to check out all the bloggers on this wonderful Harvest Home tour!
I'm thrilled to be joining in today as 30 talented bloggers bring you the best of all things home! Please continue along this inspiring Harvest Home tour, and visit the other participants in each of the following categories.
Karen Sloan is the founder, editor and syndicated content writer of www.decorhint.com. She offers hints of inspiration for everyday living, including home ideas, DIY projects and lifestyle content. Her work has appeared on Google News, MSN, Pioneer Woman, Apartment Therapy, and Bustle, among others.