Ahhh, summer's not too far away now. It's time to clean off the outdoor furniture, pull the chair cushions out of storage, and add colorful flowers to your landscaping.
It's also time to take care of those rusty, broken, full-of-splinters wooden Adirondack chairs you have. Or perhaps, you thrifted them. Don't give up on them just yet! Today, I'll show you how to paint Adirondack Chairs.
Take a look at my old Adirondack chair we had sitting out on our porch for the last two years:
Upon closer inspection, it's a little rusty. It's almost orange looking in some places. The paint is chipping off. It's pretty dirty. Oh yea, and it's missing part of the seat!
And take a look at it now.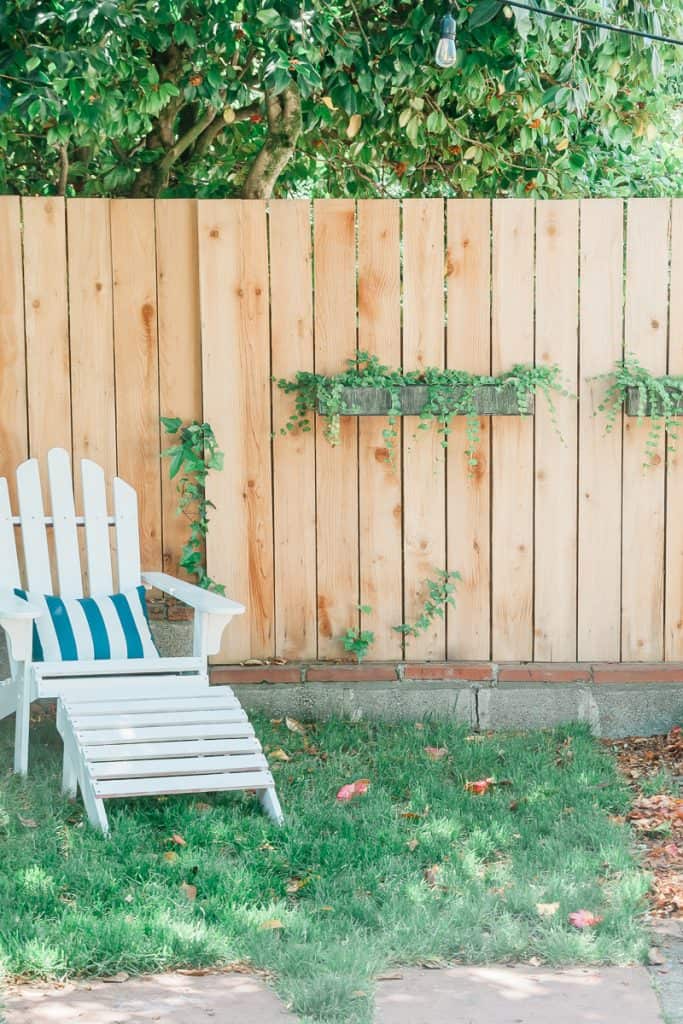 It's pretty again! We love this chair now! My son/daughter and I sit it in it all the time, just taking in those dreamy spring breezes and listening to the lovely birds. It's heaven.
I'll walk you through the entire process of painting Adirondack chairs. Let's get started.
Things' You'll Need
I used two full cans of Rustoleum for one chair and the ottoman. On my second coat, it was mostly covered, except for a teeny bit of red still showing through in some small areas around the bottom.
Rustoleum has several finishes. I chose gloss because it reflects more light and will help protect the chair a bit more outdoors. Plus, I love a glossy finish sometimes!
How to Paint Adirondack Chairs
How to paint Adirondack Chairs.
Total Time: 1 day
Prep your Chairs

The most crucial step in all of this is your PREPWORK. Cleaning and sanding are your best friends. I used coarse sandpaper – 80 grit. My chair had some rough edges and areas where the paint was chipping off. I wanted to start with as smooth a surface as possible. If you start with an empty chair in decent shape that wasn't previously painted, you can probably get away with a sandpaper grit of 100 or more.   

Another easier option? Use a Liquid Deglosser. I didn't use one here, but it can make your job WAY more manageable if you have a lot of paint to strip. It will strip and clean the chair's finish for you and help the new paint adhere better. You can pick up a deglosser at home improvement stores.

Make any Chair Repairs

My chair was missing a slat right where your bum would go. And guess what I ended up using to fill the gap?? A WOODEN GARDEN STAKE! My local hardware store sells them in various lengths for under $2. I chose a sturdy one that was a bit longer than the width of my chair (see photo below). It doesn't bother me that the woods are not matching since I was painting over it anyways.

I attached the stake to my chair with long exterior screws on each end. Then I used a saw to take off the excess from one end. Finally – I sanded that end until it was smooth.   It is not an exact match, but it worked perfectly. And it's so lovely to have a slat there for your bum! The other thing you may want to do now is tighten up any loose screws.

Clean Your Chairs

Take your tack cloth and clean off the sanding dust from the chair. A tack cloth is specially designed to pick up any little dust and debris and is usually lint-free as well. I also took just a bit of water and dawn soap with a scrubber brush to clean some dirt and mildew off the chair. I towel-dried it and let it dry in the sun. You must let your chair dry completely before painting, as wood absorbs water.

Paint your Chairs

It's essential to hold the spray paint can at least 10 inches away from the chair and spray light coats in a back-and-forth motion. Otherwise, your paint could run and drip.

You won't be able to cover the whole chair in one coat, so why rush it? Applying your second or more coats minutes apart from your first coat is best. The chair dries to the touch in 1 hour and will be completely dry in 48 hrs.

Allow your chair to dry completely for 48 hours. Yes, I know. Two days seems like a long time.

Apply Top Coat

After painting, you might want to apply a top coat water sealer, like Thompsons. I usually use the spray for easy application.
I noticed that some areas of the bottom still show a bit of red. But it doesn't bother me at this point. It's a lovely white chair for the most part now. And I can always add a quick coat of spray paint to the bottom later.
Here it is all done!
Tips and Tricks:
If you are scared to spray paint, you might want to start with the bottom until you get in the groove and then go to the top. I know how you feel. I was scared to spray paint at first, too. But you will never learn unless you try.
Read the directions on the can. I gave you the directions for the Rustoleum Painter's Touch 2x Paint and Primer (say that three times fast), but if you use a different paint, the drying times may differ. Please read the directions first.
It doesn't have to be perfect to be beautiful. My chair looked nice, and no, it's not perfect. But I like a bit of a worn-in, rustic look.
Have you messed up? You can always start over after it's dried and sand off the messy parts. Or you can buy a cushion or pillow and cover it up. 🙂
Best Paint for Outdoor Furniture
In my personal opinion, the Rustoleum Painter's Touch 2x Paint and Primer is hands down the best paint to use for your outdoor furniture. And no, they are not paying me to say that. You can check out their website here.
Spray paint is so easy because no paintbrushes or other supplies are involved. This paint adheres to wood, plastic, metal, and more, and it's for indoor AND outdoor use.
It comes in various finishes, and it is super easy to use! I love it and will use it for other projects in the future.
How to Weatherproof Your Adirondack Chair
The nice thing is that exterior paint offers one of the best protections for weatherproofing your Adirondack chairs. I also recommend applying a top coat water sealer, like Thompsons, to protect your chair from the elements further. I use this on our DIY concrete tables, as well.
It's recommended to touch up your chair every 1-3 years. But as you can see from this tutorial – it's not that hard. You will be a pro! I hope this helped get some of your chairs off the donation fence!
Karen Sloan is the founder, editor and syndicated content writer of www.decorhint.com. She offers hints of inspiration for everyday living, including home ideas, DIY projects and lifestyle content. Her work has appeared on Google News, MSN, Pioneer Woman, Apartment Therapy, and Bustle, among others.