Tumble Rugs Review + Discount
This Tumble Rugs Review includes everything you wanted to know, plus get a close look at our new Tumble Rug.
---
I'm excited to show you guys our new dining room rug. Tumble sent me one of their rugs to try out and I'm so glad they did. Because not only is it super pretty and super cushy, but it is 100% machine washable too.
Click any of the Tumble Rug links in this post to get $20 off your purchase (discount automatically applies).
If you haven't heard of Tumble Rugs, then consider stumbling on this post as your sign to give these rugs a try. After seeing these rugs in person, I wholeheartedly recommend them!
Tumble was started by furniture industry veterans who sought to fill the need for beautiful, easy to care for rugs at reasonable prices. They offer a curated collection of hand drawn designed rugs, that are suitable enough to fit in with any decor style. These rugs are some of the most beautiful washable rugs I've ever seen.
Whether you want a modern geometric, a bohemian styled design or the more traditional Persian styles, they have it all. But it's also not an overwhelming amount of rugs to peruse through – which can be utterly exhausting and lead to the dreaded "analysis paralysis." You'll be able to zone in on exactly what you want in just a few moves of a mouse.
And if you do get stuck? They have an "Ask a Designer" complimentary design consultation. Answer a few questions, upload a photo of the room, and a designer will help you choose the best rug for the space. Genius!
5 Reasons you Need to Consider Tumble Rugs
Spill proof – that means that spills magically bead up so you can just wipe them away. It's mind-blowing.
Made of 100% polyester chenille with a water-based spill proof protective barrier and a polyester knit backing.
Machine washable!
Comes with a comfy, 1/4 inch anti-slip rubber padding underneath (see photo for thickness)
Free Shipping AND Free Returns (that is HUGE).
Assembling the Rug
These rugs don't arrive rolled up. Instead, they come in a rectangular cardboard box. The box contains the rug, the rug pad, instructions for assembly and care, and some extra rug grippers to help keep your rug in place.
The first thing you need to do is assemble the rug pad – which is like a giant floor puzzle that locks together in a pattern. Don't worry – it's incredibly easy to put together and they have a diagram that shows you exactly how to do it.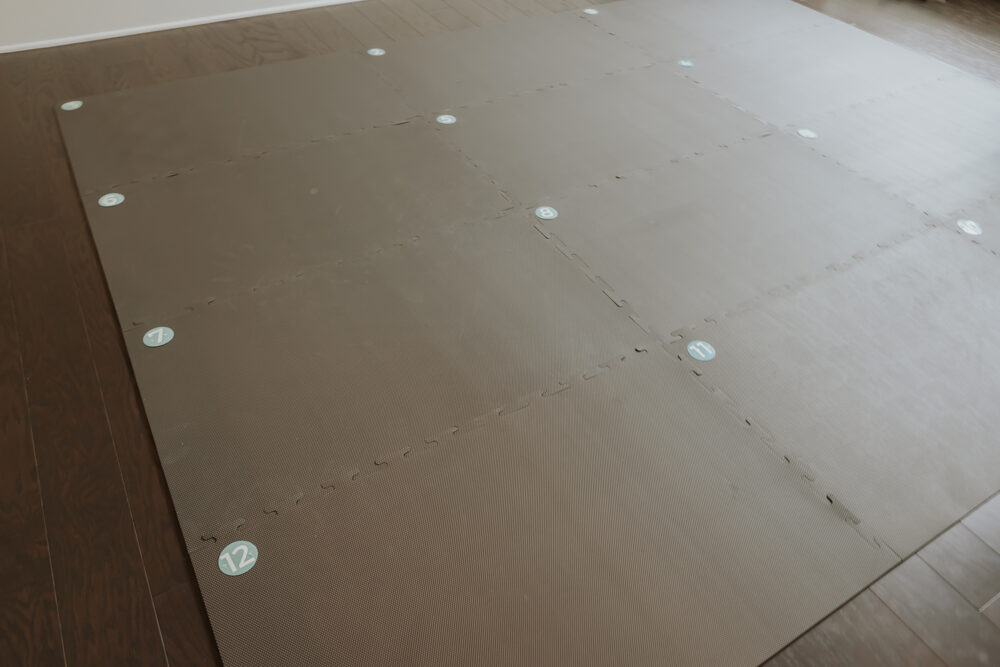 Then, you lay your rug on top, tucking the rug pad into the four corners. It's important to note that the rug will be slightly larger than the rug pad, as there is some shrinkage that happens after it's washed.
The rug I ordered is the 8×10 Olivia in Ash.
It contains the colors gray, beige, brown, ivory with almost a subtle light pink in there too.
The rug itself is soft and slightly textured. It does not look like a rug with just design printed on a piece of fabric.
It's really pretty! Even my husband likes it, which is saying something because he is picky about house stuff.
This dining room is really starting to come together! I've been looking for the perfect rug for a while and this rug was worth the wait! It makes the space feel more finished and bigger actually. I can't wait to try out more of Tumble's Rugs.
How to Wash your Rug
Accidents happen, right? Fortunately, spills can just be blotted up because of the spill proof coating on the rug. When you want to machine wash it, disassemble it from the rug pad, and put it on a delicate cycle, cold water with regular laundry detergent. You can dry it in the dryer on low heat, or just let it air dry. Easy peasy!
Any of the links in this post will take you to Tumble Rugs (your discount will automatically apply) and give you $20 off your first order.
I hope this Tumble Rugs review was helpful and you guys love these rugs as much as I do!
xo Karen