10 Best Washable Rugs 2022
This page contains links to products that were hand-picked by the editor. When you buy through these links, we may earn a small commission. Learn more.
A roundup of the best washable rugs on the market today. Just updated! You won't believe that some of these are machine washable.
---
There is nothing that puts a damper on my day like a stain on a favorite rug. I learned this the hard way when my brand new hallway runner got ruined. My kid accidentally barfed all over it. Just a teeny tiny baby step forward and he would have missed it completely. (It was jute, and barf and jute rugs don't mix – sorry for the visual.)
I'm sure you can relate. Maybe you saved up months to buy a beautiful new area rug, only to have your 4-year-old spill bright purple grape juice all over it. Oh, the horror! But what if I told you that you never had to worry about stains like that again? And that you could have a nice-looking rug that's totally 100% machine washable?
The kind of rug that you want to have under your dining table. Or in your living room. Or in your entryway. Or in the hallway. Whether you love Persian rugs, geometric pattern rugs, or vintage rugs – today, you can find all styles and pretty much all sizes. And these are totally 100% machine-washable area rugs! (worth repeating.)
These Rugs are:
stain-resistant
water-resistant
non-slip
affordable
great for high traffic areas
easy to clean
great for kids, pets, and messy life!
genius. in a word.
Best Washable Rug Companies
Check out these companies below for the best washable rugs on the market today!
Whether you are looking for a traditional vintage type rug, an eco-cotton type rug, or even a plush style – these companies got you covered!
One of my favorites! They have so many patterns, designs, and sizes. My favorite styles are their Outdoor Rugs and the Founder's Farmhouse Collection. Although – I like a lot of them!
I bought my first one over five years ago. I was watching the Today Show one morning and they did a segment on these machine washable rugs with a company called Ruggable.

And I was totally blown away at how a nice large area rug could be thrown in the wash like that. And come out looking brand new? Where do I sign?
I immediately went online and ordered one.
With Ruggable Rugs, there are two layers. The bottom layer is fuzzy and soft. The top layer is the actual rug and it "clings" to this fuzzy layer underneath. The fuzzy layer underneath acts like a rug gripper. It has an anti-slip rubber backing on it. It won't give the rug an incredible amount of padding, just keep that in mind.
You can't wash the fuzzy pad, but you can vacuum it. And you can vacuum the whole rug as normal anytime. When you need to wash the rug, you simply detach the rug layer from the bottom layer and throw the top lightweight rug layer in the wash. When it comes out of the dryer, you line it back up on top of the fuzzy layer and it's good to go.
Since I bought my first one, Ruggable has come out with more sizes; like the large 9×12, round, and runner sizes. They also have a cushioned rug pad now (the traditional pad is not very cushy under your feet.) And they even have plush styles! Perfect for a nursery or an office space where you want coziness. I've bought from them so many times, in fact, I wrote a really in-depth Ruggable review (plus a video so you can see these babies in action).
Tumble is a very new company on the market! Seems very similar to Ruggable, even with pricing. They do have some amazing designs in here. I have one ordered and on the way and I'm going to do a whole post/video review. These guys are definitely worth a look. Click here to get $20 off your first order or use code KAREN-TMBL20!

Rugs USA is now offering machine washable rugs and these do not disappoint. Both Rugs USA and Boutique Rugs (next one down) offer similar style rugs. If you want a vintage-looking washable rug then these two places would be a great place to look. But they have a TON, so I'm confident you will find something you love here.

You will be blown away by these washable rugs! So many gorgeous patterns and yes, throw it right in the wash! I just ordered this rug for Hannah's room. I haven't washed it yet but it is so pretty you guys! I really love it. It does not have the bottom anti-slip layer that Ruggable's do, so keep that in mind. I'll update this post after I wash it to let you know how it does.

Shop Boutique Washable Rugs here.
Another great rug company and yep, they now offer washable rugs! It's funny because some of these rugs are very similar to the washable rugs from Boutique Rugs. So, they must all partner with the same manufacturers. Rugs Direct is worth noting, because they have beautiful rugs and great customer service.
Walmart is also coming out with its brands of machine washable rugs. There's Everwash, NuLoom, Nicole Curtis, and also Art of Knot. While I haven't personally tested these out, the Art of Knot would be my first choice. These are most like Ruggable, although they don't come with the rug pad. The designs are really pretty and I'm anxious to see how this brand competes. Here's a few I selected. Check them all out though, there are some goodies in there!

The Rug Collective is a company by a team of designers and stylists, who wanted beautiful rugs that didn't have to be permanently ruined by pets and kids. The technology they use on their washable rugs doesn't allow spills to absorb – so you can simply spot clean it and then throw it in the wash when you need to.
The "technology" lasts through 7 washes, according to their website. They seem to offer a lot of good sizes (really long runners up to 16 feet!) I really love a lot of their designs . One thing I'm unsure about is if they have a nonslip backing on their rugs.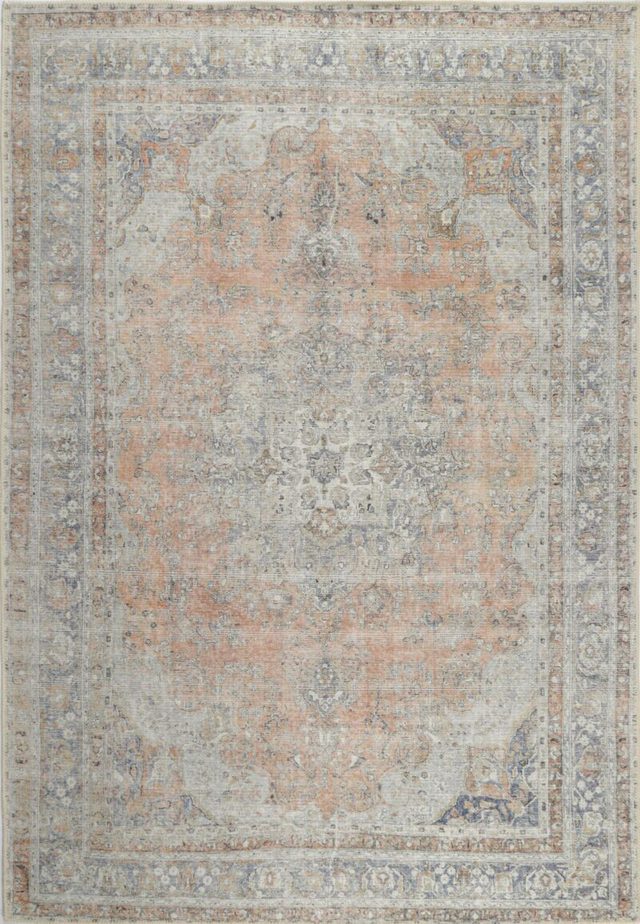 I came across ReaLife Rugs on Amazon. They remind me a bit of Ruggable, although they don't seem to have a dedicated website.
Their rugs have decent reviews and offer a lot of designs, modern, striped, and look-a-like vintage rug designs. They seem to mostly sell via Amazon and Walmart.
One pro to these rugs is that, unlike Ruggable, it is a one-piece system. You don't have to put this back together after washing. However, some reviews state that the rug doesn't wash well.

Another Amazon find! I haven't tried MyLife rugs personally. Some of the reviews state that it's not really a rug; it's a printed design on a mat. I've seen similar things in stores and it's not a great look in my opinion because it's pretty obvious to the eye and looks cheap. However, I can't speak to the actual look of this rug when you get it in your home.
I guess it depends on your expectations. Most of these washable rugs are a bit different in feel compared to normal area rugs. To make these rugs washable, they use different materials and coatings. It's just going to feel different.
Most of the reviews are positive, stating that the rug washes up well and the designs are pretty. The largest size I came across was a 6×9. If you are looking for something bigger, you probably want to try the other rug companies I mentioned previously. The largest size I saw offered is just under 8×10 inches. Prices seem to be in line with most, but a lot of their stock is out! 🙁
Before you Buy a Washable Rugs
Make sure to keep the following tips in mind before purchasing your washable rug.
Machine washable rugs are mostly made of synthetic materials – but the overall look and designs are just beautiful. You can find rugs that are made with natural materials, like cotton, wool but you will pay a little bit more.
Make sure your washer will fit the rug size. We own an 8×10 and I can fit that into my front loading machine, but if you happen to have a smaller washer – keep in mind that it might be too big to wash right.
Ensure you can actually throw the rug in the wash. Yes, some rugs will say they are washable, but they are not really machine washable. Make sure you read the fine print or contact the store directly to double-check.
How to Wash your Rugs in the Washing Machine
Every rug manufacturer will have different instructions for washing your rugs in the washing machine. With Ruggable, the bottom layer DOES NOT get washed, just the top layer. With Boutique Rugs, they recommend first spot cleaning with dish soap, then putting it in the washing machine on a cold, delicate cycle with no detergent. Generally, an 8×10 rug is considered 1 load of laundry. I usually wash my washable rugs by themselves in the machine. It's possible to wash these rugs in front loading, top loading and washer/dryer machines.
Shop the Post

So that about sums up this post on Best Washable Rugs! These rugs are getting better and better. Definitely check out my favorite picks below, and feel free to contact me with any questions.
xo Karen