Best Rugs for High Traffic Areas
Wondering what the best rugs for high-traffic areas are? In this article, we'll guide you through our top rug picks, the benefits, the materials to consider, and the factors to remember when choosing the perfect rug for your home.
We'll start with our top rug picks, but scroll down for additional information about choosing the right rug for your high-traffic spaces.
Best Rugs for High Traffic Areas
When selecting the best high-traffic rug for your home, there are various options on the market. Whether you need one for your entryway, living room, or hallways, you'll find one that works here. Here are two of our top pick rug companies:
→ Ruggable – These rugs are polyester with a coating to resist stains and spills. They are beautiful, machine washable, and have a non-slip pad on the bottom. And if you choose a low-pile version (they have some shag and thicker rug pad options), it will fit under a doorway. It's a fantastic choice for high-traffic areas! We have these rugs in our entryway and kitchen area.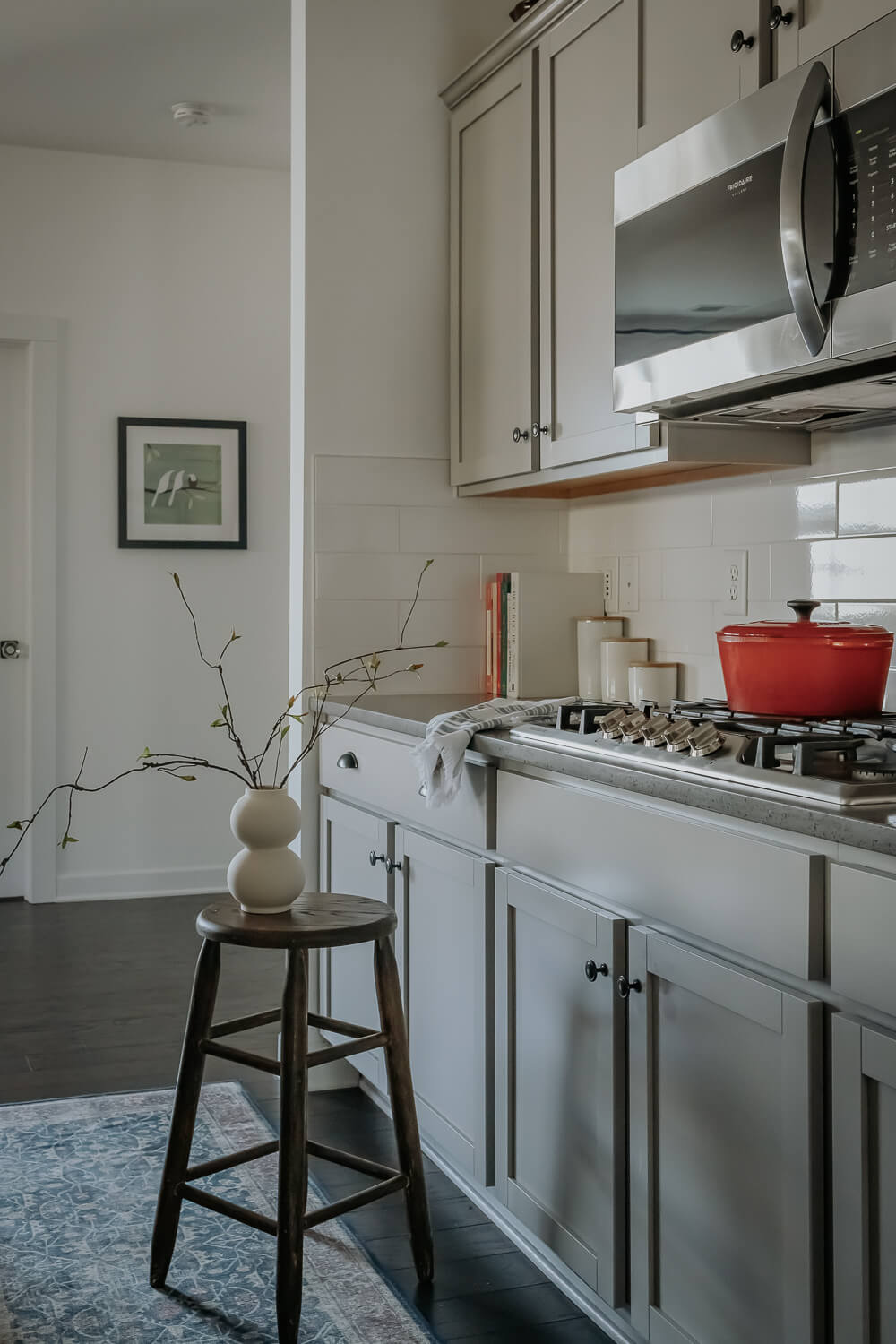 → Rugs USA – Rugs USA has gobs and gobs of rugs for you to choose from, and they are a personal favorite of mine for their affordability and selection. Choose from eco-friendly jute to machine washable to indoor/outdoor. Find rugs in any style, size, or color.
→ Loloi – I'm obsessed with these polyester rugs from Loloi! Especially their collab with Amber Lewis. We have them in two bathrooms, and they are excellent; they soak up water, resist stains, and don't show dirt. Plus, the patterns are gorgeous and look high-end, but these are affordable. You can purchase these from Amazon, Rugs Direct, Loloi, or Wayfair.
→ Rugs Direct – ok, speaking of Rugs Direct, I have to include this one here as well. They have a lot of rugs and a Rug Finder quiz on their website that's surprisingly good (and no, you don't have to give them your email to get the results).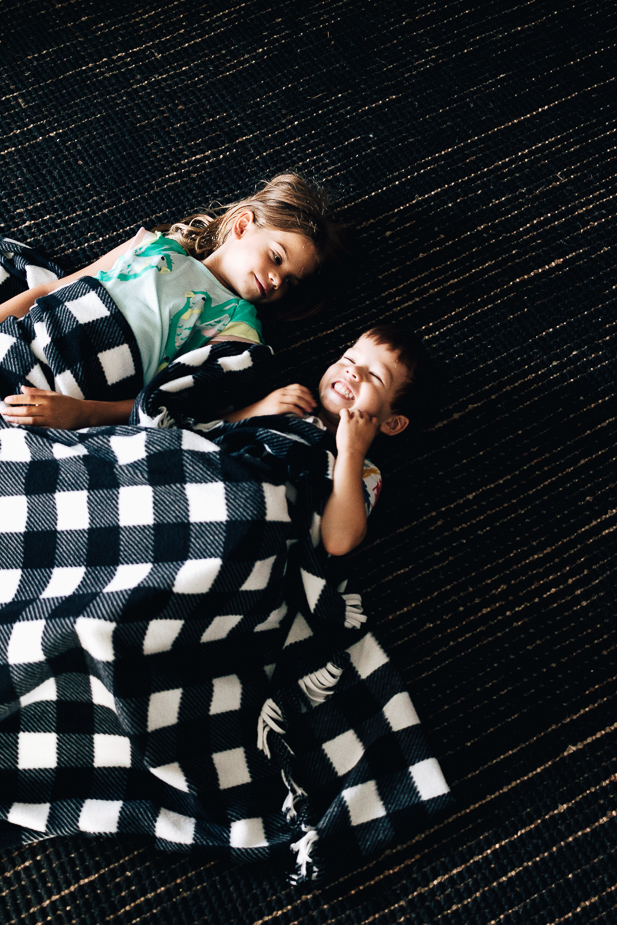 Aside from those companies, I'm a big fan of Pottery Barn's Chunky Wool Jute Rug. We owned this rug for a while, and it survived two young kids and a quirky dog. We ended up selling it because it wouldn't go with our new house, but I recommend it. It's incredibly soft and just beautiful.

Best Rug Materials to Look for
When choosing a high-traffic rug, it is essential to consider the material of the rug. Natural fibers such as wool, cotton, and jute are often the go-to materials for high-traffic rugs. Jute rugs offer an excellent neutral backdrop but can shed a bit.
Wool is a popular choice due to its durability and easy maintenance. It's soft under your feet too. Wool rugs are a good choice, but remember that most also shed a bit.
Synthetic materials like nylon, polyester, and polypropylene are great options for high-traffic rugs. They are often less expensive than natural fibers but can mimic their look and feel. Additionally, synthetic rugs are often treated to resist stains and fading, making them a practical option for busy households. And they won't shed!
Best Rug Materials for High-traffic areas:
Wool – Wool rugs are great if you want a more luxurious option. They are durable and naturally stain-resistant and come in various styles and designs.
Jute – eco-friendly and durable, these rugs are beautiful and inexpensive. The cons would be that they can stain and shed.
Cotton – Flatwoven cotton rugs are an excellent choice for high-traffic areas because they are more durable than high-pile rugs and can be washed. They also come in various patterns and colors, making them a stylish choice for any home. IKEA is known for making some popular rag rugs and flat woven rugs.
Polyester – Stain-resistant and great for kids and pets, inexpensive, and in various styles.
Polypropylene – These rugs are durable and best known for their stain resistance and affordability. They are soft and usually low pile, making them suitable for high-traffic areas.
Nylon – very durable and inexpensive.
To make finding the perfect high-traffic area rug, there are a few hints/keywords you can look for.
Keywords to Search:
Machine Washable
Low-Pile
Indoor/Outdoor
Synthetic
Stain-resistant
Non-slip
Heavy-Duty
Kid-Friendly / Pet Friendly
High Traffic
More Things to Consider
When choosing a high-traffic rug for your home, there are several factors to consider beyond just the material.
→ The pile height of the rug. Low-pile rugs are easier to clean and maintain, while high-pile rugs offer more comfort and insulation. You may also want to choose a rug with a non-slip backing to prevent slipping and sliding on smooth surfaces.
→ Is the rug hand-tufted, machine-woven, or hand-knotted? Hand-knotted rugs are often the most durable and highest quality but can come with a higher price tag. Machine-woven rugs are often more affordable and can still offer durability and style. Hand-tufted rugs, although beautiful, are generally not great options because they loosen up over time.
→ The size of the rug. You want to choose a size that fits your space well and allows the furniture to be placed on top without feeling cramped. Choosing a rug that's too small for the area is one of the biggest mistakes we tend to make when decorating (me included!)
→ The color and pattern of the rug. While you may be tempted to choose a bold, eye-catching design, it's essential to think about how the rug will fit in with the rest of your decor. Neutral colors and subtle patterns (like a jute rug, for instance) may be a safer choice, but don't be afraid to add a pop of color or pattern as long as it doesn't clash with your existing decor.
Benefits of High-Traffic Rugs
High-traffic rugs have numerous benefits, making them a great addition to any home. Not only do they offer durability for high-traffic areas, but they also provide style, comfort, and safety. The right rug can help prevent slips and falls, making them an ideal choice for households with children, elderly relatives, or pets.
These rugs also help to protect your floors from scratches and stains, extending the life of your flooring. Additionally, these rugs are available in a wide range of colors, patterns, and materials, making it easy to find one that fits your decor style.
Considering these factors, you can find a functional and stylish rug for the high-traffic spaces in your home.