Creative Brown Paper Wrapping Ideas
Check out these unique and festive brown paper wrapping ideas for your next Holiday.
---
I'm a sucker for beautifully wrapped gifts. How about you?
Pretty gifts can even be part of your Christmas decor, as they add so much to the room just sitting under the tree.
One of my favorite ways to wrap gifts is with brown kraft paper or butcher paper. It has this vintage, natural style that I love so much. It's also inexpensive and more eco-friendly.
The fancy wrapping paper can get pricey and takes up more storage room in your home.  Sometimes it's nice to just have one bulk roll of kraft paper and your imagination to make those presents come alive. 
Brown Paper Wrapping Ideas
I've rounded up some of my favorite brown paper wrapping ideas for you. Enjoy!
Woven Ribbons
Take some sparkly ribbon and get weaving!
Cut out Snowflakes
Beautiful paper snowflakes adorn basic brown paper wrapped gifts.
bottle brush tree topper
I love this idea! How adorable is this? You can pick up bottle brush trees in bulk from craft stores and Amazon.
Kraft paper with wreath and berries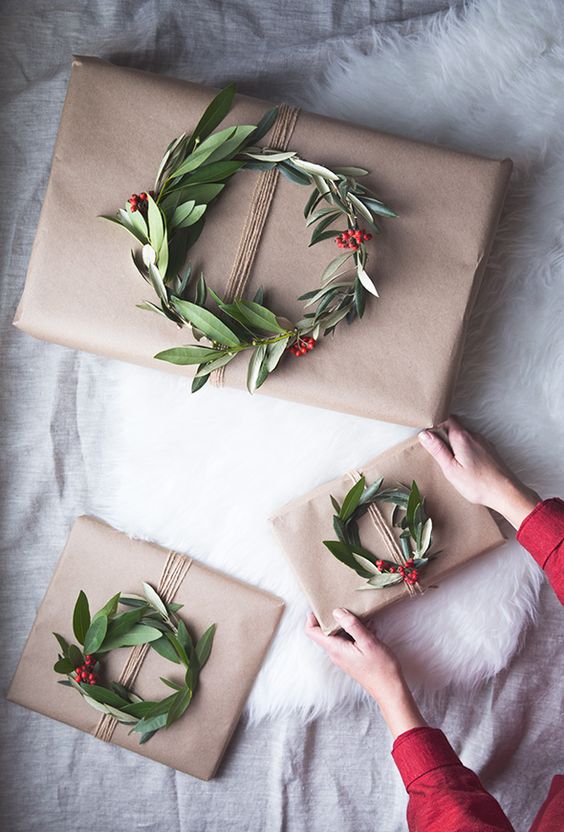 I love the addition of these simple green wreaths as gift toppers.
red and white straw stars
All you need are some simple red and white straws to construct these star gift toppers.
Plum colored satin ribbon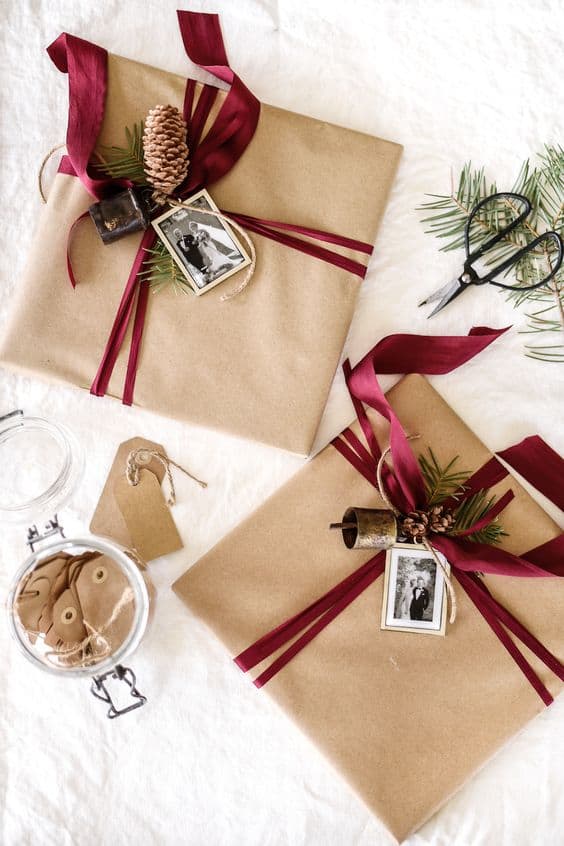 One of my favorites! I love the black and white photo gift toppers and the plum ribbon.
clay ornaments with greenery
You can easily make these clay ornaments and tie them to your gifts with simple jute twine.
cut out stars and butcher's twine
The black stars add a punchy effect to plain brown paper gift wrap.
paint effects
All it takes is some paint and your creativity to create these gifts. I love the paint splatter effect!
sweet and simple
A lovely sentiment and some tucked-in pine branches are the perfect gift topper here.
white paint pen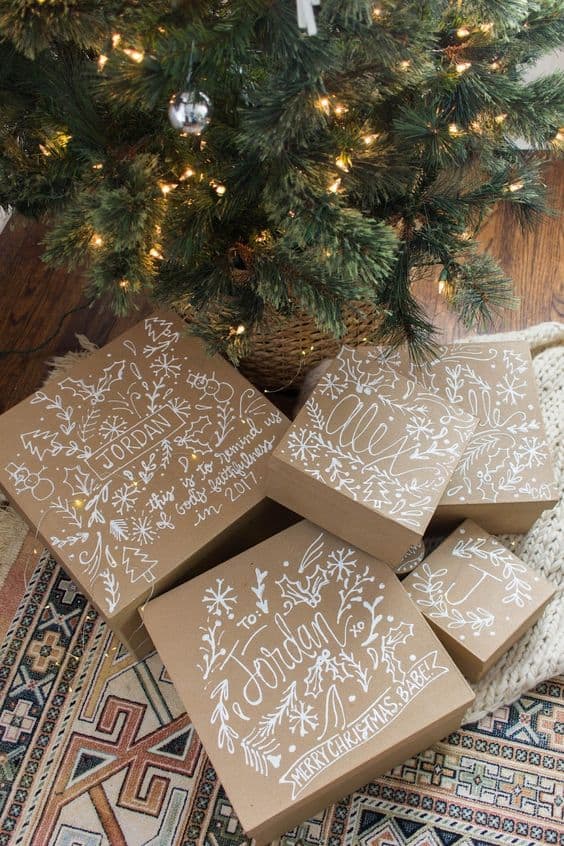 Grab a white paint pen and go crazy decorating your kraft paper!
brown paper bags
Brown paper bags don't have to be boring. Some stamps and eucalyptus make this gift look effortlessly cool.
red and white baker's twine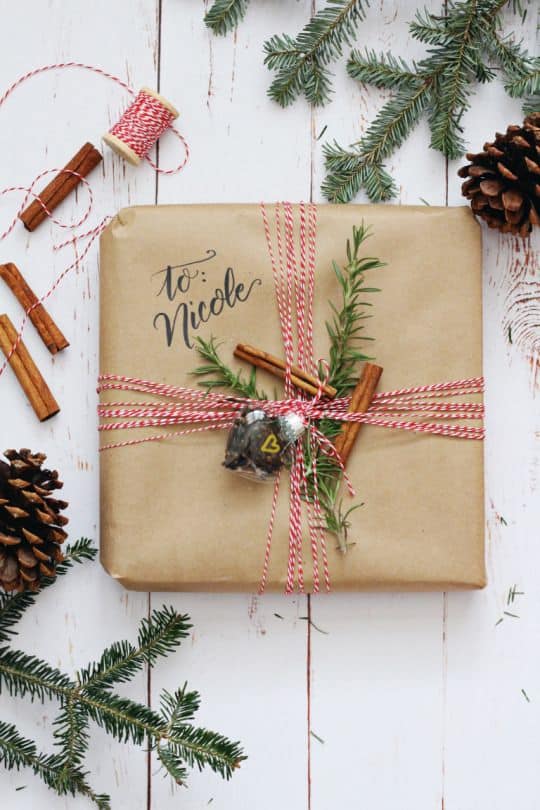 Baker's twine is one of my favorite items in my craft stash! I love how they wrapped it multiple times around this gift. The cinnamon sticks are a cool addition!
stamped leaves
You can stamp these on or just hand draw them, it looks beautiful paired with the leaf gift tag and handmade pom-poms.
snowflake stickers
Go to any stationary store or craft store and pick up these little holiday stickers! That's all it takes to create a beautifully wrapped present.
heart cut out wrapping
I love this idea! While it's mainly for Valentine's Day – you could get creative here and transition this idea to the Christmas Holiday as well.
winter scene gift toppers
Probably my favorite of the bunch. Vintage winter scene paintings printed and added as gift toppers with white satin ribbon. Just beautiful!
butcher's paper and raffia
I never considered using raffia but I love the idea and how it looks so natural with the brown paper wrapping.
ruffled brown paper bags
More gift bags! These are so pretty. All you need to do is tuck in some tissue paper, cut the tops of the bag into slits, then wrap with ribbon and a gift tag.
brown kraft bags with pennants
I love these types of kraft paper bags with rope handles. With this idea, they stuffed some tissue paper and felt pennants into each one. Cute!
And that about wraps up this post! I hope these gave you some ideas and inspiration for picking up a roll of kraft or butcher's paper.

Thanks for visiting today!
XO Karen