DIY Easter Tree with My M&M's
This post is a paid collaboration between me and My M&M's.
---
Happy (almost) Easter, my friend!
At our house, we have a tradition of making an Easter egg tree centerpiece every year in celebration of the Easter season.
This year, I'm so thankful to be partnered with My M&M's to bring you this festive Easter tree with little handmade bird nests.
And guess what we used for the little pastel Easter eggs?
If you guessed M&M candies, you're right!
You have to hurry though – the shipping cut off date is 3/29 so be sure to get your orders in ASAP!
Have you ever been on the My M&M's website?
They have all kinds of cute and unique gift ideas and personalized M&M's for any and all occasions.
Whether you are looking for something for holidays like Easter, birthdays or anniversaries, or even just the upcoming Spring season – you can find it all there.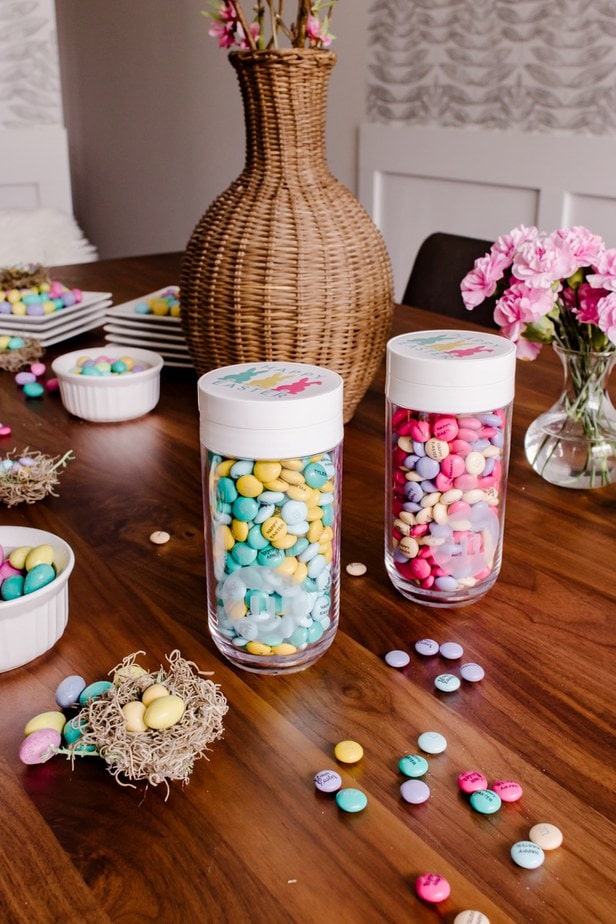 And who doesn't love M&M's??
I have to admit that we ate a lot of the "Easter Eggs" before they made it into their nests. Whoops!
For our Easter tree this year, I wanted to make it extra special for the kids with these adorable personalized M&M candies.
You can choose any colors you like and up to three different messages! I chose the kids names; 'Tyler', 'Hannah' and of course, 'Happy Easter.'
These personalized M&Ms come with their own little canisters! These make perfect Easter Basket stuffers. I also love these adorable little bunnies on them – how cute is that!?
I also picked up some of the speckled peanut M&M candies as well as the Easter peanut candies. Perfect for these little eggs!
So let's get to making this adorable tree.
Things You'll Need
Spring Branches
Vase
Hot Glue Gun and Hot Glue Sticks
Jute Twine
Burlap
Scissors
Silicone Molds or Bowl (for making nests)
Floral Wire and Wire Cutters
Faux Spanish Moss and Reindeer Moss (available at craft stores)
My M&M's candies – choose your favorites!
DIY Easter Tree Tutorial
Step 1: Make Little Bird Nests
I made a video so you can see us making our nests and putting together our easter egg tree so be sure to watch that.
The first thing we want to do is make our little bird nests.
I used my silicone craft molds as a guide but you can also use a little bowl, too.
Cut a square piece of burlap and place it over your mold. Apply some hot glue and carefully (don't burn your fingers!), place some Spanish moss down on top in the round shape of your mold.
Allow the glue to dry.
Now cut a piece of wire and shape it into a spiral circle.
Flip your nest over, and hot glue the spiral wire to the bottom of the nest. The wire will give our bird nest shape and stability and allow us to bend it into a nest shape to hold our eggs.
Now, apply more hot glue and place more Spanish moss down on top to hide the wire.
Finally, cut off the excess burlap and use your scissors to "shape" the nest as you see fit.
For a bit more color, you can also apply some reindeer moss to a few spots using hot glue.
Make sure all the hot glue is dry before moving on to the next step.
How adorable are these?
They really look like bird nests!
Step 2: Place Spring Branches in Vase
I love when Easter Trees look whimsical and natural.
Last year, we made a tree using branches from our backyard.
This year, I wanted to bring in some more Spring vibes, so I chose Blooming Branches.
You can get these yourself by snipping some branches off a nearby tree that's just starting to bud. Or, you can pick up a bunch from your local florist.
You can force these branches to bloom indoors. When you bring the branches home, make a clean cut on the bottoms and place them in some lukewarm water.
They should open up in about a week or so for you!
Step 3: Hang Nests from Easter Tree
Now we are going to make a little "caddy" for our nests so we can hang them from our Easter tree.
Cut three long pieces of jute twine and tie them together with a strong knot.
Open up the knot by spreading out the three strings.
Place your Easter nests on top of the knot part, then bring the three cords up and around the nest and tie another strong knot at the top.
Voila! A bird nest caddy.
I bet you never thought you could make a tiny bird's nest caddy! 🙂
Step 4: Decorate with My M&M's candies!
Let's decorate our Easter nests with M&M candies!
My kids had so much fun decorating their Easter Tree and they loved seeing their personalized M&M candies in the little nests.
I found that our nests could easily hold three to four bigger "eggs" and a few more of the regular sized eggs. Depending on how big you made your nests you may get more or less in each.
These M&M candies are the perfect pastel colors for Easter and really look like hand-painted eggs. They easily turn any Easter Egg Tree into festive and colorful Easter decor.
I love that this Easter tree is different from the typical plastic egg ornaments of years past.
And not to mention that these colorful "eggs" are edible!
I placed our Easter Tree on the dining room table as a centerpiece for the Easter holiday.

To add a bit more decor and color, I placed more of those delicious pastel M&M candies around the base of the Easter Tree.
Or should I say, eggs? 🙂
I just love how this turned out and was so happy with the way the My M&M's candies look in our tree.
How do you celebrate the Easter Season? Do you make an Easter Tree?
This is definitely a tradition that we look forward to each Easter season, and I'm so happy that I could partner with My M&M's to make it happen.
I highly encourage you to check out the website and get your own personalized Easter candies and gifts before the last shipping date – hurry it's coming up fast on 3/29!
I feel like the world is slowly coming back to normal again after one crazy long year. We are certainly ready to welcome in Spring around here!
That's it for this fun DIY Easter project!
We hope it brings a little happiness to your tables and homes this Easter season.
xo Karen