Create your own DIY Lavender spray for your table linens, bedsheets, laundry, towels, and more, and relax with the soothing scent of Lavender.  
---
If you are wondering how to create your own lavender linen spray – this tutorial is for you! Making your own linen spray is really a breeze and comes together with just a few ingredients in your kitchen. Plus, you don't have to worry about artificial fragrances or preservatives because this recipe uses all-natural ingredients.
Lavender is a fantastic choice for room spray or linen spray because it promotes relaxation and creates a calming environment. It can ease tension and anxiety and improve the quality of sleep.
You might also like this post: Dried Orange Potpourri
Things You'll Need / Ingredients
Vodka/Rubbing Alcohol/Witch Hazel
Distilled Water
Lavender Essential Oil
Small Funnel (for easy pouring)
Spoon for mixing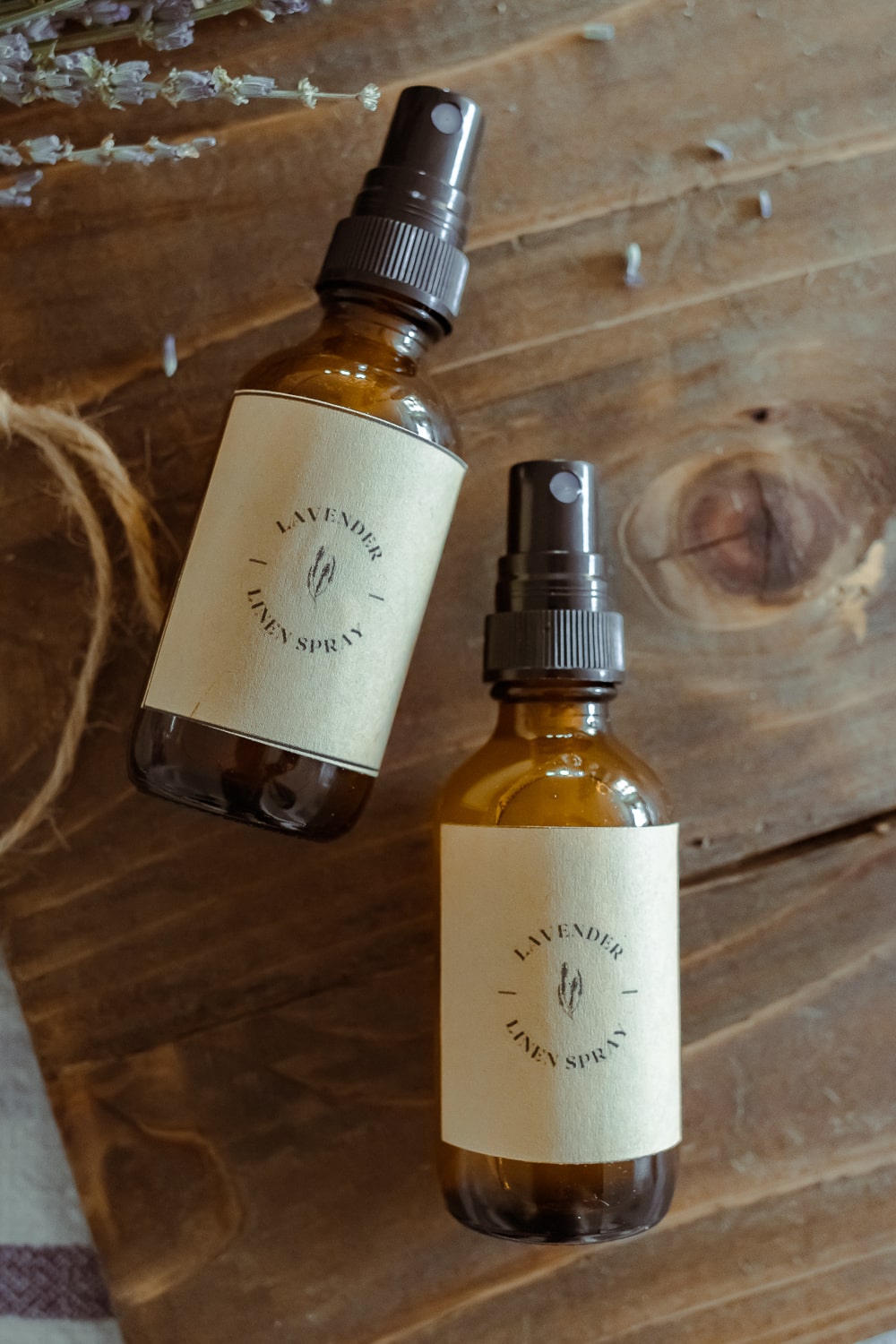 Recipe for DIY Lavender Spray
1 tablespoon of vodka or rubbing alcohol or witch hazel
40 drops of pure Lavender Essential Oil
Distilled Water
DIY Lavender Linen Spray Step by Step
Pour about 1 tablespoon of vodka or rubbing alcohol in the spray bottle (use a funnel for easier pouring).
Drop in 40 drops of Lavender Essential Oil. You can use more or less depending on how strong you like your scent.
Fill the rest of the way with Distilled water.
With the cap on tight, give it a good shake and spray wherever you need a bit of relaxation!
Frequently Asked Questions
Here are some of the questions I had when first starting to make this linen spray. This might help you too.
You might also like this post: Scented Sachets
Why use Distilled Water?
Distilled water is purified and has the salts, minerals, and impurities removed. It helps keep the linen spray pure and free of contaminants that could be found in tap water. This isn't totally necessary, you can use tap water but if you want the best lavender spray you can make – distilled water is the way to go.
Why do I need to use Alcohol?
The vodka/rubbing alcohol/witch hazel in the linen spray helps preserve and blend the essential oils in the mixture.
Why do I need an amber glass spray bottle?
When using essential oils, it's important to use glass bottles instead of plastic. This is because the essential oils will break down the plastic over time. Exposure to sunlight causes the essential oils to expire faster. The amber color helps prevent this and preserve the essential oils so they last a lot longer in your linen spray.
I personally use and love these little bottles – they look very pretty sitting out on your counters and nightstands.
Can I add real lavender buds to this spray?
It's recommended that you don't add real buds to the spray. Only because soaking the buds in this solution (or water, even) will change the color and potentially stain whatever you spray it on.
How long does this Lavender Spray Last?
If you follow the directions here, this lavender spray should last around 3 months, conservatively. You can also freshen up the scent at any time by adding more drops of lavender essential oil.
How to Use Lavender Linen Spray
Gently shake and spray wherever you want to freshen things up and smell a lavender scent. This can be used as a general room spray and sprayed lightly on table linens, bed sheets and pillows, towels, and cozy throws and blankets.
This lavender linen spray makes a wonderful addition to a guest room or tucked in a small gift basket for a friend. Don't forget the ribbon and the gift tag!
Free Lavender Spray Labels
Want to pretty up your bottles a bit?  You can use these free lavender spray labels.  This comes in a PDF format.  To get these labels, click on the link below and they should download for you.  Then, just print on plain sticker paper (labels will be white) or kraft sticker paper (labels will be beige).  
I hope you enjoyed this project! Thanks so much for visiting the blog today. Don't forget to subscribe here so you can keep up on the latest posts.
Xo Karen
Karen Sloan is the founder, editor and syndicated content writer of www.decorhint.com. She offers hints of inspiration for everyday living, including home ideas, DIY projects and lifestyle content. Her work has appeared on Google News, MSN, Pioneer Woman, Apartment Therapy, and Bustle, among others.