I'm really loving the mini versions of macrame lately.
They can be made with less cord and take way less time than a giant piece of macrame.
But don't worry folks, these mini versions look just as cool as the large versions.
I whipped up these three mini macrame wall hangings yesterday with a variety of easy, basic macrame knots.
Just like these projects below …
I only used Lark's Head, Square Knots, and Double Half Hitch knots to make these.
All you're gonna need is a small ring or dowel. Some cording, and your creativity.
Here's what you Need
DIY Mini Macrame Wall Hanging Tutorial
I made a few different versions of mini wall hangings. I guess my creativity swept my away! But I used the same length of cording for all of them – 4 feet.
The only difference was the number of cords I used for each project. For the mini wall hanging with the diamond pattern, I used a total of 7 cords.
The more cords you use, the wider your project will be. So it all depends on what look you're going for.
To Make the Diamond Pattern
Cut 7 pieces of 4-foot long cording.
Attach the cords to the ring using simple Lark's Head knots.
Starting from the two very center cords, create a series of diagonal half hitch knots (see helpful video below). One going to the left side, and the other to the right side.
Repeat step 3 again to create another row of double half hitch knots.
Now, create a series of diagonal half hitch knots from where you left off, but this time going towards the center.
Repeat to create another row of these knots.
Finish your mini macrame wall hanging by slightly fringing the hanging cords with your wire brush.
Cut the fringe cords evenly to neaten up the bottom.
To Make the Square Knot Pattern
Cut 4-6 pieces of 4-foot long cording.
Create a series of alternating square knots.
You can create as many rows as you like.
Finish your piece by creating a fringe with your wire brush. You can also finish your piece by creating a row of half hitch knots.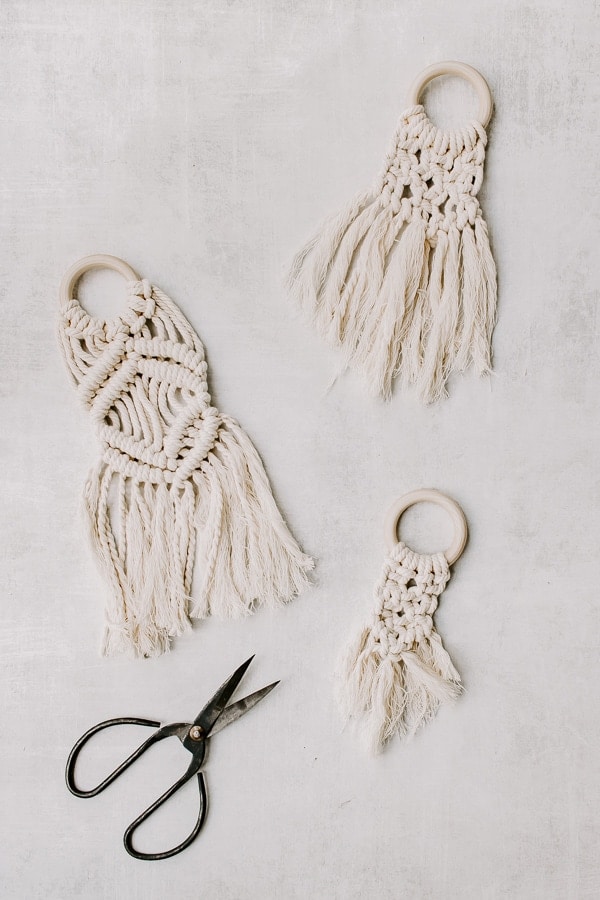 And that's it!
Of course, these are just ideas to get you started. I highly recommend you come up with your pattern. Use Etsy for inspiration.
I have this mini macrame wall hanging in my office on my linen bulletin board (yes, my daughter said I could have it). But, I thought it might be neat to make a trio and hang them all together.
On a more thoughtful note, this was just the thing I needed to take my mind off the world for a little bit. Which is why I love macrame and crafting so much. It occupies your mind!
Hang in there, my friends,
Xo Karen
Karen Sloan is the founder, editor and syndicated content writer of www.decorhint.com. She offers hints of inspiration for everyday living, including home ideas, DIY projects and lifestyle content. Her work has appeared on Google News, MSN, Pioneer Woman, Apartment Therapy, and Bustle, among others.