In this blog post, we will walk you through the step-by-step process of how to hang a chair from the ceiling.
---
But first, a little backstory.
A few months ago, we bought one of these hanging egg chairs to put on our screened-in porch. The only problem? Adults didn't want to sit in it! 😂
I guess the chair we bought is more for kids. Looks cool, just not practical for anyone over the age of 21 (in my opinion).
We ended up taking it down. It sat in our garage as I contemplated selling it. But my daughter Hannah really wanted it for her room. A great idea, only there was no room for it!

I spent the better part of yesterday rearranging her bedroom so we could somehow fit this hanging egg chair in it. And actually, I love the way her room is laid out now. It feels much more grown-up. She's almost a tween, after all.
Anyways, I thought it would be helpful to show you guys how to hang one of these hanging chairs. It's not hard, but you do need a few things to make sure you are hanging it safely.
What do you need to hang a chair from the ceiling?
Measuring tape
Hanging kit (this will come with the screws you need, but you might need to purchase a rope separately) – MAKE SURE THE HARDWARE WILL HOLD THE PROPER WEIGHT – it should state the weight capacity.
Note: Our hanging chair came with a heavy, ugly chain. We hated the look of it so we swapped it with this rope. I recommend you first attach the rope to the ceiling hook/screw plate with a triple knot before hanging. We opted not to use the included carabiner and tied the rope directly to the ceiling hook.
How to Hang a chair from the ceiling
a step-by-step guide for hanging a chair from the ceiling.
Total time: 1 hour
---
That's all there is to it.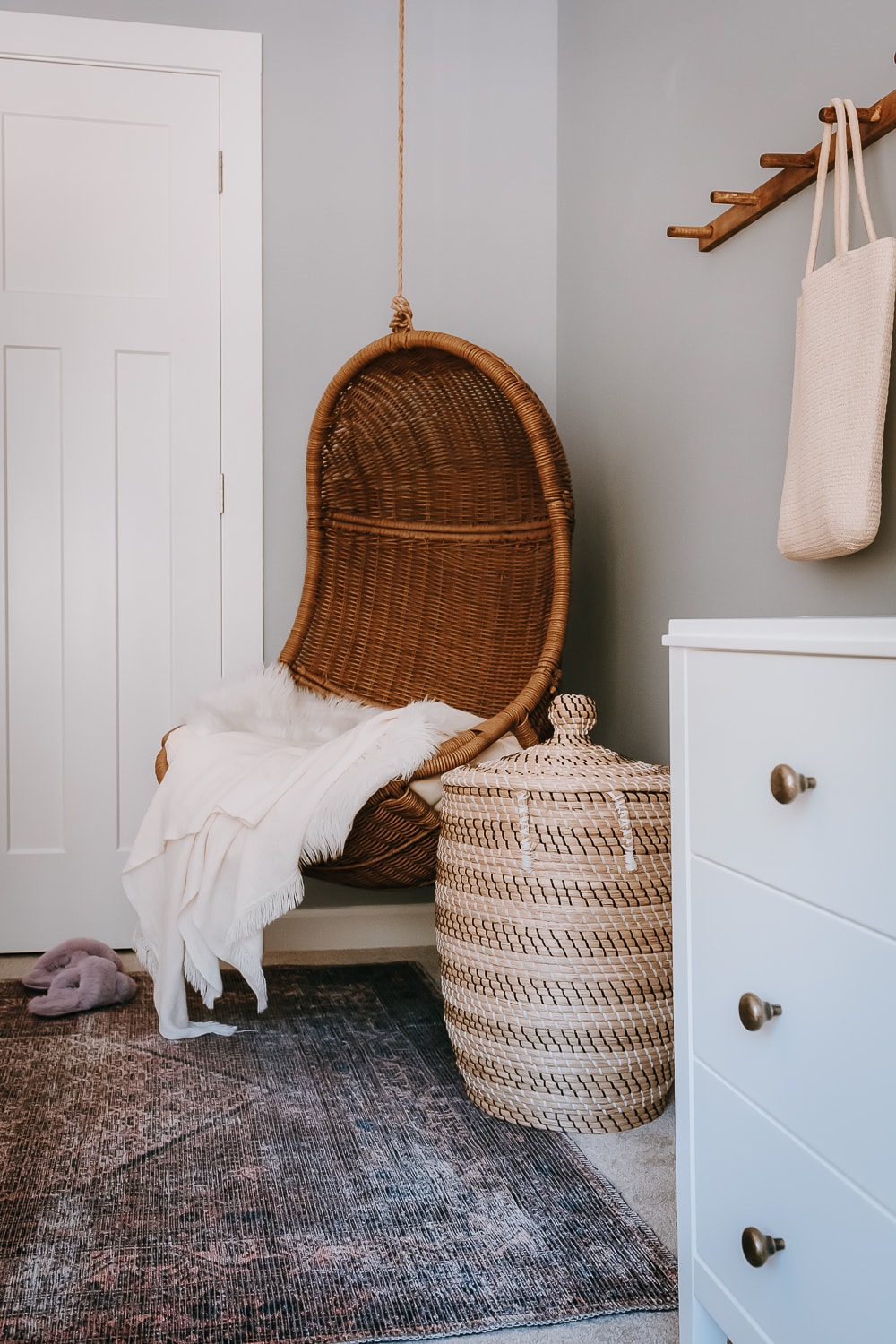 How to keep a hanging chair from spinning?
If you're like me, you might be wondering how to keep the chair from spinning. Here are a few ideas.
If your chair is in a corner, you can anchor the chair to the back of the wall. Use a zip tie to create a loop in the back of the chair and an eye hook in the wall. Then, tie some leftover rope from the zip tie to the eye hook to keep it in place (this also avoids the issue of your kids going bananas on this thing and ruining your walls).
You can also put something next to the chair to keep it in place. It will have to be heavy enough to hold the chair from spinning. That's what I'm doing right now. I have a laundry basket next to it.
If you want it to sway freely, or you are not near a wall, you could attach another rope to your chair to a second ceiling hook. This will stabilize the chair. They also sell swivel hooks which might help counteract the spinning, but I'm not a physics professor and therefore not entirely sure that would work.
Shop the room

I hope this helps you guys!
xo Karen
Karen Sloan is the founder, editor and syndicated content writer of www.decorhint.com. She offers hints of inspiration for everyday living, including home ideas, DIY projects and lifestyle content. Her work has appeared on Google News, MSN, Pioneer Woman, Apartment Therapy, and Bustle, among others.