Learn how to hang window boxes with just a few tools.
---
I used to live in center city Philadelphia and one of my favorite things to do was to stroll down the lovely cobblestone streets of Rittenhouse Square or Society Hill and gaze at all the fancy houses that lined the street.
They were so grand, with enormous windows and wide entry steps leading to these ornate double doors.  I fell in love with the character. But one of the things I admired most about these townhomes?  The flower boxes.  They were nothing short of spectacular.  
Now that I'm living down South, I get to see it all over again in places like Charleston.
This article contains affiliate links to products we love. Please see our policy page for details.
And now, I'm happy to say I have my very first flower box! I considered building my own cedar box for this project. But honestly with the price of lumbar right now – it's cheaper to just buy it.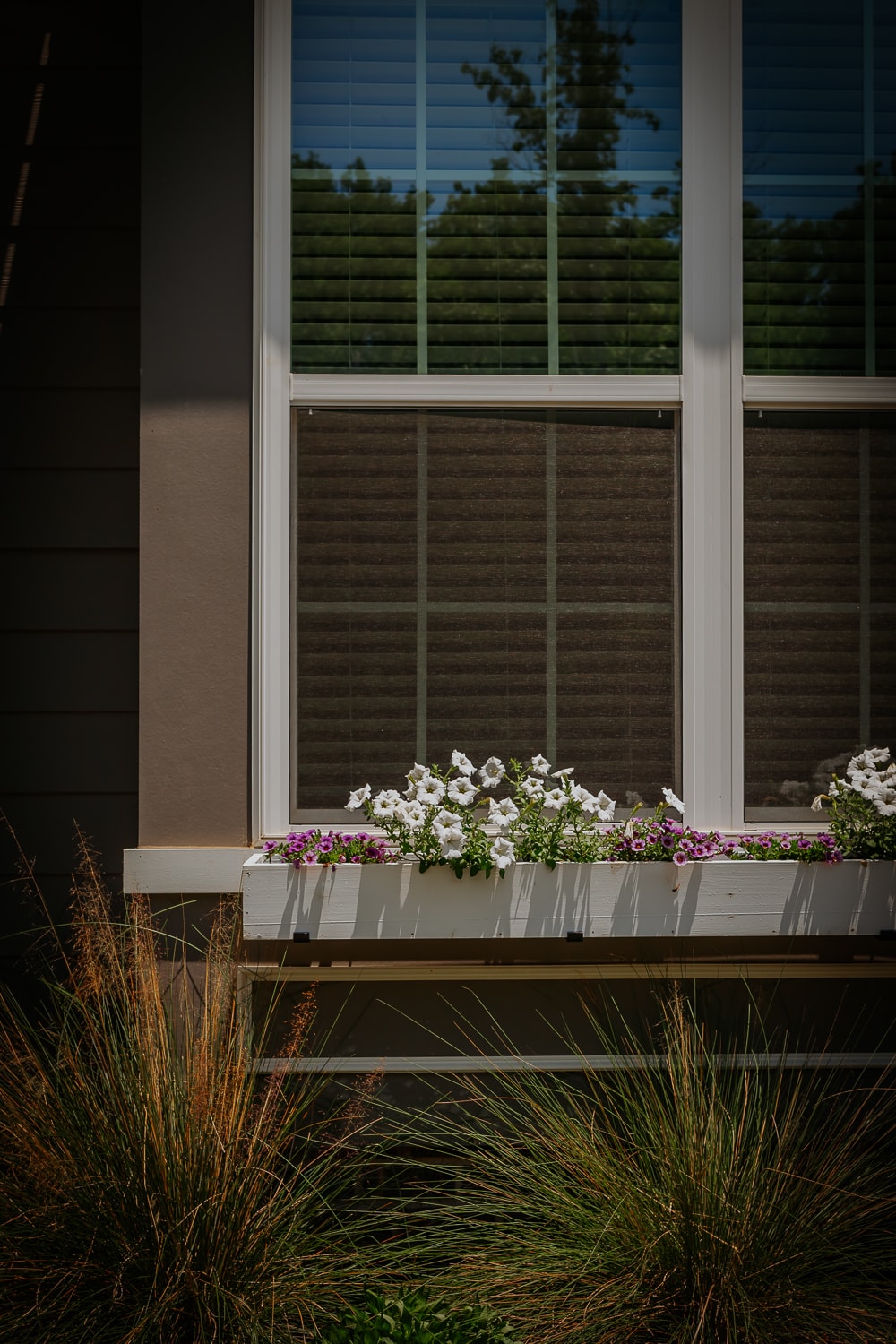 We found this lovely flower box shop on Etsy and they even throw in the hanging brackets for you. All I had to do was paint the box white, hang it and fill it with flowers. Easy peasy. I thought I put together a little how-to on hanging these window boxes. And hopefully inspire you to get one up this summer.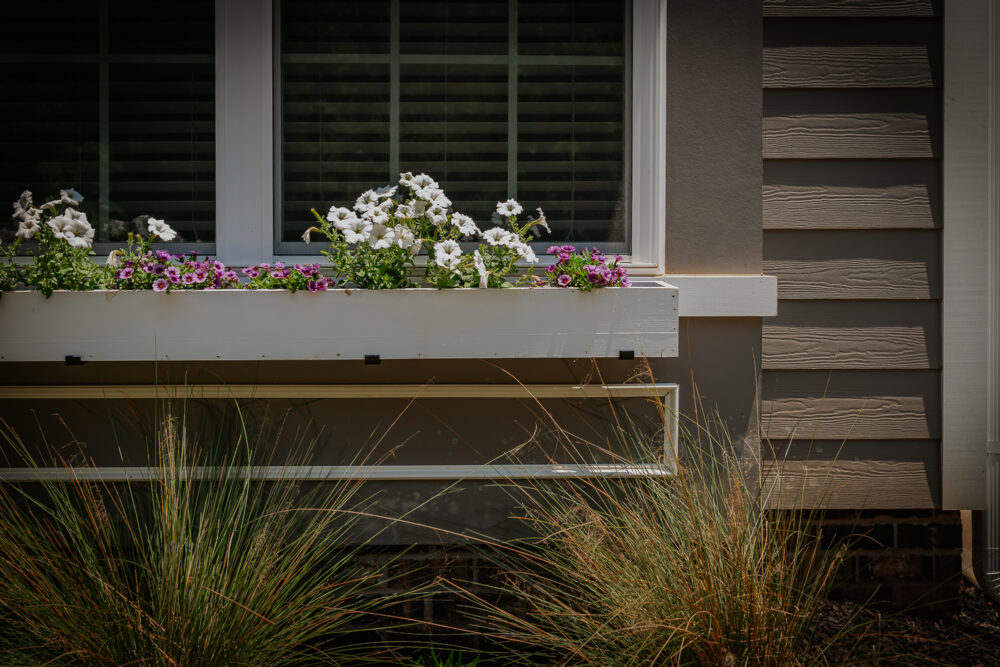 These brackets make hanging the box a cinch. READ: this is your SIGN to go out and do this.
How to Hang Window Boxes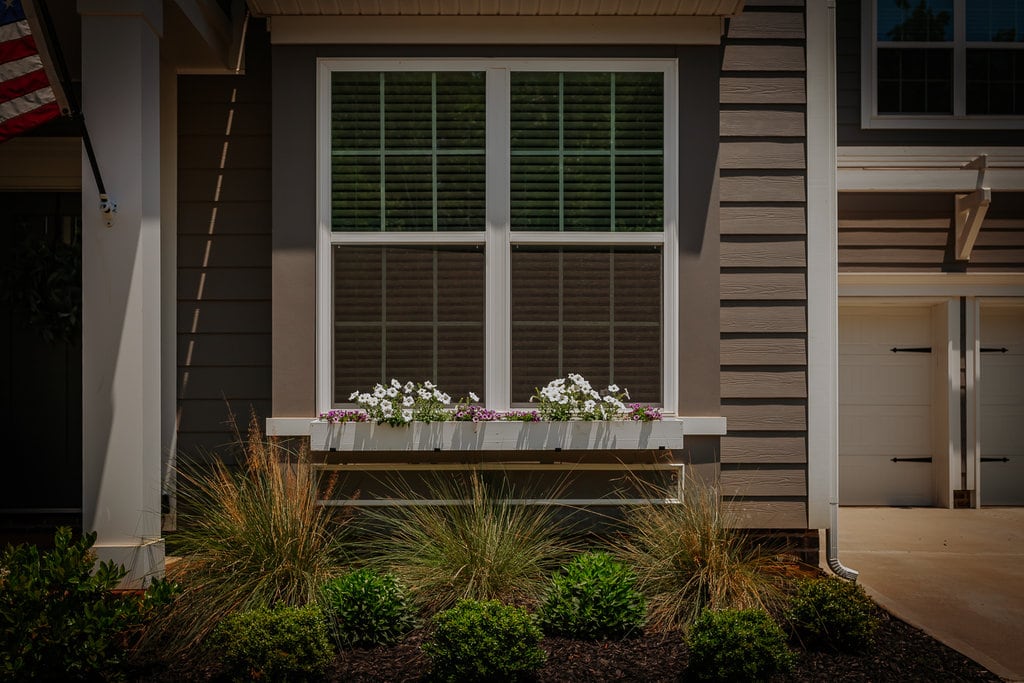 Step by Step instructions for how to hang a flower box under a window.
Total time: 1 hour
Mark Placement of Brackets on Window and Drill Pilot Holes

First, we need to determine where we want our flower box brackets to be.  We used a tape measure and put two brackets on each end for support (4 inches in) and then measured between these two points and divided by 3.  That gave us the spacing for the other two brackets.  I made a little drawing that hope makes this point clear! I'm not a very good drawer.

Use one of your brackets and a level to mark the placement of the screw hole for each bracket.   Then, drill a pilot hole at this mark.  

NOTE:  Our window has a piece of white molding under the window.  This is where we attached the brackets.  Only one of the holes of the bracket would fit on this molding piece, so we decided to use the top screw hole only.  If you want to use both screw holes, you can always attach another piece of molding underneath.  We found that one was sufficient and sturdy enough for us (and made the process much easier).    

Attach Brackets to Molding

Drill Pilot Holes on Flower Box for Brackets 

Place your window box on the brackets and mark the placement of each screw hole on the bottom of the box.  Then, remove the window box and drill pilot holes on these marks.  

Secure Brackets to Window Box

Now we will place our window box back on the brackets, line up the pilot holes with the screw holes, and drill them into place.  And that's it!  You successfully hung your window box!
---
I recommend lining your flower box with a landscape liner. The liner will allow water to escape, but it will also keep the dirt from escaping. I cut my liner to fit the box and tucked it down out of the way so I wouldn't see it.
After you have your landscape liner in place, fill the box with potting mix, fertilizer and flowers. I used a combination of sun-loving white petunias and purple calibrachoas – since our front window gets a ton of sun in the afternoon.
I also want to add some deep purple sweet potate vine. I just love the contrast and spillage look! You can find inspiration for flower combinations online just about everywhere.
I'm also thinking of installing one of these automatic watering kits. The keys to lush looking window boxes are choosing the right flowers and keeping them optimally watered. These watering kits make it easy and work while you are away from home.
Xo Karen