How to Make a Fleece Blanket Without Ties
In this article, you will learn how to make a fleece blanket without ties. This is an easy and inexpensive project and you don't need a sewing machine either.
This is such a quick project and a perfect one for those cozy Fall and Winter days. You won't need a sewing machine or thread. Just a piece of fabric and a good pair of fabric scissors!
We need more blankets in this house.
My kids are always fighting over the same soft, cozy white blanket with tassels we have in the living room. Not a great way to wake up the morning. Especially before coffee.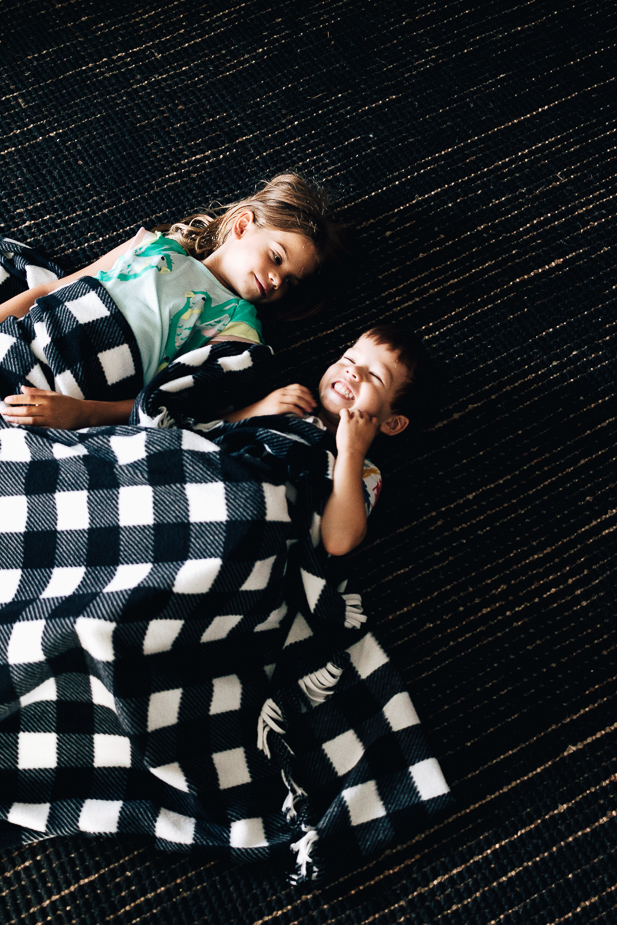 You may have seen these knot blankets on Pinterest before. In fact, my sister made me a no-sew knot blanket literally a decade ago. So these have been around for a while.
I'm just going to come right out and say it. I'm not really a fan of the knot/tie blankets. The knots look really messy to me. The blankets feel too thick. And dare I say … (grimacing) … cheesy looking? Please don't hate me for saying that. I am weird and particular about weird things.
But I LOVE tassels. And fringe.
Could I find a way to make a simple NO SEW blanket without ties and knots but with fringe or tassels? Yes, yes I could. Very easily, in fact.
Here's the secret to making these no-sew throw blankets look good …
Choose.
Good.
Fabric.
I feel like I've said that before but it's so true! If you choose not so great fabric, the end result is going to be bad.
How do you choose good fleece fabric?
If you have the time, go to a local fabric shop and see and feel the different types of fleece fabric. Which ones look and feel the best for you?
Here's a quick fleece buying guide for you – Super Helpful!
I also think you will get a more high-quality end result by choosing on-trend styles and patterns. Anything in neutral solid colors, plaid, buffalo check, and gingham patterns look great. These patterns are also amazing for the seasons. Red and green plaid for the Holidays, anyone?
Go on Pottery Barn and check out their selection of throw blankets for inspiration. So many good looking options!
Aren't you so excited!? 🙂
I ended up going with this classic black and white buffalo check fabric. The fabric is really soft but I still want to break it in a little. Maybe even use a fabric softener on it. Even though it is soft and cozy, it still feels a bit stiff too. If that makes sense?
But anyway – it's great and I went with it. My kids love it too!
Materials Needed for No-Sew Blanket
2 or 3 yards of Fleece Fabric (see sizing reference below – How many yards will I need?) For reference, I ordered 2 yards.
How To Make a Fleece Blanket without Knots/Ties
Here's the great thing about fleece fabric. Besides the fact that it's oh-so-cozy.
Fleece doesn't fray or shrink. Meaning – you can cut the fabric and not sew it and it won't unravel on you. And – you don't need to prewash it. Woot!
Step 1: Even up your Blanket, if necessary
Patterned fabrics can be easier to work with since you can use the actual pattern as a guide to making your fringe cuts. But I noticed that my edge looked crooked – the pattern was not even all the way across. So I just snipped off the part of the pattern that was excess to ensure I had a straight line all the way across.
Step 2: Cut Fringe
Starting from the bottom outer edge, start cutting thin strips/fringe/little lines in your fabric. Be sure to make your strips even from top to bottom. I used my pattern as a guide. My fringe ended up being about an inch or so in length. But you could totally make them longer. In fact, I think a longer fringe looks really cool.
I followed these same two steps for the opposite side of the blanket. I just wanted two sides of the fringe. That way, if I wanted to drape it over the end of the bed, like a bed runner, the fringe would fall over each side of the bed.
After I was done cutting the fringe, I threw the blanket in the washer and dryer. It came out perfect! No fraying (as I said before) and super soft. Still going to try a fabric softener or vinegar rinse next time to make it even softer.
I love it! I can't believe how easy this no-sew blanket was.
How Many Yards of Fabric Do I Need to Make a Throw Blanket?
Here's where you need to do a little math. Ok, not really because I did it all for you.
First, let's determine what size of a throw you want to make.
These are approximate sizes, you will find it varies ever so slightly across the board. But for the most part, these are good estimates along with the yardage of fabric you will need.
Standard Throw: 50 inches x 60 inches = 2 yards of fabric
Oversized Throw: 55 inches x 80 inches = 3 yards of fabric
Once you determine the size of the blanket you want, look at the size of your yard of fabric. One yard of fabric will always be 36 inches in length (along the selvage side of the fabric), however, the width of the fabric varies anywhere from 44 inches wide to 60 inches wide, typically.
For instance, for this fabric that I used here, one yard was equal to 60 inches wide x 36 inches long. So, I only needed 2 yards of this fabric in order to make a really nice sized throw blanket.
The approximate size of my finished blanket (after trimming up the ends) was 60 inches x 69 inches (not including the fringe). A hefty sized throw that we can all snuggle under for family movie nights!
What are the Best Scissors for Cutting Fleece?
You may also be wondering about scissors. Fleece is thicker than cotton. So I recommend using sharp fabric scissors to cut through your fabric. This will also ensure you get nice, even cuts for your fringe. I swear by these Singer fabric scissors – they are cheap and cut through things (even a stair runner), like buttah.
These Gingher Dressmaker Scissors have nothing short of a cult following and would be a fantastic choice for this project as well.
I highly recommend you keep your fabric scissors separated from the regular type. Even cutting paper with fabric scissors can dull the blades.
Just How Warm and Cozy is this Blanket?
Extremely warm and cozy!! In my opinion. This is a bit of a personal viewpoint, I realize.
Ok, here's the reason why I brought this up. Those tie/knot blankets use 4 yards of fabric. Those blankets are essentially made with two layers of fleece fabric tied together.
My version only calls for one layer.
But again, not loving those heavy, thick, knot blankets. This one is lighter but still warm because we are dealing with Fleeeece! Fleece is warm and soft and cozy on its own.
You may also be wondering if you can make your own blanket out of flannel. And yes, of course, you can! But flannel will fray so you will either have to purposely fray it or serge the edges all the way around to keep it from fraying too much into a mess.
You guys should definitely try this no-sew blanket project! I'm really happy with the way this project turned out. And now I'm excited to look for other patterns and colors of high-quality fleece fabric.
Stay warm folks!
Xo Karen