IKEA Potting Table (Hack)
I love the idea of having a small potting bench.
I just needed a small outdoor unit to pot and house small herbs and planters.
This year I plan to get serious about my herb garden!
Budget is somewhat tight after our outdoor patio project, so I took a little trip to IKEA.
Related post: The Best Items at IKEA
Don't you just love IKEA?
IKEA TORDH Storage Unit
And when I saw this TORDH outdoor storage unit, I knew I could hack it into a potting station.
You might laugh at the "hack" part of this – because it isn't really. It's an IKEA shelving unit that I turned into a potting station.
The IKEA TORDH is made out of acacia wood, which is perfect for the outdoor weather. I may need to restain it down the road but I also kind of like the idea of it weathering.
This open storage unit is slim, so it fits pretty much anywhere. It's also a good height so I'm not hunched over trying to pot some herbs!
I might even want two of them, side by side.
And at under $100, the price can't be beat.
Our screened-in porch was the perfect room for this potting bench.
Here I can do some light gardening out of the hot Carolina sun. (Trust me, in the summers here you sweat just taking out of the garbage.)
Having this shelf unit here provides a bit of privacy as well.
When you live on a corner and it's all open on the side- you definitely want some privacy. 🙂
The other bonus? This IKEA potting table was a breeze to put together. It took me about 15 minutes.
Related post: DIY Succulent Planter Box
Potting Table Accessories
While this IKEA storage unit is not a traditional potting bench, you don't need much other than some shelves and bins for storage.
Garden Tools
I have some gardening tools stored here and used one of my planters as a "corral" for them.
This slim shovel is nice because it's skinny and allows me to get into these tiny herb pots better.
I also have a couple of watering cans that I keep here. I love the tiny watering cans with the little spouts!
Planters
Terracotta pots are my favorite.
I had to give a lot of them up when we moved from Seattle – apparently, you can't move plants across state lines?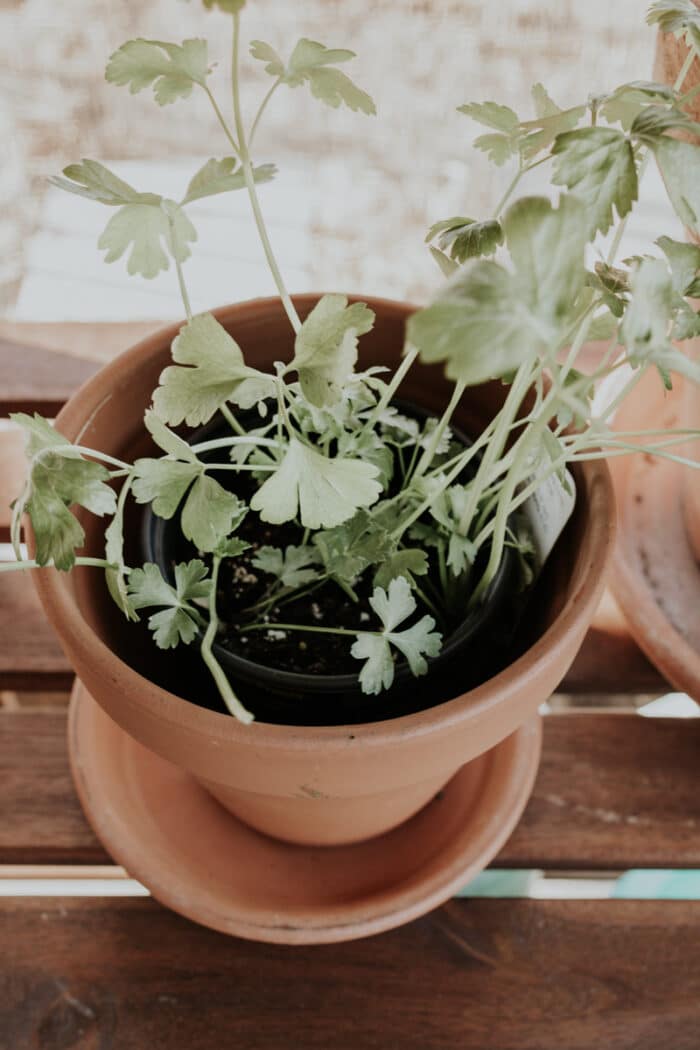 I ended up giving them to friends or donating them away.
Now I'm trying to build up my supply again.
However, I also love galvanized planters and I'm working on adding a few of those accessories as well.
I know IKEA sells some galvanized garden accessories so be sure to check them out.
Dirt
You might be wondering where I keep the soil?
Since our porch area is covered, I just store it in one of my planters for now.
It doesn't get wet out here and I can easily grab some dirt when I need it and refill it when it gets low.
Plants
While I use this garden station to pot herbs and such, most herbs really like the sun so I have to move them outside after planting them.
However, that doesn't mean this station goes bare!
Ferns and some other greens really like shade and provide some color and privacy for your potting station.
You could also fake it – while I was at IKEA I walked down their faux plant section and they have some pretty decent options.
Related post: How to Clean Terracotta Pots
Potting Benches
I also went online to find potting benches/furniture and linked my favorites below. Just click on any picture for more information.

I hope this gave you some ideas for your own little garden station!
xo Karen