---
I thought it would be fun to round up some high end inspired home décor dupes. These items are very similar in styles but not in price. If you've had your eye on a special piece but can't swallow the price, maybe you'll find the lookalike version here.
Keep in mind – while we're saving a bunch of money, we might have to sacrifice a bit on quality and materials. That's part of what keeps the price down. Either way – these are all beautiful furniture pieces and wildly popular, so I hope you enjoy!
---
Arhaus Finnley Sideboard Dupe

The Finnley Sideboard by Arhaus is a stunning, showcase piece of furniture. If you are wanting a look-a-like version; the Sloane Sideboard from Castlery features similar color and slatted look, without the legs and rounded corners.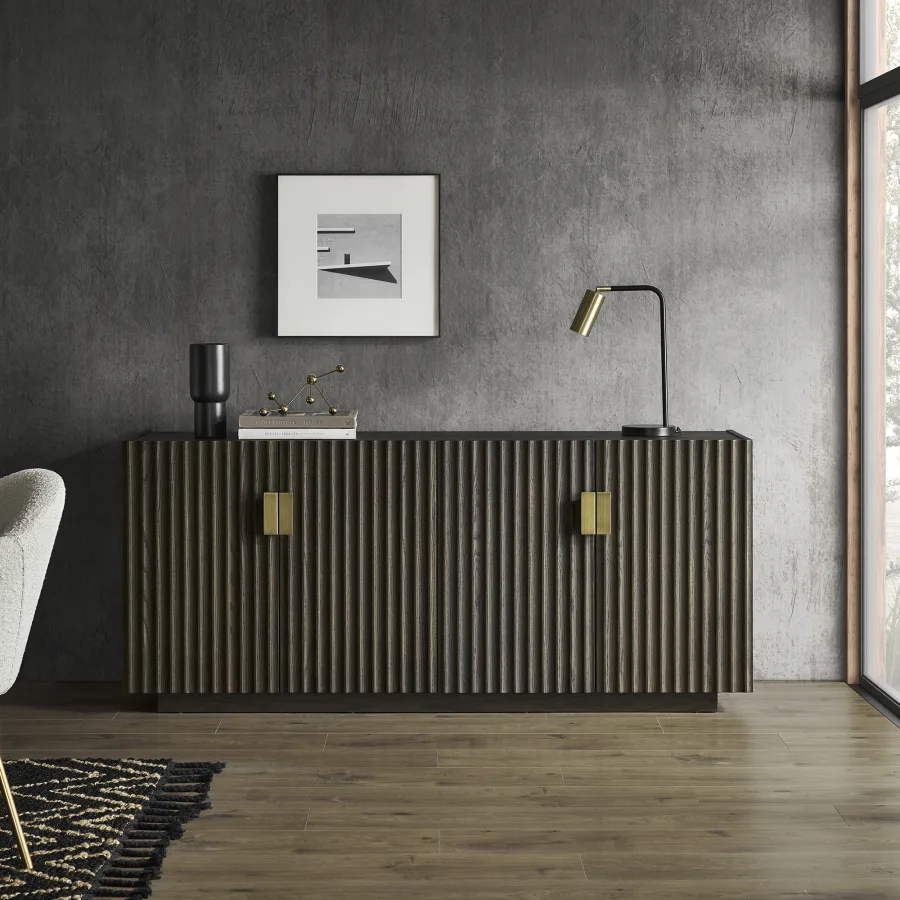 I also found an inexpensive version on Overstock, and a more rounded looking version (but lighter wood) on West Elm.
This article contains affiliate links to products we love. Please see our policy page for details.


---
The best-selling Riveria stool and bistro chair can run you hundreds of dollars each, but these lookalike stools can be yours for just under $150!

Related: Paris Bistro Chairs You'll Love
---
I love Rejuvenation, but sometimes (a lot of times) their prices are a little out of this world. I found an exact dupe for their popular conical drum pendant and you won't believe the price difference.

You can check out these Conical Drum Pendant Dupes right here.
I love the look of these minimalistic wall shelves. We found a lookalike version with CB2 and have this Helix one in our living room. I also found a very close match at Target!

Related: Best Coffee Table Books for Decorating
McGee & Co. Glass Cabinet
While not exactly a twin- the glass cabinet from Target is definitely in the same family as the Tobin from McGee & Co. Either way, you are getting a really pretty cabinet for any room in your house.
I also came across a similar look on Home Depot's website through their Home Decorators collection.

Arhaus Tufted Leather Sofa
There's something about a tufted leather sofa that can magically pull a room together. It's a classic design that will never go out of style in my book. Here you can compare these two lookalike leather sofas!

Related: Affordable Leather Sofa Roundup
Pottery Barn Lighting Dupes
These beaded chandeliers are so pretty and perfect for bringing in some texture or coastal flair to your rooms. I found a very similar match to Pottery Barn's best-selling beaded chandelier – check it out below.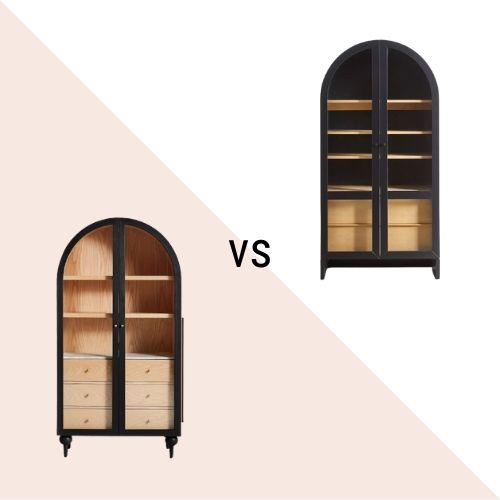 The Anthro fern cabinet is one of the most popular Instagram furniture pieces out there. It will cost you a pretty penny if you want this one though. Luckily, Urban Outfitters has a very close match with their Mason Cabinet.

Speaking of Anthropologie, have you seen their beautiful Primrose Mirror? Bloggers have been having fun creating their own DIY versions of this popular (albeit expensive) mirror.
Luckily – you can buy yourself a very close match at a much lower price! I found so many good options I wrote a whole separate post on it. Check out more Primrose Mirror Dupes here!

Lulu & Georgia Rug
Lulu & Georgia is one of my favorite sources of inspiration! They have the most beautiful home items but they are definitely up there in the high-end category. This rug is one of my favorites (it's a Jenni Kayne design!) and I found a similar style here – you can check them both out below.

Pottery Barn Caned Sideboard
If you are looking for a less expensive caned sideboard – I found a beautiful piece on Target! It's a very close match to this one from Pottery Barn. You can't go wrong with either!

More Rejuvenation dupes! This time it's their popular tiered drum pendant. Crate and Barrel has a very similar style at an affordable price.

West Elm Black Oak Cabinet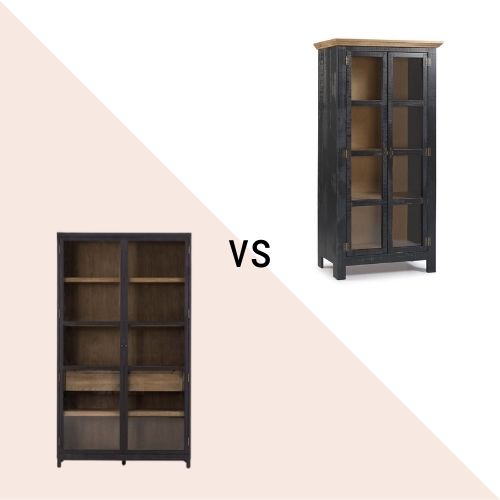 If had the money, I would scoop up this black oak cabinet from West Elm in a heartbeat! However, sometimes budget is a thing. If you are in the same boat – look no further than this rustic beach cabinet in black from Overstock.

I'm eyeing up something like this (or the Huxley pendant below) for my kitchen table area. While you can get a great lighting fixture from Serena and Lily – I also found a similar style below for a bargain price!

Lulu & Georgia Black Side table
These little side tables are perfect for filling out living rooms and little reading nooks. Check out this home decor dupe below and save yourself $100!

Huxley Wicker Pendant
I came across this Huxley pendant on Instagram and love it so much! If you want the look but can't afford the price right now – check this dupe out below.

Thanks for visiting and have a great day!
xo Karen