I thought it would be fun to round up some high-end inspired home décor dupes. These items are very similar in style but not in price. If you've had your eye on a particular piece but can't swallow the price, maybe you'll find the lookalike version here.
Keep in mind that while we're saving a lot of money, we might have to sacrifice a bit on quality and materials. That's part of what keeps the price down. Either way – these are all beautiful furniture pieces and wildly popular, so I hope you enjoy them!
---
Arhaus Finnley Sideboard Dupe
The Finnley Sideboard by Arhaus is a stunning showcase piece of furniture. If you want a look-a-like version, the Sloane Sideboard from Castlery features a similar color and slatted look without the legs and rounded corners.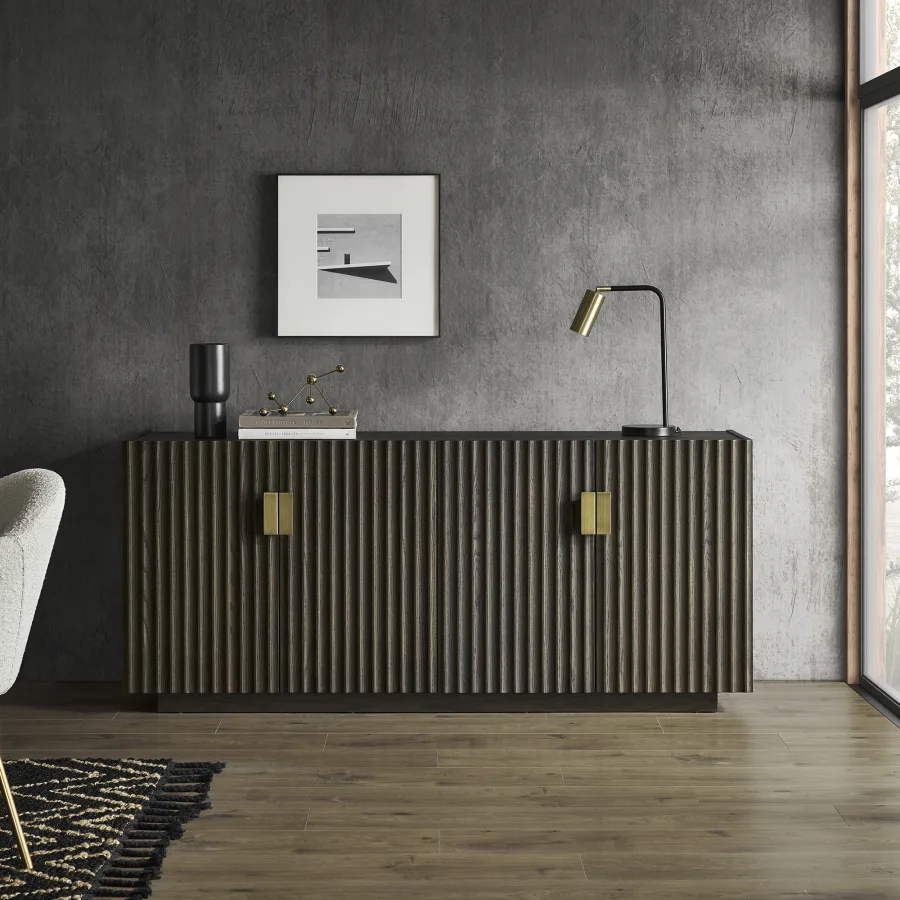 I also found a cheaper option at Crate & Barrel.
---
Lulu & Georgia Tate bench
Do you love the beautiful Tate bench from Lulu? I found some pretty good matches on Wayfair and Target!
---
Serena and Lily Riviera Stool
The best-selling Riveria stool and bistro chair can run you hundreds of dollars each, but these lookalike stools can be yours for under $150!
Related: Paris Bistro Chairs You'll Love
---
Rejuvenation Conical Drum Pendant
I love Rejuvenation, but sometimes (a lot of times), their prices are a little out of this world. I found an exact dupe for their popular conical drum pendant, and you won't believe the price difference.

You can check out these Conical Drum Pendant Dupes right here.
---
Rejuvenation Shelving
I love the look of these minimalistic wall shelves. We found a lookalike version with CB2 and have this Helix one in our living room. I also found a very close match at Target!

Related: Best Coffee Table Books for Decorating
---
la jolla basket serena & lily
If you love this basket, I found excellent good dupe versions. I wrote a whole post on it. Go here to see these la jolla basket dupes!
---
Arhaus Tufted Leather Sofa
There's something about a tufted leather sofa that can magically pull a room together. It's a classic design that will never go out of style in my book. You can compare these two lookalike sofas! Go here for more affordable leather sofas.
---
Pottery Barn Lighting Dupes
These beaded chandeliers are so pretty and perfect for adding texture or coastal flair to your rooms. I found a match similar to Pottery Barn's best-selling beaded chandelier – check it out below.

---
Anthropologie Fern Cabinet Dupe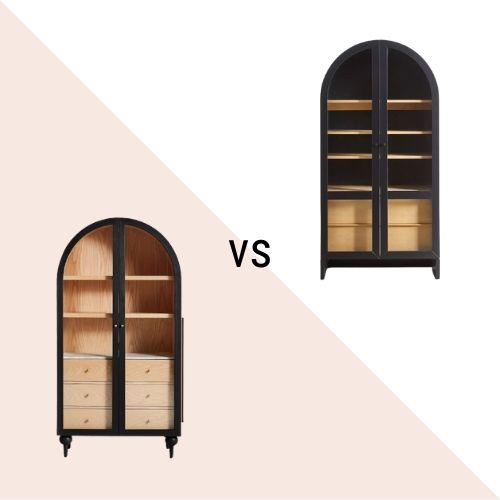 The Anthro fern cabinet is one of the most popular Instagram furniture pieces. It will cost you a pretty penny if you want this one. Luckily, Urban Outfitters has a very close match with their Mason Cabinet. Go here to see all my arched cabinet picks!

---
Anthropologie Primose Mirror
Speaking of Anthropologie, have you seen their beautiful Primrose Mirror? Bloggers have been having fun creating their DIY versions of the famous (albeit expensive) mirrors.
Luckily – you can buy a very close match at a much lower price! I found so many good options I wrote a whole separate post on it. Check out more Primrose Mirror Dupes here!

---
Pottery Barn Caned Sideboard
If you are looking for a less expensive caned sideboard – I found a beautiful piece at Target! It's a very close match to this one from Pottery Barn. You can't go wrong with either!
---
Rejuvenation Tiered Drum Pendant
More Rejuvenation dupes! This time, it's their popular tiered drum pendant. Crate and Barrel has a very similar style at an affordable price.
---
Serena and Lily Wicker Globe Pendant
I'm eyeing something like this (or the Huxley pendant below) for my kitchen table area. While you can get a great lighting fixture from Serena and Lily – I also found a similar style below for a bargain price!
---
Huxley Wicker Pendant
I came across this Huxley pendant on Instagram and loved it so much! If you want the look but can't afford the price right now – check this dupe out below.
Karen Sloan is the founder, editor and syndicated content writer of www.decorhint.com. She offers hints of inspiration for everyday living, including home ideas, DIY projects and lifestyle content. Her work has appeared on Google News, MSN, Pioneer Woman, Apartment Therapy, and Bustle, among others.