One Room Challenge Week 2 – Paint Color and moodboard
This page contains links to products that were hand-picked by the editor. When you buy through these links, we may earn a small commission. Learn more.
---
Hello again!
I'm back for Week 2 of the One Room Challenge and here to share the progress I've made on the Playroom.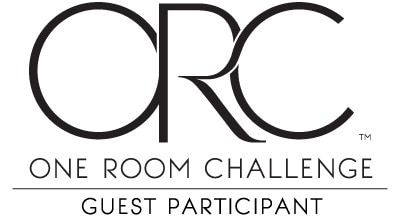 If you're just getting started – you can catch up and see the before of the playroom and more details about the One Room Challenge in this Week 1 post right here.
Last week I mentioned that I had a design and color scheme picked out and I'm excited to share my ideas with you today.
I'm very inspired by English Cottage decor. Think soothing paint colors, warm rustic woods, lots of pattern mixing, and vintage art.
I want this space to feel cozy and fun for my kids – AND – have it look cohesive with the rest of the house.

This room is the first thing you see when walking up the stairs so I don't want it to look odd every time you catch a glimpse.
Whenever you are designing a room, it's best to think first about how you use that room. That will help determine the layout and functionality.
What are the most important functions of our playroom right now?
Easy Toy Storage.
Art Table.
TV. (Hate to admit that, but it's true!)
Playroom Moodboard
Here's the overall design scheme for the room.
Lots of blues, a pop of pink (for Hannah), and some fabric patterns which I haven't quite nailed down yet!
To get some of the sources for the items in this moodboard – CLICK HERE.
I'm trying to keep this space on a budget, so I'm reusing a lot of what we had in there and trying to DIY my way through most of the other things.
Here's an idea of some of the projects I'm completing (or trying to … eeek)!
Playroom DIY Projects
If you can DIY things, you can save a lot of money.
So, I'm planning some DIY projects for this room and I'll be sharing all the tutorials here on the blog.
Here's a rundown…
DIY Bean Bag Chairs
DIY Conduit Curtain Rods (you can't beat a $5 long, sturdy curtain rod)
DIY Wooden Stools
DIY Pillows for Decor
Kids Art Wall (showcase their art in gallery wall grid)
Printable Vintage Art – I know just where to get the art (shameless plug sorry).
Making your own things is also fun because you can have something look exactly the way you want by picking your own fabrics and wood stains.
Well, almost …
… We'll see about those bean bag chairs. 🙂
Along with the DIY projects, I plan to hit up the thrift store to see what I can find.

I never need an excuse to go thrifting.
Paint Color
The paint color I chose for this room is called Stardew by Sherwin Williams.
I stumbled upon this color on Pinterest and fell in love. I plan to use it in other rooms in our house.
You can get a peek at this paint color in my post about paint edging. The paint edger saved me so much time painting this room!
And, after painting the entire room this color, I can wholeheartedly say that I'm even more in love with it.

It's the most soothing blue but it's also bright and cheery at the same time.
Initially, I was planning an accent wall with wallpaper but decided to just go full steam ahead with this paint color.
Unfortunately, I started to apply the wallpaper, then decided it didn't really fit in with the house/room and had to rip it all down.
The wallpaper wasn't going to die without a fight, so it took some of the drywall with it as I was taking it down. UGH.

Not to mention, I couldn't return what I had already used so I'm out $50 for nothing.
My first project fail of the One Room Challenge is complete. Is this a rite of passage or something??
Picture me spending several hours repatching the wall, waiting for it to dry and then painting. Fun stuff.
Easy Toy Storage
I'm reusing our cube storage and moved it under the TV. It works as a nice long TV console. I also have a bunch of baskets for holding things like blocks, Magna-tiles, and road tracks.
The one iffy thing right now is my daughter's giant Barbie Playhouse. Truth be told, she doesn't play with it that much anymore. I'm struggling with the fact that it's not a "cute" toy. It's kind of ugly.
When I asked her about it, she said she might want to play with it in the future so I feel like I need to keep it. I might end up moving it to her room. Not sure yet.
Art Table
I had made my kids an activity table a while back and I'm going to reuse that table. I'm going to switch out the current chairs with some rustic wood stools.
These wood stools can be pulled out to sit on but also be used as a little side table for snacks and drinks during movie nights.
I thought about going hog wild with the art accessories. But when I really thought about it — my kids just want paper and crayons/markers/pens. And tape.
For some reason, tape is like the most amazing thing to my kids. They want to tape everything. I'll figure out some sort of art table organization but most likely I'll keep it simple!
TV / Movie Watching
I would love to say that my kids peacefully and quietly draw and play blocks in this room.
But I'm going to be honest and say that they really like to watch TV up here.
And as they get older, TV is going to become more and more central to this room. (Hello, Fortnite?)
Ideally, my husband and I want to find a sectional to put in this room – the corner is screaming for a cozy modular type one. Perfect for movie nights! However – the budget doesn't really allow for that right now.
So, I decided I'm going to make some cozy bean bag chairs instead. Almost like little gaming chairs.
They can sit in their chairs, pull over a wooden stool for a side table, and watch "Inside Out" until their heart's content. Or, until we say it's time to turn off the TV!

I'm inspired by the loungers st Serena and Lily (seen above in the moodboard). I'm using that as my muse for the bean bag chairs.
So, that's the latest!
Playroom Plans for Next Week
Next week, my goals are to finish:
DIY Curtain Rods and Hang Curtains
DIY Bean Bag Chairs
Gallery Wall Grid Artwork
Wooden Stools
It's ambitious but I like to live on the edge.
I managed to declutter the playroom last week and it's looking so much better already. It's amazing what a good declutter will do.
Tune in next week for even more updates and DIY's.
Thanks for visiting today!
xo Karen