Budget Friendly Playroom Wall Idea
I can't stop changing our playroom. I don't think this room ever felt complete. And if I'm being honest, it's still not quite there. We managed a mini playroom makeover a year or so ago and that was enough to keep me satisfied for a little while.
But then, my kids grew. And their tastes changed. What used to be Barbies and road sets has now grown into Pop-a-Shot and video games. My kids still love building blocks and magna tiles though. So we are in between right now.
Not only that, but I saw the havoc kids can wreak on a playroom. The walls were dinged, dirty and smudged. I love the light blue paint – but maybe this wasn't the best choice for a bunch of rowdy boys and girls.
And let's not forget the giant, blank (now dinged up) wall staring at us every time we walked into the room. We used to have a gallery wall of framed drawings on this wall. Unfortunately, someone kicked a ball into one of the frames and it smashed.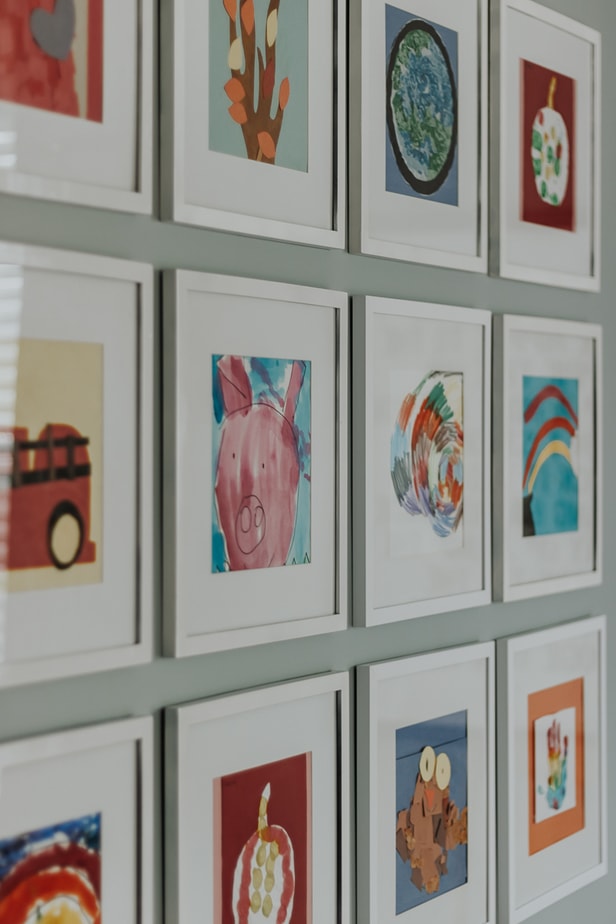 It happens. But my 12 grid gallery wall suddenly went to 11 and looked weird. And I could have taken it down to a 9 or a 10 and rearranged things. But I got busy. And so I removed them all and left it blank. Weeks turned into months. Walls got dirtier. Things became a mess. It was mayhem.
Ok, so I may have exaggerated a bit there. But my point is that I forgot. Until my husband said – can we do something about this wall and playroom? It's looking a little sad. So here we are!
Playroom Wall Idea & Updates
I love molding and I love moody paint colors. They are such a source of inspiration to me. So with approximately $62 in lumber and supplies from Home Depot, and with some leftover navy paint from our office makeover – I finally did something to that wall. I made it more of a focal point. Here are some of the changes we made.
I still love them, but they felt too heavy for the room and kids and curtains don't mix in a playroom. At least not in ours.
2. Installed Board and Batten
I installed a half wall board and batten on the accent wall for a focal point and painted it dark navy (Hale Navy by Benjamin Moore.) Smudges be gone!
3. Added Artwork
I leaned up some art, big and small, against the wall (held in place with mounting putty and command strips). Could one of the frames break again? Yes, but there is no longer a grid – so it's an easy fix. Plus, this is a great way to show off my kids creativity!
4. New TV Console
We purchased a new TV console with storage. Not really shown in these photos yet – coming soon.
5. Cleaned up!
Every now and again we need to clean up in this room. I went through old toys with my kids and donated what we could.
Things we still want to do:
Get a bigger TV. Our kids and their friends like to play video games and watch movies up here. Plus, it will help fill out the wall a little more.
New rug? I LOVE our Revival rug that's currently in there but it's a little small for the space. I could find a new space for it and get something bigger and darker.
Redo the closet. It came with ONE wire shelf, so I would like to remove this and make it an actual toy closet with tons of shelving and pretty wallpaper.
More lighting – we need another lamp for sure. It gets dark in there at night!
Window treatments? I just purchased these top down bottom up blinds for our bathroom from Home Depot. They are super affordable and you can let in light but still get privacy at the same time. Those would be great in here.
More seating! Not heavy furniture, but I'm looking at getting a gaming chair or floor cushions for movie nights.
Hint: Have a giant wall in your playroom you don't know what to do with? Perhaps install a little molding, paint it a dark color to hide dings and smudges, and install some meaningful art above it. Voila!
Here is a quick photo tour. I hope you guys like it so far.
That's it for now! Stay tuned for future updates coming soon.
xo Karen