Today's the day! The big reveal of our new shiplap bathroom. In case you didn't see what I was up to on Instagram, we recently took on a mini renovation of our main bathroom. Sprucing up this space was long overdue, and I'm so pleased with how everything turned out. Allow me to give you a tour!
Before
First, a quick little peek at the before. This bathroom is your typical builder grade bathroom. The walls and ceilings were painted the same matte beige color, which made things look kind of yellow/peach and depressing. I knew we didn't have the budget to completely renovate this space, but I at least wanted a different vibe in there. A cozier vibe.
Our Shiplap Bathroom
And here's the after! The shiplap was the piece de resistance! We decided to keep it easy by adding it as an accent behind the vanity areas and tub. This is a good way to keep the budget in check, but it's easier not to have to join shiplap corners and work above the shower area. Hopefully, there will be some new tile going in the shower area in the next few years so it's going to get ripped apart at some point anyways. Why waste good shiplap in that area?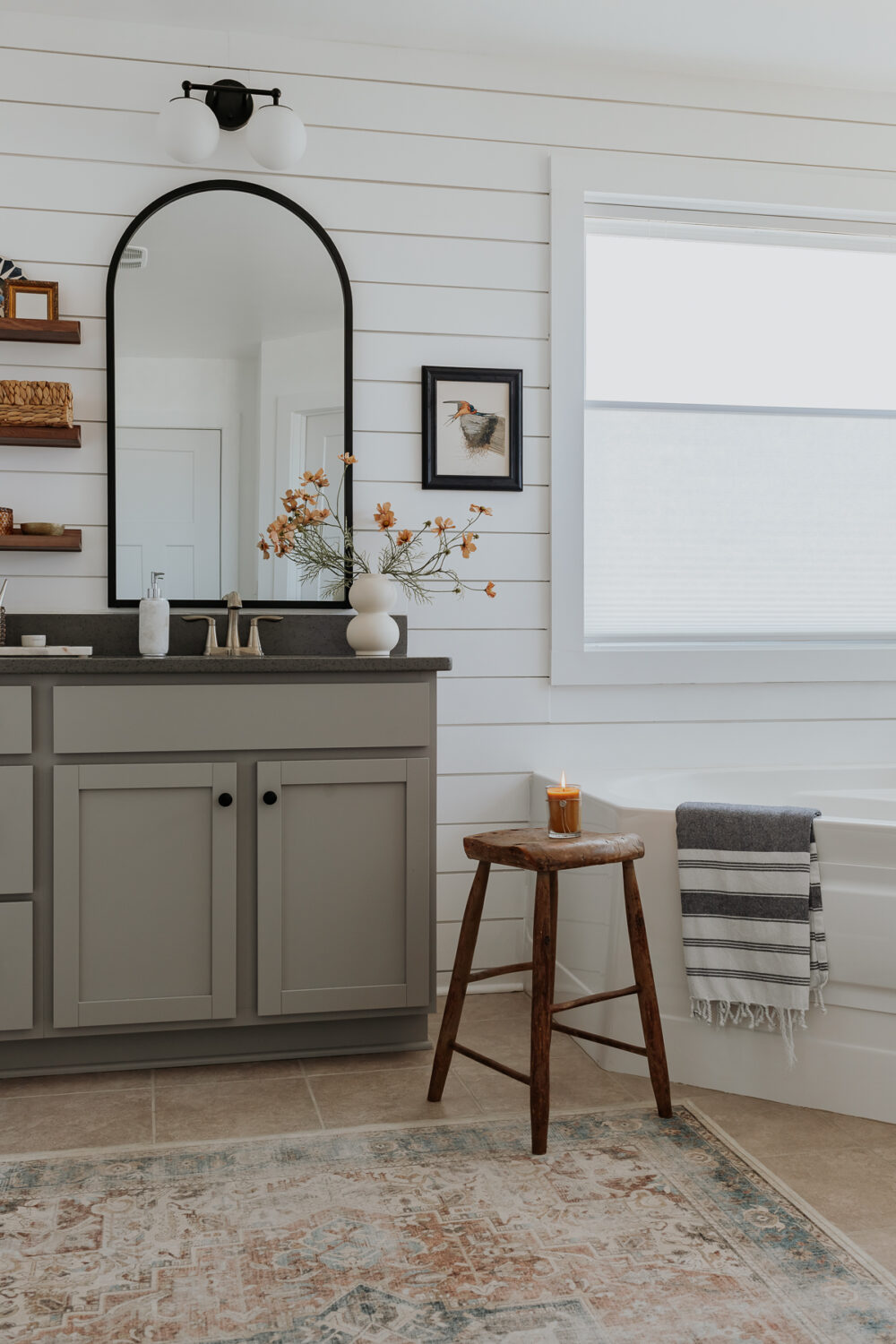 I was fortunate to work with Weaber Lumber for our shiplap. I sent them the measurements of the room and they gifted me the amount of shiplap I would need (down to the nail – I only had 1 tiny piece of shiplap left!) The nice thing about ordering it online is you don't have to lug all the lumber from the store, into your car, and then into your house. It just shows up at your doorstep!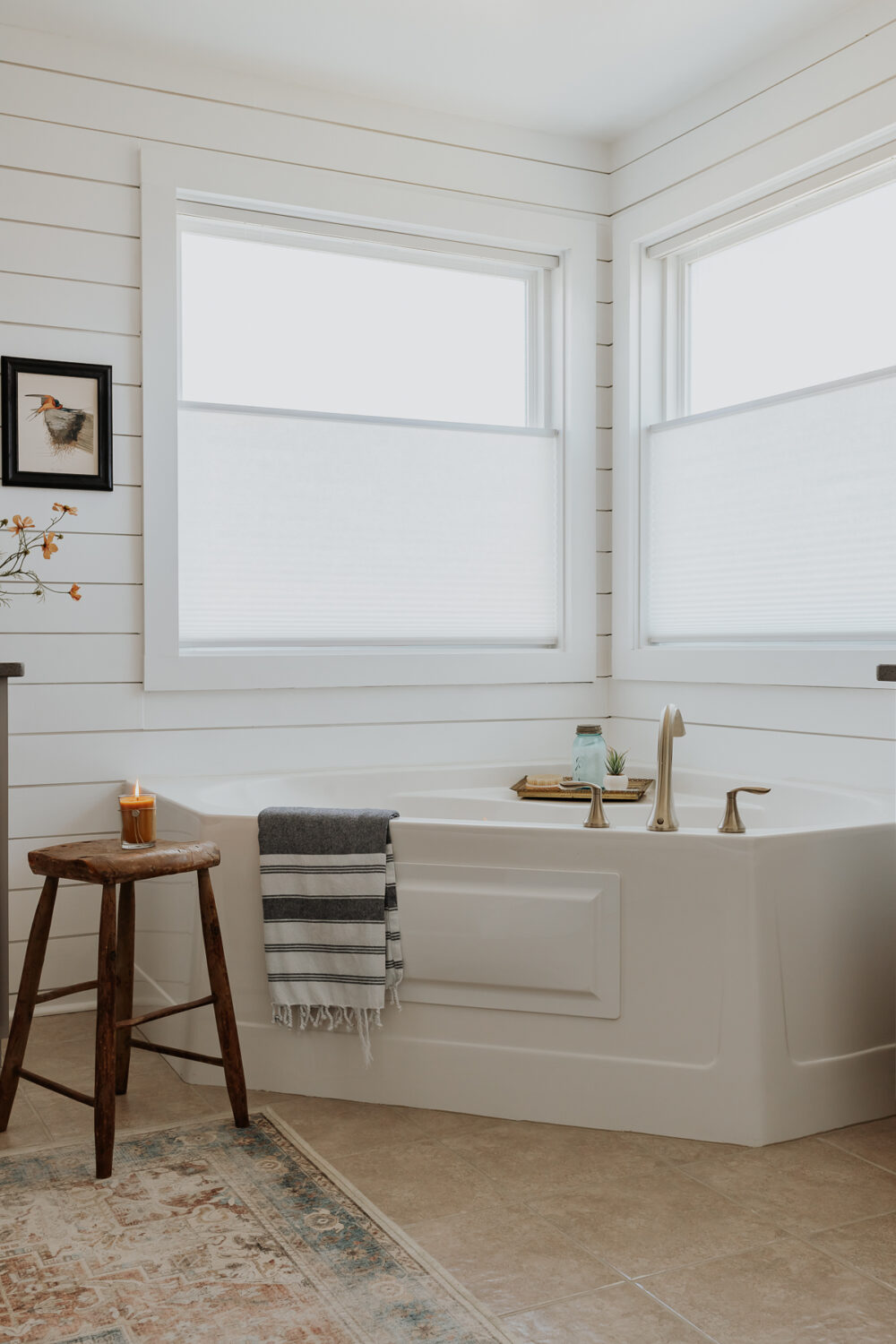 It was pretty easy to install, too. The trickiest part is lining up the shiplap against the two walls so it looks perfect. My husband helped me with that part a little.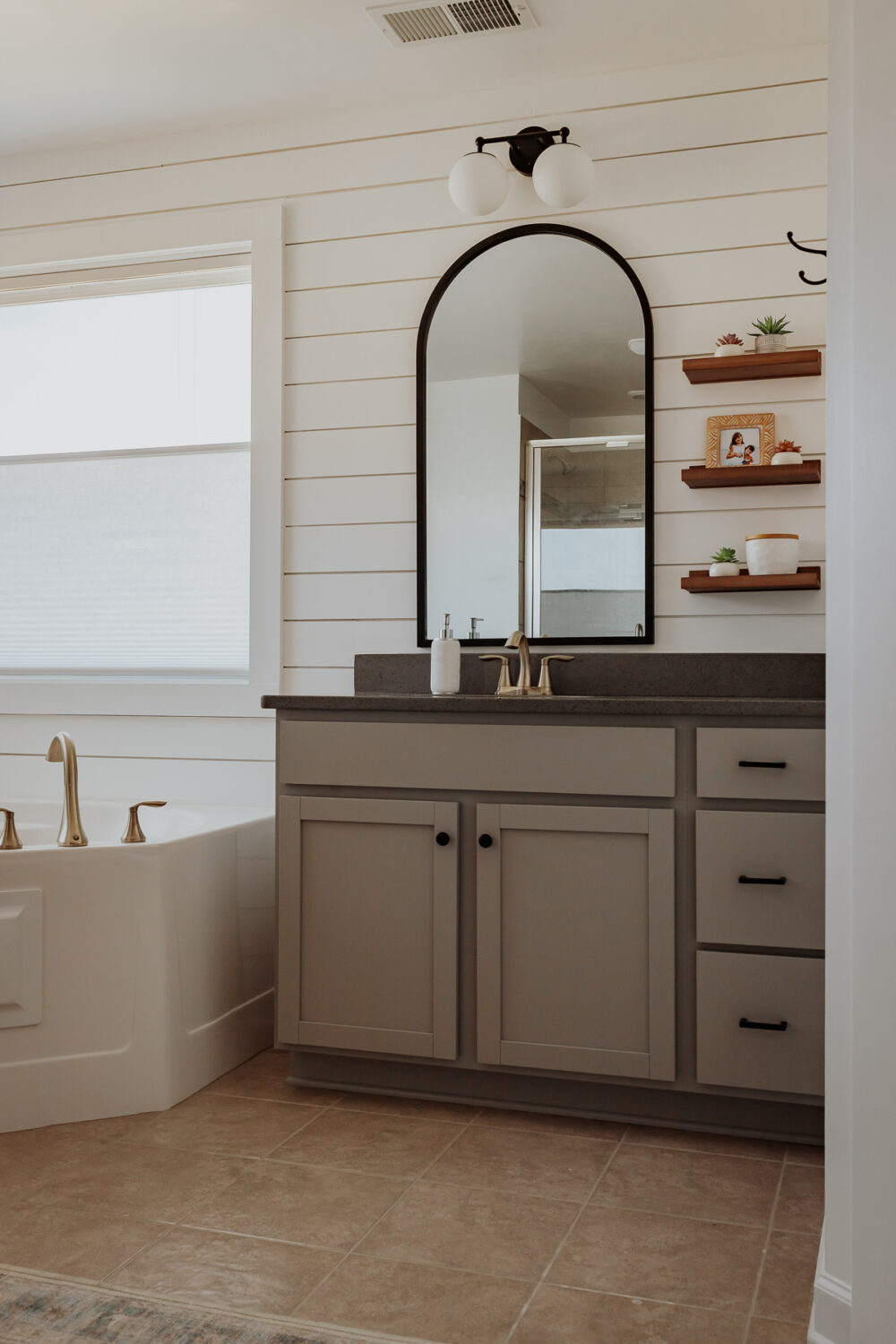 Once we got the shiplap installed, we painted all the walls and ceiling in a satin Ultra White paint by Valspar. It really brightened things up and the shiplap gave the bathroom some much needed charm and character.
Mirrors
To balance all the squareness in the room, we decided on these arched black mirrors that I found on Amazon. I needed something longer than 40 inches and these were a steal! They are not super heavy to hang either which is a plus in my book.
Lighting
I couldn't stand the old vanity lights that were in there before. These new lights have a vintage feel to me with the milk globes, and they were fairly inexpensive. The only thing I didn't realize is that they only take chandelier bulbs which is annoying but whatever.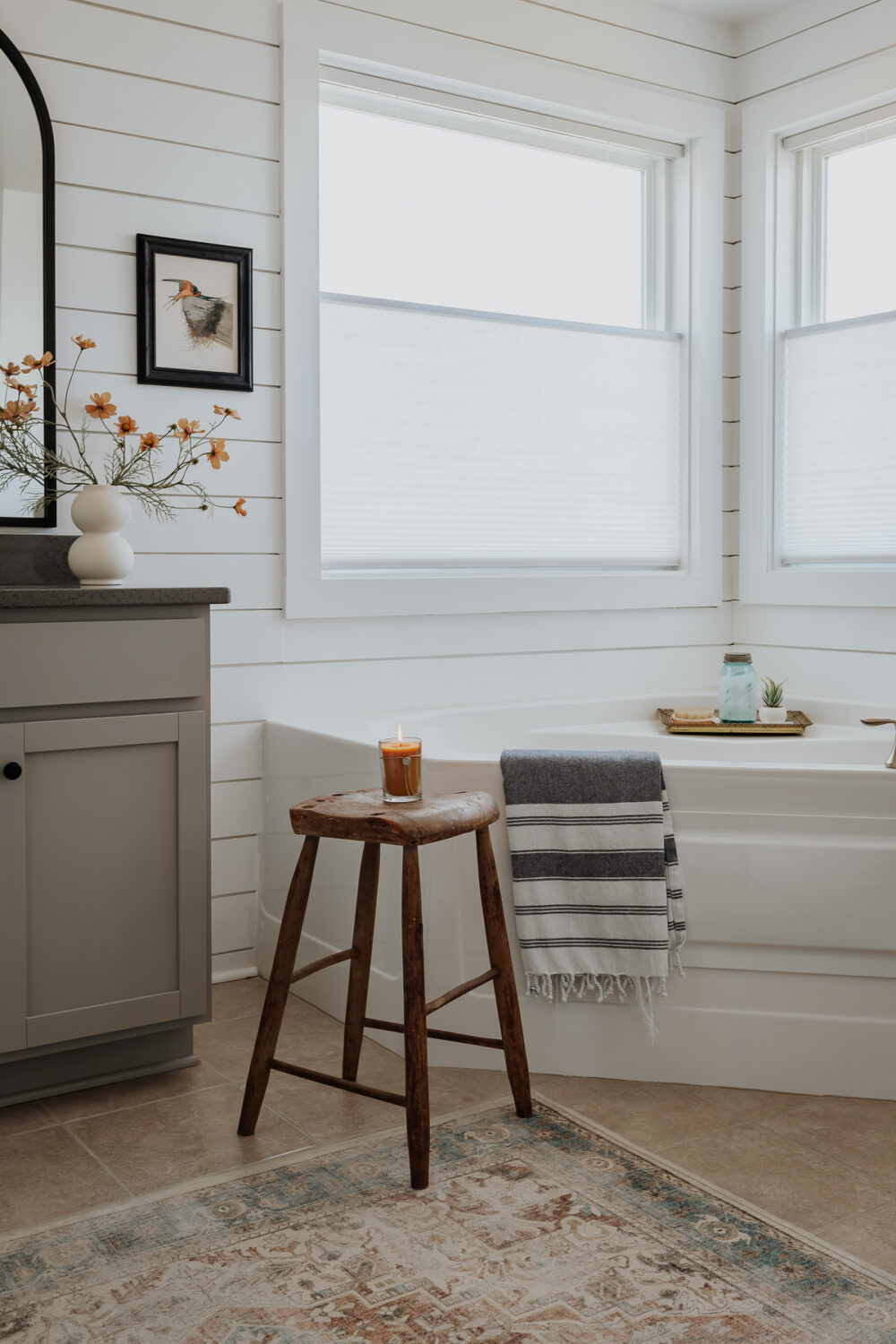 At some point, I'm going to put these on a dimmer because the LED bulbs we have in there are a bit bright (especially at 6:30am)!
Shelves
We chose these rustic walnut 12 inch shelves to hang besides the mirror. They are functional and decorative. I use them to hold jewelry, night creams and nail polish (hidden away in pretty baskets and bowls, of course). I also placed a couple frames and these mini succulents on them for some decor style.
Hardware
I chose these inexpensive matte black knobs and these handles to tie into the black framed mirrors. I love the knobs, my husband isn't sold on the handles. They are a bit modern so we may swap them out for something a little more rustic, like this. Either way, adding this hardware really kicked the vanity vibe up a notch.
Accessories
The best part about these mini renovations is getting to decorate it at the end. Am I right??? I really wanted to balance modern and rustic in this bathroom and I knew the exact thing this bathroom needed: Color and warm wood tones!
The wood shelves help a bit but I needed more. This Ruggable Kamran rug we have in there helps a bit too (I'm almost wishing I went a bit darker with the colors). I hung up this bird nest art which I love (and it's available in the art shop folks). I found the black frame first at a thrift shop and printed the art to fit.
I also picked up this rustic wood stool from a thrift store and it's the perfect added touch next to the tub. I use it as a little makeup stool and as a towel holder when I'm taking a bath.
Behind the tub area is my grandmother's antique mirror used as a tray to hold an old mason jar of epsom salts, a little succulent and whatever bath thingy I'm into at the moment. I do need some more art in this room so stay tuned!
So that about wraps up this shiplap bathroom tour – I hope you like it. These other posts might be helpful to you too:
Must Have Bathroom Measurements
Karen Sloan is the founder, editor and syndicated content writer of www.decorhint.com. She offers hints of inspiration for everyday living, including home ideas, DIY projects and lifestyle content. Her work has appeared on Google News, MSN, Pioneer Woman, Apartment Therapy, and Bustle, among others.