twopages pinch pleat curtains review
I finally had the opportunity to try those popular TwoPages pinch pleat curtains. Boy, did they live up to the hype!! Read on to see why these are one of the best pinch pleat curtains on Amazon.
Our TwoPages Pinch Pleat Drapes
Look at our new pinch pleat drapery from TwoPages (gifted).
I originally had sheer white curtains in our bedroom, but, to be honest, something about our room fell flat. We have bright white walls, and the white curtains did not give this room the needed contrast. So, we swapped out the white for this beautiful gray color called Fog.
Here are the curtain details:
Product: Liz Polyester Linen Drape Pleated
Color: Fog
Header Style: Pinch Pleat
Single Panel Width and Length: 45 x 92
Liner Type: Room Darkening Cotton Liner in White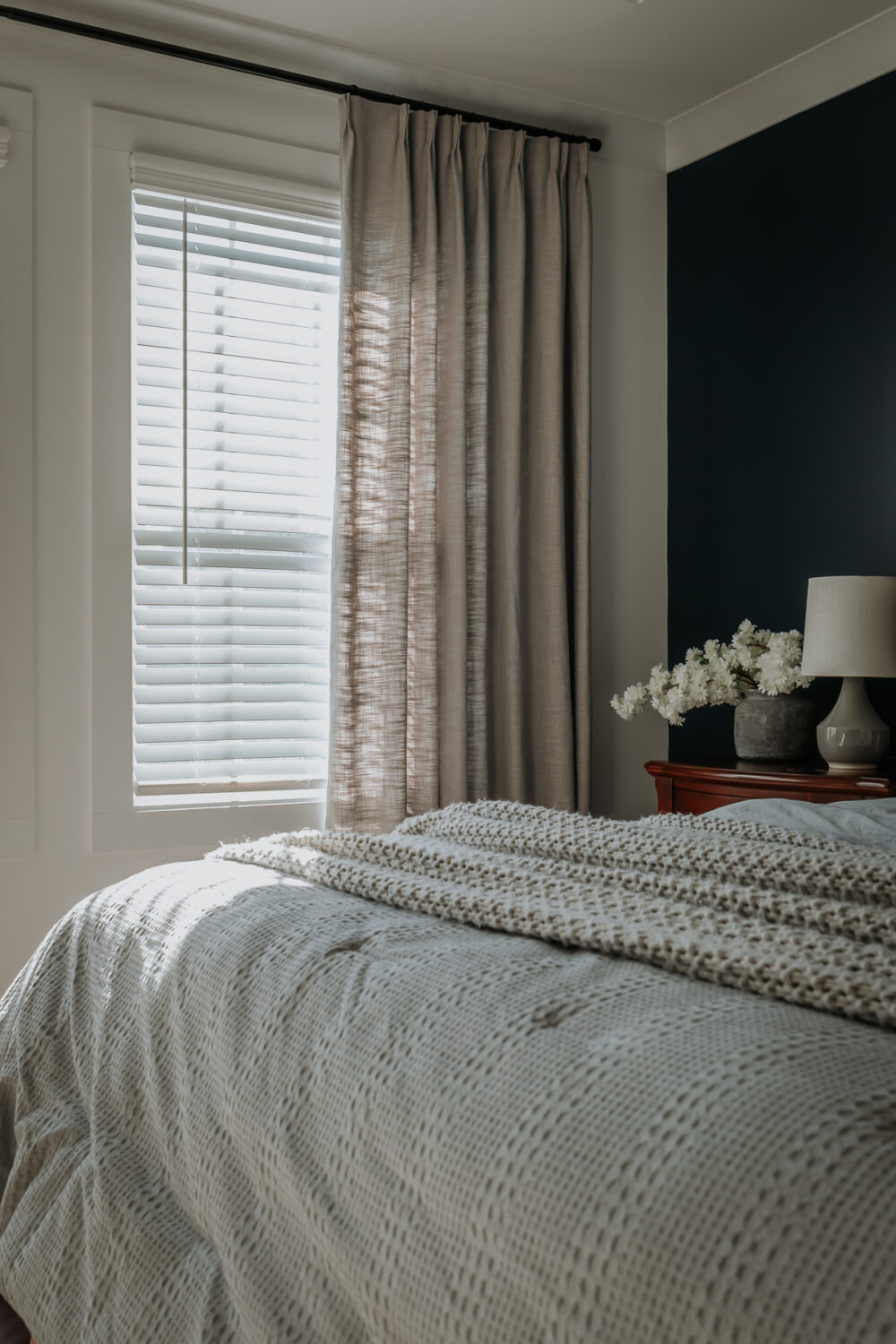 These curtains elevate the look of our bedroom – it feels more traditional and styled now.
I highly recommend you purchase the Fabric Swatch Booklet and liner swatch booklets before ordering. It's tough to make a good decision about fabric choices online, mainly because colors look different depending on the lighting in your house.
What I like about these Drapes
These drapes feel heavy and luxurious. The fabric has a nice texture to it. They are well-made and ready to hang right out of the package.
They also come with pleat hooks that are easy to insert.
You only need to have the curtain rod, and the curtain rings. The shipping was pretty quick for custom-made drapes, about ten days total. All in all, they look beautiful!
What I don't Like about these drapes
These drapes are an expense. Ha! Custom-made pinch pleat curtains will cost WAY more from another shop.

So these are a good deal for custom-made curtains and the overall quality. But I wouldn't call these budget curtains by any means. (if you are on a tight budget, you can pinch pleat IKEA curtains or make your own).
However, if you look at it from the standpoint that you are investing in your home (and trust me, these things WILL make your spaces look better), it is worth it. Think of it like investing in a beautiful piece of furniture you will have forever.
I feel like I have tried an INSANE amount of curtains from Amazon. Drapery is an integral part of my decorating style, and after seeing these TwoPages pinch pleat drapes in our bedroom, I'm leaning towards saving up to buy them for our downstairs area. A lot of tweaking goes with affordable curtains, and it's soooo lovely that these are just ready to go.
How to Determine What Size Curtains You Need
It couldn't be easier. Because TwoPages does the math for you. The TwoPages website has a measurement finder calculator that will determine what size curtains you need.
I recommend hanging curtains high (just under the crown molding or an Inch or two from the ceiling) and wide – 6 inches out on either side of the window. This gives the illusion of fuller windows and taller ceilings.
Are Pinch Pleated Drapes in Style?
Ummm, yes. I feel that pinch-pleated drapery is somewhat timeless. It will never go out of style, mainly if you stick with neutral colors.
Do I need special Hooks with Pinch Pleat Drapes?
Yes. When hanging pinch pleat drapes, you need pleat hooks. Amazon sells these hooks, but luckily these come with your TwoPages Drapery.
Best Pinch Pleat Drapes on Amazon
I can confidently say that these TwoPages drapes are one of the best pinch pleat curtains on Amazon. There is another brand called Lantime that offers sheer pinch pleat curtains that are good too. Like The Hillary Style, I've seen them in other Bloggers' homes. Finally, I recently discovered these VisionHome drapes and let me tell you – they are strong contender for pinch pleat curtains (and much more affordable). Read more about my experience with them here.